Retooling schooling
Four projects that are revolutionizing the way we teach and learn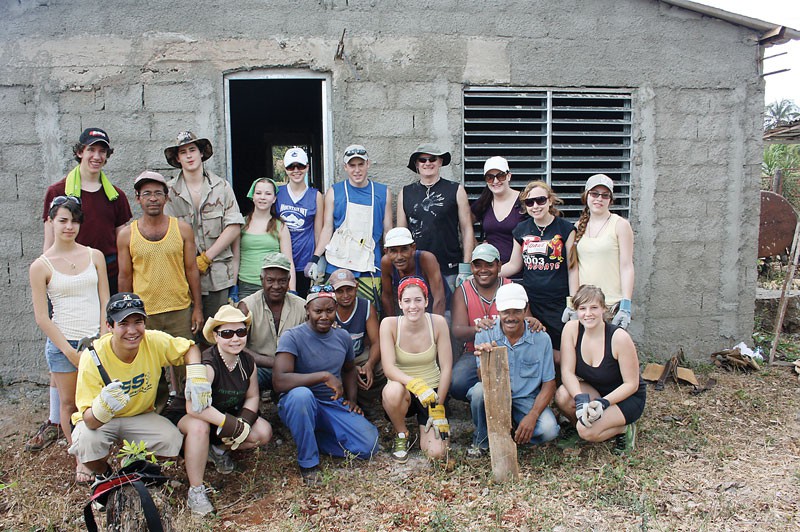 1. Quest for Community: Community-based education in rural British Columbia
By Colin Payne
Quest for Community, a new program of the public school system in the West Kootenay region of British Columbia's Southern Interior, aims to sow the seeds of community in the most fertile soil there is – the minds of youth.
The program, which launches this fall, is a result of the combined visions of Ruby Peppard and Don Warthe, two teachers at Mount Sentinel Secondary School in South Slocan, a small, rural community near Nelson, B.C.
Warthe, a 57-year-old math and global perspectives teacher, had been working on a program to expand on community service trips abroad and get students working in their home communities, while Peppard, a 27-year-old social studies teacher, had plans for a course in permaculture that would teach her students how to organize communities and their food systems so they mimic natural ecological relationships.
While on a community service trip to Cuba together, Peppard and Warthe saw the rich learning experience their students were having outside the classroom, as well as the Cuban people's strong sense of community and close connection with their food system.
Further discussions between the two led to a merging of visions and the development of a course that gives students at Mount Sentinel an entire semester to focus on learning about the building blocks of vibrant, sustainable local and global communities.
Students will spend a full semester conducting inquiry-based learning in the classroom and going out into communities to learn first-hand how they function – earning four courses toward graduation in the process.
"It's a different, hands-on classroom," said Peppard. "Students will be going out into the community and doing service. We're using the community as a classroom."
"They'll be learning by doing projects, real projects – things people can really use," added Warthe.
In addition to local community service projects and mentorships with key community members, students will travel abroad to developing countries where they will work, teach and also learn.
"Developing nations have a much richer sense of community than we do here," said Warthe. "The kids have a lot to learn about and bring back."
Students will also travel provincially to visit different communities – urban, rural and Aboriginal – to see how they function.
Also high on the list of community issues to look at is food and how a community feeds itself. With high oil prices and the increasing instability of global trade, Peppard said communities really need to take a hard look at how and where they find food.
That's why money has been raised and plans put in place to build a greenhouse extension on her classroom – so students can learn what it takes to provide for themselves and their community.
"The hope is that the greenhouse could one day be turned into an eco-preneurial community garden space with starts, garden plots and a community composting service," said Peppard.
More than anything, Peppard and Warthe said the 17 students who embark on the inaugural Quest for Community semester in September will emerge with important life skills.
"School is meant to prepare kids for life," said Peppard. "But school rarely does prepare kids for life. This course provides real-life, relevant, meaningful education."
"We're looking for them to become leaders, organizers and facilitators of youth," added Warthe. "They'll leave the project with the skills to build community wherever they are."
2. The Tatamagouche Free School: Liberating education
By Anna Kirkpatrick
To the uninitiated radical, the term "free school" may sound like an oxymoron. When many of us think of schools, we tend to think of places characterized by strict routines, rigid hierarchies and bizarre regulations. We are not likely to associate the conventional education system with freedom of any kind. Schools can certainly be vehicles of oppression and can reflect and perpetuate inequalities within society. Free schools, though, represent a growing movement to liberate education and, in the process, ourselves.
Free schools are spaces that promote the informal sharing of information and knowledge. They can take various forms and can happen in many places, from kitchen tables to convention centres. Some are spontaneous while others are more structured and organized. A free school's commitment to liberation can be reflected both in structure (who participates and how) and in content (what is discussed). Contrary to what the name might imply, there may be a cost to attend. Free schools, however, are not profit-driven institutions. Much of the inspiration for today's free schools came from the Modern School movement, which originated in Spain at the turn of the 20th century. Free schools are part of a long and diverse tradition of resistance to conventional education.
Six years ago, independent media practitioner Dru Oja Jay was inspired to launch a free school after a group of his friends purchased a farm in Tatamagouche, Nova Scotia. "A bunch of people had bought a farm and wanted to do interesting things with it. They wanted to do things beyond just providing a livelihood for themselves. They also wanted to provide a place where people could get together and do things for a better planet on the level of social justice and environmental sustainability."
Jay believes that free schools and conventional, coercive education have evolved side by side. "Since there has been an institutionalized education system there have always been reactions to it… . I think people are always aware that learning is something that they don't want to commodify, that they don't want to put in a box and sell to the highest bidder," says Jay.
The free school model, Jay says, allows people to share knowledge in a more natural setting – "people showing each other how to do stuff, or people engaging with ideas and talking to each other about them." Organizers start with the belief that everyone has something to offer. "Everyone has something to teach, everyone has something to contribute, and everybody has something to learn. Nobody knows everything."
The Tatamagouche Summer Free School runs for three and a half days each August and draws a group of about 100 participants from across Canada. The program consists of morning discussions and afternoon seminars on a wide range of subjects. Free school organizers aim to strike a balance between theoretical and practical topics. Past workshops have covered topics ranging from bookbinding to mathematics to seed saving. The schedule includes outdoor activities during the day and live music or dancing in the evening. Jay says the food, most of which comes either from the farm or the local area, is always a highlight.
The Tatamagouche Summer Free School is just one of a number of free school initiatives popping up across Canada. Toronto, Vancouver and Montreal all have free schools of some kind. The Falls Brook Centre in Knowlesville, New Brunswick, was inspired by the Tatamagouche Summer Free School to start its own free school this year.
Why do people return to the Tatamagouche Summer Free School year after year? According to Jay, there are a few reasons. The excitement of learning new things is a major pull for many people. Others see in it a glimpse of an alternative society in action, in which participants have the opportunity to work, live and learn co-operatively. "People like to come to get a little taste of how things could be done differently."
3. The Miss G___ Project: Introducing feminism to the high school curriculum
By Michelle Miller
In 2004, Sheetal Rawal enrolled in an Introduction to Women's Studies class, and was energized and inspired by what she learned. She asked her friend Sarah Ghabrial to sit in on a few sessions with her, and together they experienced a theory-based epiphany. Ghabrial explains: "It's as if all of a sudden we had these new lenses and we could see the world in a totally new way." All of a sudden, they saw their lives as being raced, classed and especially gendered in a way that was both shocking and – when made visible – empowering.
The only problem they could see with their new feminist awareness was that it had come too late. "We thought, 'Why don't you learn about feminism until university? Where has all this information been?'"
Looking back on their high school experiences – which were heavily marked by sexual harassment, exploitation, the invisibility of women's experiences in curriculum, homophobia and many other aspects of systematic sexism – Rawal and Ghabrial saw a clear need to equip other young people with the kind of knowledge they had gained in these classes. "High school is the site of a lot of gender oppression," said Ghabrial. "Why is that still the case after so many years of women's movements and activism? And more importantly, what can we do about it? What can we help students do about it?"
Aided by some experienced and formidable feminists at the University of Western Ontario, they began lobbying the Ontario government to meet this need by offering an optional, province-wide Grade 11 class on women's and gender studies. The course they had in mind would emphasize critical thinking and respect for diversity and would, according to their mission statement, "provide young people, particularly young women, with the opportunity, support, and resources necessary to analyze and influence issues that affect their lives and futures."
Ghabrial and Rawal, joined by friends Lara Shdorkoff and Dilani Mohan, named the initiative after "the unnamed Miss G__," whose unfortunate early death of unknown causes was, in 1873, attributed to the "conservation of energy" theory – a commonly held belief that women endanger their health when they divert too much of their energy from their wombs, where it belongs, to their brains. As ludicrous as this theory sounds now, it was used for a long time to keep women from pursuing higher education.
In the early days, the Miss G__ girls didn't quite understand what they were in for. In 2006, Rawal explained to Shameless Magazine, "We thought we'd go to the minister of education, knock on the door and say 'Hey, you should do this,' and they'd say 'Yeah, that's a good idea, right on.'" Five years, three ministers of education, hundreds of lobbying events, meetings and broken promises later, the Miss G__ Project understands just how naive they were.
Over the subsequent years they experienced every challenge a lobby group can expect to encounter: unresponsive contact people, broken assurances, back-burnered meetings, media misrepresentation and now, possibly, success. In the summer of 2008, a pilot version of their proposed course was developed, with anticipated rollout no later than September 2010. New information about this course is not available from the ministry, and even the Miss G__ Project steering committee does not yet know what the course will look like and whether or not it will reflect their mandate.
There is some concern from within the group and from the wider feminist community that despite Miss G__'s critical intent for the course, institutionalization may lead to a depoliticized "celebration of women's voices" course which could actually interfere with a transformational feminist presence in schools and give anti-feminists fuel to argue against further equity-enhancing measures. For this reason, Miss G__ members continue working to promote gender justice in many other ways: hosting workshops in high schools and community halls, lobbying for women-friendly policies and practices, creating free, downloadable teaching materials, providing feminist educators with networking opportunities, coalition building with local and provincial organizations and providing high school students with internship opportunities.
4. The Indian Brook House of Learning: All-Mi'kmaq school enriches entire community
By Chris Benjamin
The introduction of all-black schools has recently made headlines in Toronto, but in Nova Scotia there have been all-Mi'kmaq schools since the late 1990s, with little media interest. The story behind the first of these schools shows how a determined, open-minded community can take an externally imposed education system and reshape it to serve students and the whole community.
It started on the Indian Brook First Nation in 1997. Jean Knockwood, a researcher, educator, storyteller and parent from Indian Brook, pulled her daughter from school after the principal sent every Mi'kmaq student home in response to a conflict between Mi'kmaq and white students. The conflict had begun when white students bullied a Mi'kmaq boy.
Knockwood told her daughter, "You're not going back there. I went through that when I was a kid, and I'm not going to let you go back and go through that." She decided to home-school her daughter, unaware that other Mi'kmaq students would request she do the same for them.
Rather than send their children back into what many saw as a racist school system, the Indian Brook First Nation renegotiated its tuition agreement with the school board. Because people on reserves don't pay municipal taxes, First Nations communities pay school boards thousands in tuition per aboriginal student. The Indian Brook community told the school board that if it wanted their tuition dollars it would have to send teachers to the reserve.
"They were shocked," Knockwood says, "but we persisted, telling them, 'We know that you have our tuition money, so you have to provide [our students] with the services they need.'" The board complied, sending two substitute teachers to teach 40 students, grades 7 to 12, in a church basement. Thus began a promising experiment in culturally situated, community-based education.
Knockwood managed Indian Brook School for four years and saw its population grow to 170 students. The school soon moved into a newly renovated community centre and became a major economic engine for Indian Brook, complete with a restaurant and adult education classes. Community members worked there as caretakers, administrators, restaurant workers and classroom assistants. Knockwood's endless proposal-writing efforts drew numerous government grants.
The key to the school's popularity, Knockwood says, was "having it community- and parent-driven rather than teacher-driven." Parents were involved from the start, giving input on the selection of teachers. At the time, there were few Mi'kmaq teachers available, so most of the teachers were white.
Knockwood allowed parents to enter classrooms at any time, and consulted them on how to allocate funds. Despite this unprecedented access, some parents didn't attend parent-teacher meetings, so Knockwood instituted parent-teacher potlucks during the day. Working parents could attend during lunch breaks.
Recognizing the importance of elders in her community, Knockwood solicited the guidance of one male and one female elder, who used traditional talking circles to work through any conflicts that arose. In this and other ways, the school became not only community-based, but also culture-based, teaching traditional Mi'kmaq essentials such as language, Powwow, drumming, dancing, and beadwork. Each day began with the Mi'kmaq Honour Song.
The cultural focus remains a key drawing point for parents today. "That is missing in the mainstream system, which has stereotypes about native people," says Debbie Thiebaux, a parent of five Indian Brook students, and a member of the school's now-independent First Nations board. "I've seen how the school helps my kids' self-esteem, their speaking skills, their sense of belonging. My daughter had a hard time reading but [her reading level] went up three grades in one year in this school."
Today, kindergarten to grade 12 classes are housed in a new building with a new name: L'nu Sipuk Kina Matuokuom, or Indian Brook House of Learning. And this year, says Thiebaux, nine new Indian Brook residents are graduating from teachers' college and returning to teach in their community.
This success didn't come without occasional adversity, however. Knockwood recalls a power struggle between the white teachers who first worked there and the community. "Some teachers wanted it teacher-driven, the parents wanted it community-driven and the administration wanted a balance between the two."
Thiebaux offers a long list of names of community members who have fought to keep the school running, and says that a balance between teachers and the community has finally been struck, with a new force thrown into the mix: the students. "We have a balance between the parent group, the teacher group and student council, which is taken very seriously," she says.
Readers like you keep Briarpatch alive and thriving. Subscribe today to support fiercely independent journalism.