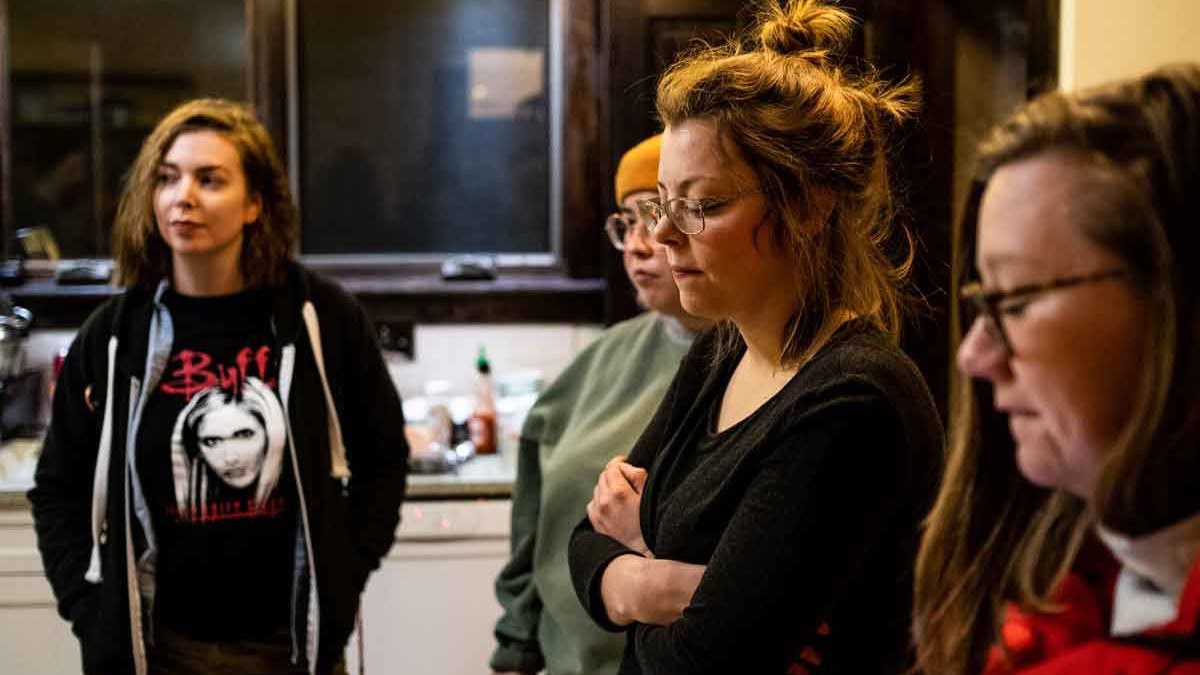 Organizing through loss in the heart of oil country
The gym of Holyrood Elementary School, located on a sleepy side street in Edmonton's rapidly gentrifying Strathcona neighbourhood, is packed well beyond fire code tonight. Every chair is occupied. Every inch of the floor is packed with latecomers, sitting cross-legged or leaning against the back wall. The crowd of those who arrived even later extends well outside the door. Orange pins flash on every lapel. The majority of the older folks in the crowd wear ones emblazoned with the name Heather McPherson. The younger folks' buttons almost exclusively sport the name Paige Gorsak.
Tension rolls over the crowd as three women make their way past the assembled crowds, two of them taking nearby seats, and the third stepping to the pulpit, introducing herself as the head of the federal Edmonton Strathcona Riding Association. She congratulates the candidates on a hard-fought campaign and then announces that, by less than 20 votes, Heather McPherson has won the nomination to be the next federal NDP candidate in Edmonton Strathcona.
For a certain segment of the crowd, it's cause for relief. For the particularly fresh-faced, it's a crushing revelation of what electoral politics really is. For everyone else, it's a maddening case of business as usual.
After a long, sombre night of drinking, hugging, crying, and chatting, Paige Gorsak's campaign team will wake up and go back to work, putting one loss behind them, having already begun planning for the next one.
Losing starts on the inside
In 2015, when the NDP ascended to power in Alberta, it gave Edmonton's left-wing community a much-needed moment of respite from 44 years of Conservative rule. At the time, Alberta was mired in an enormous recession driven by falling oil prices. Party leader Rachel Notley campaigned on a change away from politics as usual – which, in Alberta, meant the status quo of austerity and pipelines. Notley's campaign promised diversification and an end to Alberta's over-reliance on oil as a primary economic driver, and took jabs at the Progressive Conservatives' focus on export pipelines. The ostensibly social-democratic Alberta NDP took the reins with a majority government that progressives hoped would go unchallenged for at least four years. For a moment, it seemed like there was the political will to reframe Alberta around something – anything – other than oil.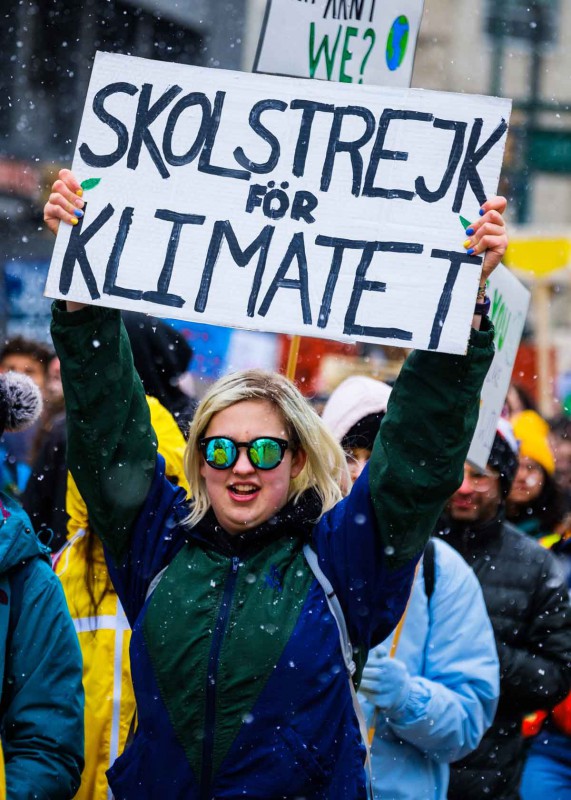 The Alberta NDP (ANDP) flattened this hope within a year of the election. Chris Gusen, a former communications and marketing employee of the provincial government, explains the mood: "I started about halfway through the NDP's term, after the Climate Leadership Plan had been released and received a lot of backlash. By then, they had decided to basically stop talking about climate change. They could see how their polling numbers went up almost as soon as they made that decision but, as we all know in hindsight…"
The ANDP government's total betrayal of progressives on the issue of climate was made clear when the federal government bought the Trans Mountain pipeline expansion (TMX), and the ANDP championed that pipeline as the solution to Alberta's economic woes.
The ANDP's unabashed support of the petro-state split what was once a coalition-driven community – of political apparatchiks and grassroots activists – down the middle. Grassroots leftists, who had organized their communities to get the ANDP elected, divested from both the party and the incrementalists who justified the party's actions.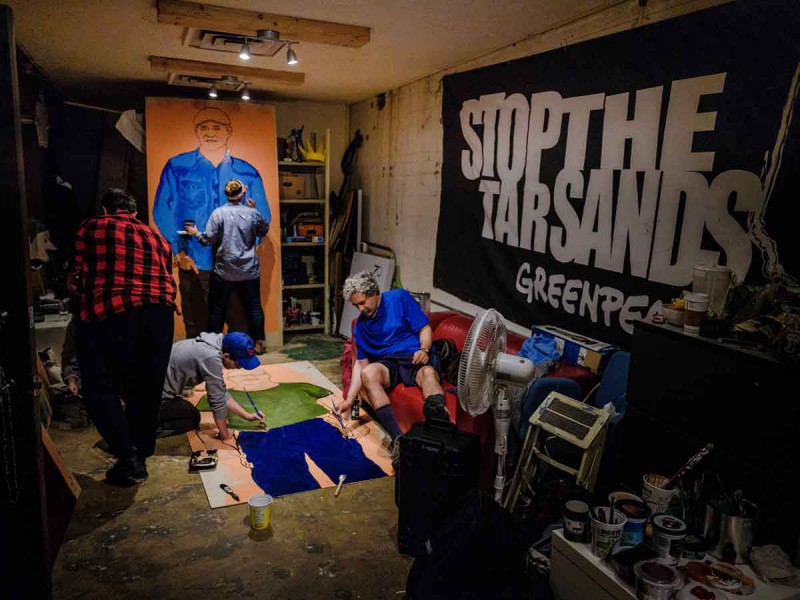 When attempting to reply to questions for this article by email, a former organizer with an ANDP campaign said, "I tried a few times and just ended up crying a bunch. There have been a lot of losses. Not just campaigns, but also people." This organizer, who asked not to be named, spoke about the recent federal election: "This was the first election in 11 years where I didn't do anything. And what happened with Paige, and the fact that it was by no means the first time I'd seen the party abandon/undermine a progressive person, was a big part of that."
For Edmonton leftists outside of the NDP's ranks – an odd assemblage of disillusioned NDP activists, environmental organizers, social democrats, labour organizers, anarchists, socialists, and single-issue political wonks – the realization that they would not, in fact, enjoy institutional support from a so-called "friendly" government was a bitter pill to swallow. New organizing projects sprang up against the NDP and pipeline sentiment. The most prominent settler-driven one was Climate Justice Edmonton (CJE). It's a reorientation of what was once Edmonton's local Greenpeace group, which largely dissolved after Mike Hudema, who was Greenpeace's Alberta spokesman for a decade, left Edmonton for B.C. in May 2018.
"Around [2017], the [Greenpeace] local group was undergoing changes in membership and mission. We started [discussing] forming another group, one that identified our strong ties to locally relevant organizing and gave us the flexibility we needed to expand our base and diversify our tactics," says Gabrielle Gelderman, one of Climate Justice Edmonton's long-time organizers. "We sat down and started imagining what a new group would look like, what name we would organize under and what our vision for organizing in amiskwaciwâskahikan [or] Edmonton would be. After brainstorming dozens of names over the course of two days, we finally came back to one of the simplest options, suggested on the very first day: Climate Justice Edmonton."
Taking power back (and failing)
The race in Edmonton Strathcona represented an opportunity to take the reins of political power back from a centrist establishment, both federally and provincially. Alberta's only federal NDP seat, Edmonton Strathcona was about to be vacated by the riding's long-time member of Parliament, Linda Duncan. Running one of Climate Justice Edmonton's core organizers in a young, progressive neighbourhood seemed like an obvious choice, and the campaign recruited new volunteers through an aggressive and organized public relations push.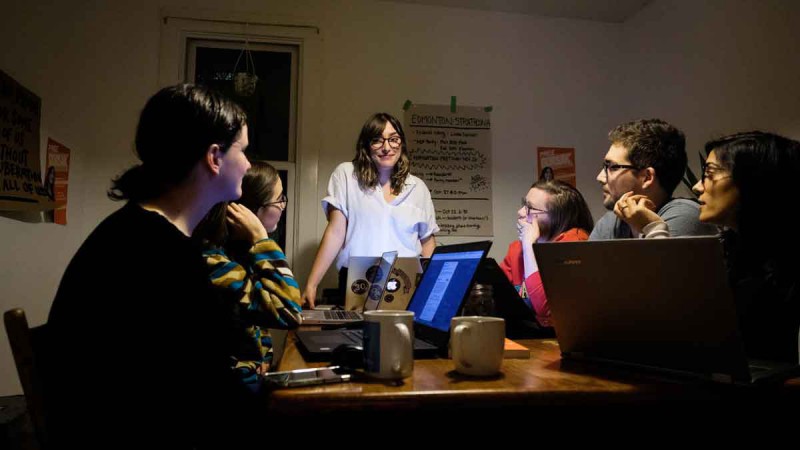 "When I showed up the first day and saw the headquarters, my heart just started beaming. It was every young person's dream," recalls Bailey Cameron, one of the volunteers brought into Climate Justice Edmonton through Gorsak's campaign. "Young folks sitting around a vintage kitchen table phone banking, other folks operating a button-maker at warp speed, folks coming in and out of the front door with clipboards ready to hit the streets. It was amazing."
After Gorsak failed to win the nomination, the group reorganized and decentralized their campaign goals. Some organizers began mounting "Stop Kenney" campaigns in advance of the provincial election, angling to stave off the momentum of Alberta's newly minted United Conservative Party in lieu of campaigning for an ANDP that had lost so much esteem among its core activists. Others pivoted to organize a local chapter of Our Time, a national campaign for a Green New Deal set up by 350.org, or mentor youth who were getting involved with the student strikes for climate. There was a great deal of overlap between these activists and Climate Justice Edmonton, which itself was working to capacity despite the influx of new organizers from the Gorsak campaign.
In March, the youth climate strikes began, driven by Edmonton Youth for Climate (EYFC) and supported by Climate Justice Edmonton and Extinction Rebellion Edmonton. Strikers gathered occasional Fridays in front of the Alberta legislature to demonstrate a unified front on the provincial government's inaction on climate change. But on June 28, the climate strikers crossed paths with a high school graduation formal that had booked the space but arrived early. The students attending the formal began chanting "Pipeline! Pipeline!" over the student strikers. Soon, the students attending the formal began to get physical with one of the student strikers, and (once it became clear the legislature sheriffs weren't going to intervene) a member of the student strike group intervened. She was arrested, though not charged.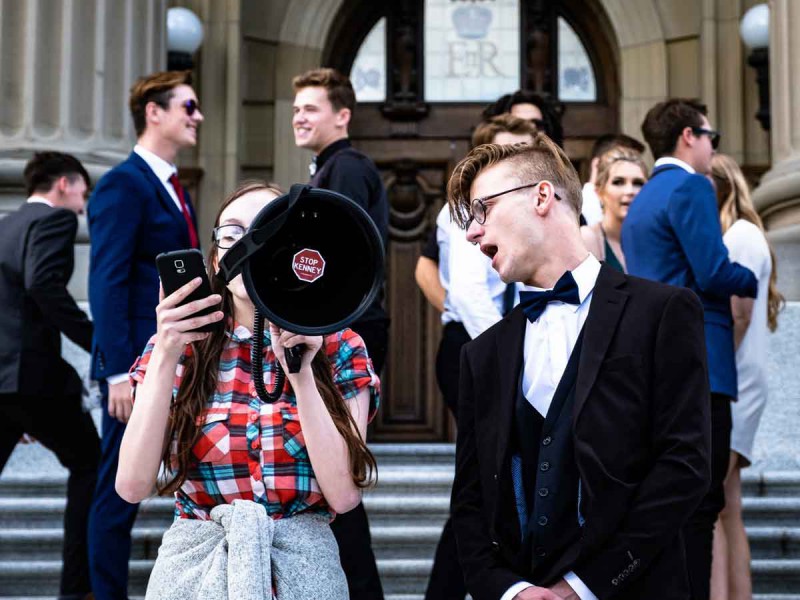 The youth climate strikes had relied on strikers' feeling that the adults don't support us, but all the other kids do. High-school student and climate strike organizer Alyssa Tonnes describes the mood of EYFC members after the June 28 strike as "[a] state of disbelief."
"It was so completely unexpected, right from the start. [There was] a lot of unresolved tension [and] built-up agitation left over afterwards."
Without directing voters toward a clear alternative, the Stop Kenney campaign proved to be ineffective. It was unable to totally stave off a UCP win even in Edmonton, where one UCP MLA was elected in the Edmonton-South West riding despite Edmonton being an NDP stronghold due to its high number of public-sector workers. In the rest of the province, the UCP cleaned up, winning all but four seats outside of the Edmonton area.
Despite petitions, public pressure, and a protest outside the CBC offices, Our Time never got its federal leaders' debate on climate change, and the Edmonton wing of the campaign had few leftist federal candidates behind whom they could rally. In the midst of all of this, TMX was put on hold by the courts, and then reapproved, and construction started in August 2019. Despite Climate Justice Edmonton rallying for years around cries of "It's never getting built," the torch of opposing the TMX appears to have been passed on to activists and Indigenous land defenders along the pipeline's route.
"Fury is an amazing motivator"
If 2015 – the year of the Paris climate agreement – was supposedly marked by an increase in mainstream discussion of climate justice, it doesn't have a lot to show for itself in terms of organizing capacity. By any measure, much of the work that's been done in Edmonton is a pure loss. Laura Kruse, an organizer and facilitator with Climate Justice Edmonton, describes loss as "what we're constantly in. […] It's hard for me to think of something as a particular loss, because we're embedded in a matrix of losses, all the time."
But there's still a sense of tireless activity throughout the community. Tonnes says, "With loss, there's more incentive [to reflect] on that loss and how you want to move forward with that; to change your tactics and approach if they are not working out. In these ways, loss is a helpful tool." She emphasizes the need for repeatable, familiar actions, even when they don't seem to be generating results: "Consistency is really the key here. We have to keep pressure on those who maintain this status quo. […] We need to see a wide range of tactics being employed. We need change beyond the ballot box. It's up to us to not play the bystander. If we can keep that up, I have no doubt we'll win."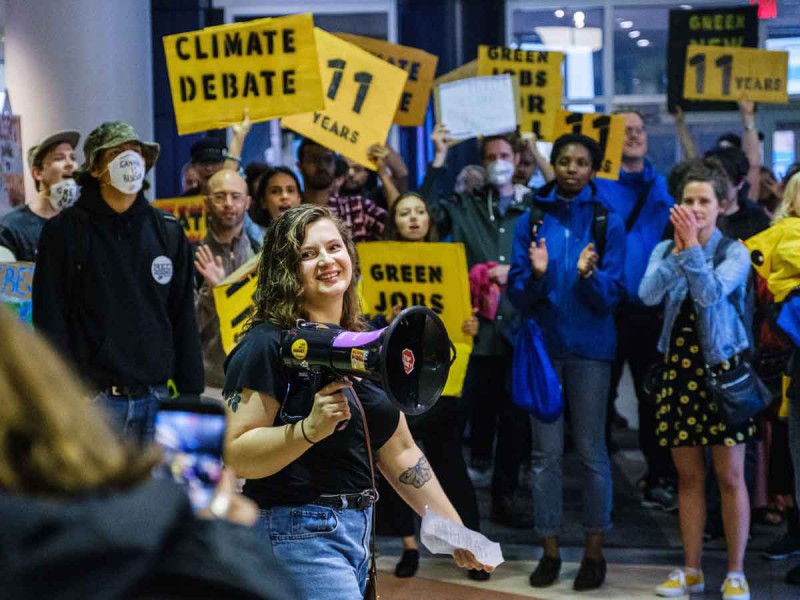 She takes it a positive sign that even after the June 28 climate strike altercation and ensuing feeling of disappointment, not a single organizer left the core EYFC organizing group. Every activist interviewed for this article spoke about the power of loss to inoculate organizers against the desire to give up entirely.
"Loss makes you want to win so much more," says Cameron. "Fury is an amazing motivator, and an even better mobilizer."
Much of the shift from the earlier, smaller Greenpeace group to the current iteration of CJE is marked by a greater sensitivity to burnout in the midst of consistent overwork and loss. Gelderman explains how CJE's lateral structure aims to help members avoid burnout: "Climate Justice Edmonton is run on a completely volunteer basis and is mostly made up of young people trying to balance their organizing work with full-time work and school commitments. As a result, we take turns in leadership roles, each taking the lead on different projects or administrative tasks when their schedule allows."
Kruse says that CJE's distributed structure is essential to maintaining healthy relationships between organizers amid the difficult work being done around climate justice. "The feeling I have when I facilitate a good session with people is unmatched, because I've spent time in a room with 10 people who I am helping to expand their own horizons, and I'm able to get so much information from them," she explains. "What keeps me going is those kinds of little moments of real connection […] real drive toward a common good. […] That's the place to be organizing from."
"Losing as an individual is an incredibly isolating experience," says Cameron. "As a group, there is a shared loss, a shared disappointment."
"It's important to declare small victories," she notes. "Without small victories it would be so hard to stay motivated. It's redefining what a victory is. If our victory is a Green New Deal for Canada and nothing less than that, we might be very disappointed. However, if we redefine our victories as filling a town hall [with] people wanting to talk about a Green New Deal, our losing a federal nomination race by [a handful of] votes – those are all victories."
"In an article published on October 9, 2019, a vice-president at Ipsos [a market research firm, which polled Canadians on their priorities for the federal election] said that he had never seen climate change quite so high on voters' agendas," Gusen recalls. "Our Time's efforts, along with the broader climate movement, played a big role in pushing climate change up the priority list for voters. […] It's nice to see that climate change is [being] seen as a more important electoral issue than ever before."
Re-evaluating victory
Climate change permeated conversations during the 2019 federal election, and TMX's future became a litmus test for leaders' progressive values. It's evidence of an undeniable shift in the climate conversation, even if elected political leaders lag behind the desires of their constituents. Heather McPherson, dubbed "the only orange blip in a sea of blue," backed the pipeline expansion, in defiance of the NDP's position.
Ongoing EYFC strike actions, including participation in the global general climate strike held on September 27, and a sudden march organized in advance of Greta Thunberg's visit to Alberta on October 18, drew crowds that numbered an estimated 4,000 to 10,000 people. Mainstream media struggled to frame the huge public mobilization against the stereotype of an aggressively pro-oil Alberta.
As we struggle to insist that climate change is a real, active, and pressing public threat that warrants immediate and courageous action, there remain questions about whether the win/loss binary is a helpful way to assess organizing.
Gusen says, "I think it's useful to be clear about what you're trying to achieve and then to reflect on whether or not a given action was successful. I only have so much capacity and, if I don't have a way to measure progress, I'll just burn out or lose hope. That being said, an obsession with the win/loss binary does oversimplify things and could lead to discouragement. Ultimately, we're trying to create a radical shift in politics and society. I don't know how to measure that."
With the benefit of hindsight, Tonnes says, "I don't think it'd be fair to [say] you're losing in the broader picture when you're only 'losing' in certain aspects, or at this one event that maybe didn't go over so well, when you have a string of 'victories' behind you."
Cameron adds, "I don't think that victory or loss should be an end goal in organizing. As [others have] mentioned […] it's declaring small victories, re-evaluating what your victories will be throughout a campaign. Organizing should not be defined within that binary – every loss has a victory."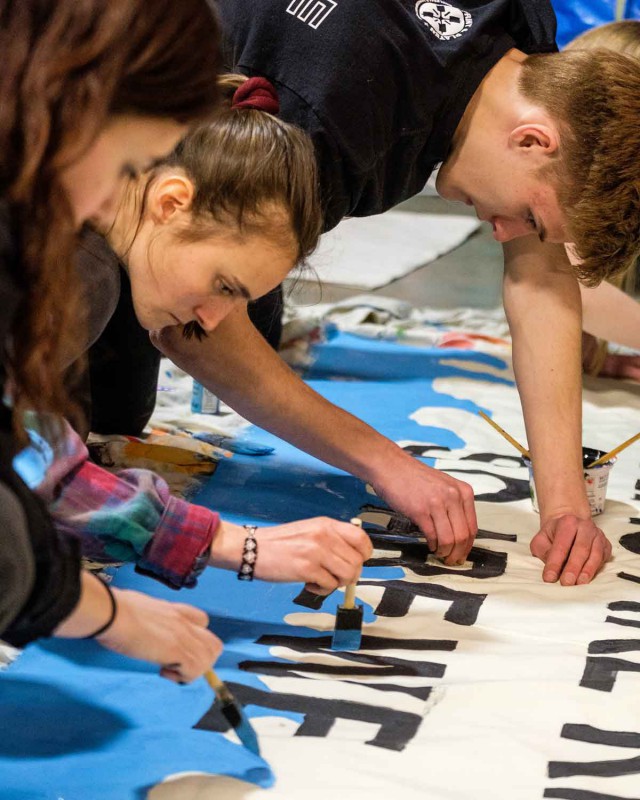 Gelderman considers Gorsak's campaign a victory in the way that it coalesced an initially small group of organizers into an active organizing community. "The campaign completely changed my understanding of what community organizing looks like. […] For the first time, with Paige's campaign, we could actually see before our eyes how our work was building power and growing the movement in Edmonton. The daily door knocking and phone banking shifts provided an easy and consistent entry point for new volunteers, many of them continuing to organize with CJE after the race ended. Additionally, the campaign also taught us about using climate as a bridge issue to bring people into intersectional, anti-racist, and decolonial modes of organizing."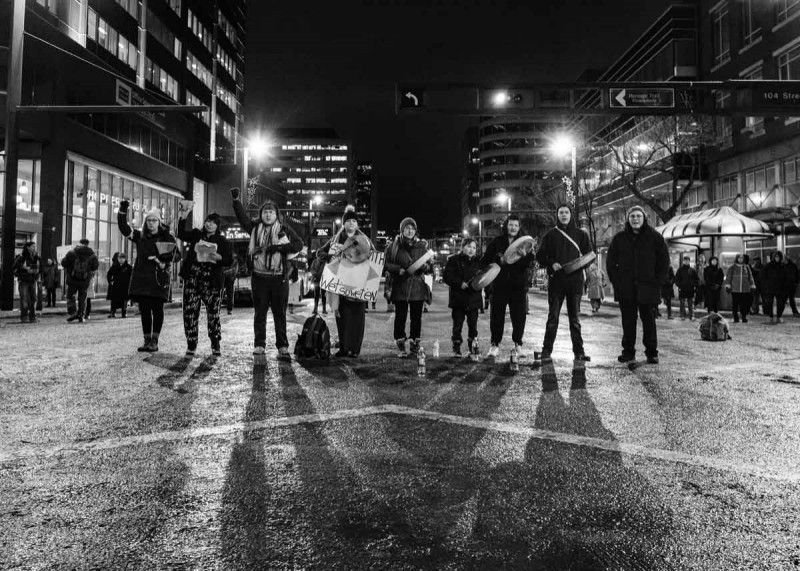 If we accept that Climate Justice Edmonton is the culmination of Edmonton's historically tangled and fragmented environmental organizing scene, then it's fair to say it's still a deeply nascent organization, yet to reach its full potential.
On October 21, 2019, many of the organizers with CJE sit around a television at Cameron's house, watching the 2019 election results come in. The results are underwhelming, with status quo centrist politics continuing to hold the reins of power. But nationally, eight of Our Time's endorsed candidates – which they call the "Green New Deal Champions" – are elected. It's a loss, but an imperfect one, and, for this group, that's cause for some celebration.
In the next few weeks, organizers with Climate Justice Edmonton will launch a free transit campaign. Much of the groundwork has already been laid by Kruse and Gusen, while others were organizing around the federal election. When asked about the potential of achieving free transit, Kruse says, "I don't know if we're going to win that, but I think that we're going to make it a big issue for the following election. And we're going to organize like we're going to win."
As the results come through on election night, some of the group sits by the television discussing political tendencies, debating whether the Liberal minority will help or hinder the climate movement. In the kitchen, others lean against the counters and exchange ideas for direct actions against the Kenney government. The Alberta budget drops in two days, after all, and they need to be ready. Others are still discussing the fallout of the Greta Thunberg march, trying to figure out how to make the chaos of it all into a learning opportunity for the recently onboarded.
Everyone's attention turns to the television when the results are made official in Edmonton Strathcona: Heather McPherson has become the only non-Conservative Party MP in Alberta and Saskatchewan. It's a sharp note of disappointment, but in the midst of the other organizing that's happening in this house, it's a meaningless frustration.
The election becomes the noise, like so many prior events have, and the foregrounding discussions become the signal. If tonight is any indication, there are more and better defeats to be had.
Hopefully some victories, too.
Readers like you keep Briarpatch alive and thriving. Subscribe today to support fiercely independent journalism.