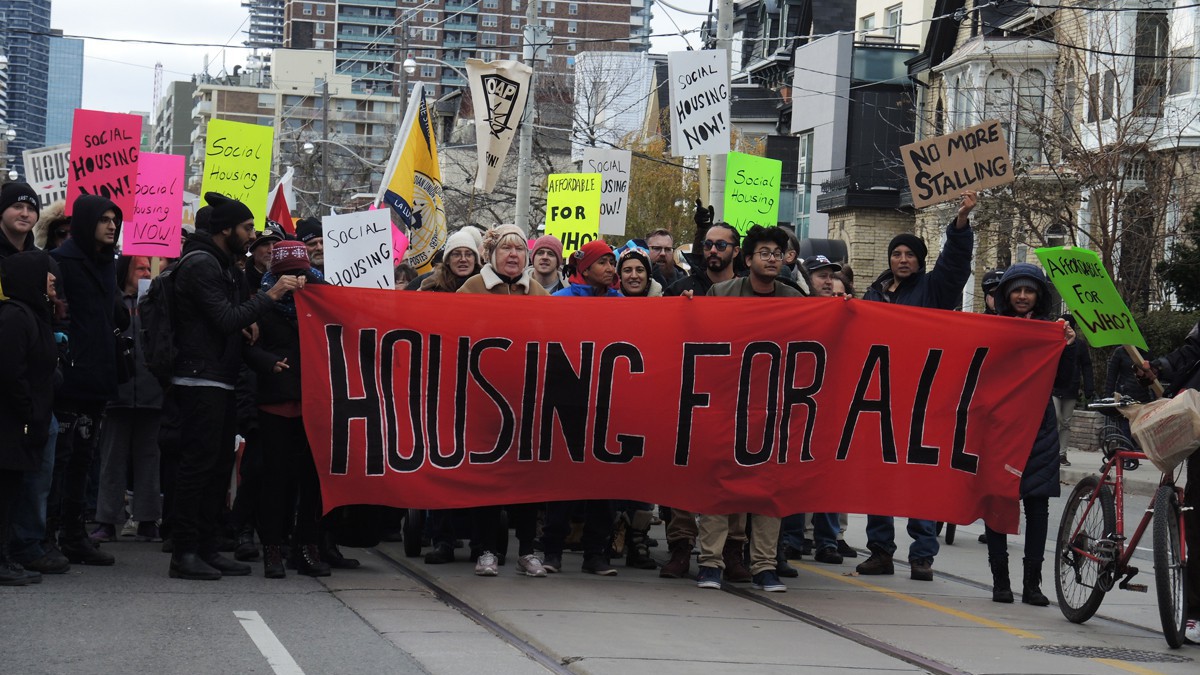 In February of 2017, Pierre Gregoire tried to get into a downtown warming centre that would offer him a mat on the floor, but it was packed to capacity. He was offered a spot on the waiting list. Shortly after leaving the warming centre, he died of a suspected fentanyl overdose in the bathroom of a Kentucky Fried Chicken restaurant. Gregoire, a 28-year-old Indigenous man living on the streets of Toronto, was one of 94 homeless people – most of whom were younger than 50 – who died in Toronto in 2017.
Poor and homeless people in Toronto are in the midst of a deadly and intensifying crisis. Emergency shelters in the country's largest city have been overwhelmed for years, forcing drop-in centres and volunteer-run overnight programs to operate as de facto shelters to shoulder the overflow. Even so, there isn't space for everyone and many are left with nowhere to go.
For years, homeless people, front-line workers, and advocates have been sounding the alarm about the rise in homelessness and the shortage of shelter beds. Among their most urgent demands have been the calls to add at least 1,000 new permanent beds in order to lower occupancy levels, and to open the two federal armouries as an interim measure to provide immediate respite. These two armouries were used four times between 1996 and 2004 and have the capacity to provide shelter for up to 300 people. They have showers, adequate washrooms, and cots. In the past, the armouries have taken pressure off a shelter system straining to meet existing needs.
"I've been on the streets off and on since I've been 13 and this is the worst I've ever seen it."
The disparity between available shelter and need has risen sharply in recent years. Jessica, a homeless woman, has been unable to find a shelter bed and forced to sleep at an overcrowded drop-in. "I've been on the streets off and on since I've been 13 and this is the worst I've ever seen it," she says.
Front-line workers spend hours trying to secure bed spaces, frequently in vain. Frank Coburn, a formerly homeless resident of the downtown east neighbourhood, notes, "It's always been fairly difficult to find a shelter bed. You have to line up, you have to keep coming back over and over again. It gets very frustrating, and so many people give up on it and sleep outside."
In a city that drips with wealth, shelter is being denied to those most destitute.
Building the neoliberal city
The twin agendas that underlie the present homeless crisis are the systematic implementation of austerity and an insatiable appetite for upscale redevelopment.
The proliferation of precarious, low-wage work, restrictive unemployment insurance, and sub-poverty social assistance has pushed people deeper into poverty, and Toronto has the highest rate of poverty, at 17 per cent, among major cities in Canada. As the city plunges deeper into the housing crisis, poor people have faced greater difficulties obtaining and retaining housing.
In the 1990s, Jean Chrétien's Liberals transferred the federal government's role in building social housing to the provinces. Shortly afterward, the government of Ontario downloaded that responsibility onto reluctant municipalities. With none of the three levels of government willing to pick up the tab, the cost of the backlogged repairs needed for existing social housing are now estimated to be over a billion dollars. Neglected, many units have become uninhabitable. By the end of 2018, nearly 1,000 social housing units will be boarded up in Toronto. For the more than 181,000 people on the social housing wait-list, this will extend wait times to over a decade.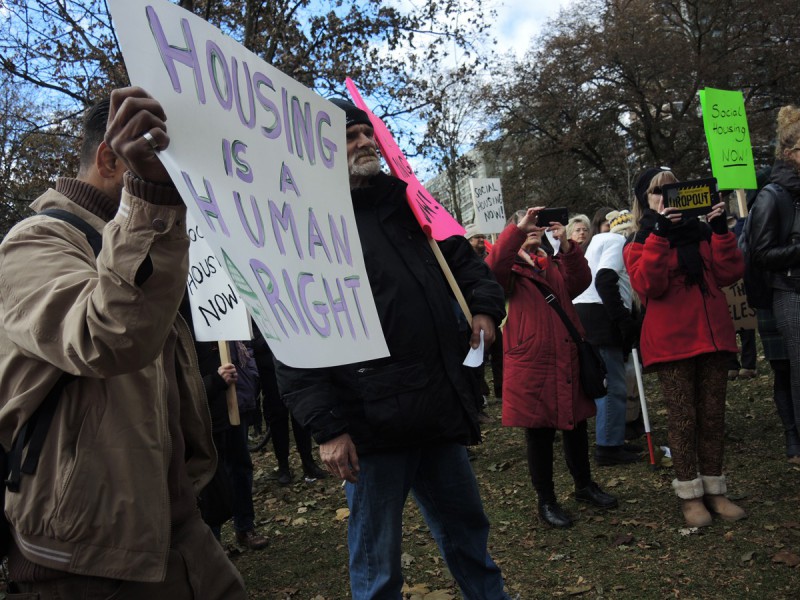 Meanwhile, city-sanctioned upscale condo redevelopment continues to drive up the price of private-market rental housing; now, the average cost of a one-bedroom apartment is over $1,200 per month. Low-wage workers find themselves spending over 60 per cent of their income on rent, and in the case of social assistance recipients, the average rent far outstrips their income.
To make matters worse, in 2013, the Ontario government eliminated a key social assistance benefit relied upon by nearly 200,000 people yearly to help pay for emergency housing costs. It constituted the largest reduction in social assistance benefits in nearly 20 years – a precision strike on poor people's ability to keep a roof over their heads. In place of the benefit, Toronto created the Housing Stabilization Fund with a mandate to "prevent homelessness," but its delivery has been plagued by discriminatory and arbitrary decision-making, resulting in nearly $14 million being withheld over the past four years from people in housing crisis.
The politics of social abandonment
A homeless shelter is the last social provision before outright abandonment. As a form of housing, it doesn't remotely meet social needs. It is a warehouse for human beings that is, at best, a necessary evil in a greedy and unjust society. However, it may also constitute the difference between life and death.
In 1999, Toronto passed a policy of maintaining homeless shelters at a maximum occupancy level of 90 per cent, beyond which beds cannot be guaranteed to those in need. However, as the city-recorded nightly occupancy census demonstrates, shelters have been forced to operate beyond that level for years. As a result, people are turned away every night for lack of space. One criminal defence lawyer has told us that she has clients who sit in jail because she can't secure them a bed to comply with the requirements of their bail conditions.
A homeless shelter doesn't remotely meet social needs. It is, at best, a necessary evil in a greedy and unjust society. However, it may also constitute the difference between life and death.
The city's Streets to Homes Assessment and Referral Centre, a place of last resort for homeless people, is often unable to locate spaces and has to let people sleep in chairs or on the floor. Recently, the centre has been so overwhelmed that it on occasion shut its doors.
The impact of this neglect and abandonment threatens people's health and survival. Chronic overcrowding and bedbug infestations over many years have resulted in significantly deteriorated living conditions within the shelters. The overall stress has led to increased incidences of violence. People's health is also threatened: the largest men's shelter in the city, Seaton House, faced a deadly outbreak of Strep A in 2016–2017. In the crowded conditions, there were 67 confirmed cases, and one was fatal.
Conditions within the backup system of drop-ins, where notoriously basic shelter standards don't apply, are often even worse. In the winter of 2016, members of the Ontario Coalition Against Poverty (OCAP) surveyed homeless people staying at eight interfaith volunteer-run overnight winter programs and two drop-ins, and published the findings in a report titled Out in the Cold: The Crisis in Toronto's Shelter System.
"I saw people under tables, on top of tables, in the hallways … it was hard to see."
As part of the survey, Gaétan Héroux, an OCAP member and front-line worker who has spent the last three decades working with poor and homeless people, visited a drop-in at 6 a.m. "In a space meant for 40 people […] I counted 90 people," Heroux says. "I saw people under tables, on top of tables, in the hallways … it was hard to see."
In January 2018, Toronto Star reporter Julien Gignac visited a downtown church drop-in centre serving as a de facto shelter for over 70 people every night. He described the atrocious conditions: "It's early afternoon and the lighting is dim inside the parish hall. There's a faint smell of urine in the air. A woman coughs phlegm onto the floor. Two people adjust a crude barricade, cordoning off a corner from roughly 60 others who lie on mats … the washroom has one small sink and two toilets – not counting the one that's out of commission – but no shower. There are no lockers to secure personal belongings."
The situation is particularly troubling for homeless women and trans people, who face the added threat of gender-based violence. There are fewer shelters serving them, and ones that exist are packed full every single night in summer or winter.
Choosing not to act
The appalling situation homeless people face formed the backdrop to Toronto city council's December 6, 2017, meeting, at which council members considered a proposal to add 1,000 new shelter beds and open the federal armouries in order to relieve pressure on the overcrowded shelters, something OCAP and its allies had fought for. The motion to add 1,000 beds had originally been brought forward by Joe Mihevc, the city's newly appointed "poverty reduction advocate." During the debate, the mayor, John Tory, and some councillors attributed the overcrowding to the increased use of shelters by refugees. While the increase in shelter use by refugees is undeniable, blaming refugees for a housing and shelter crisis that all three levels of government are responsible for creating is indefensible and a clear case of racist scapegoating. Some councillors also blamed homeless people from surrounding municipalities coming into Toronto to access the shelter system, despite the head of shelter administration stating that there was no available data to substantiate the claim.
In no uncertain terms, Tory was not in favour of dedicating the level of resources the situation demanded. Mihevc, faced with the prospect of a showdown, buckled and brokered a deal to create the mayor's counterproposals.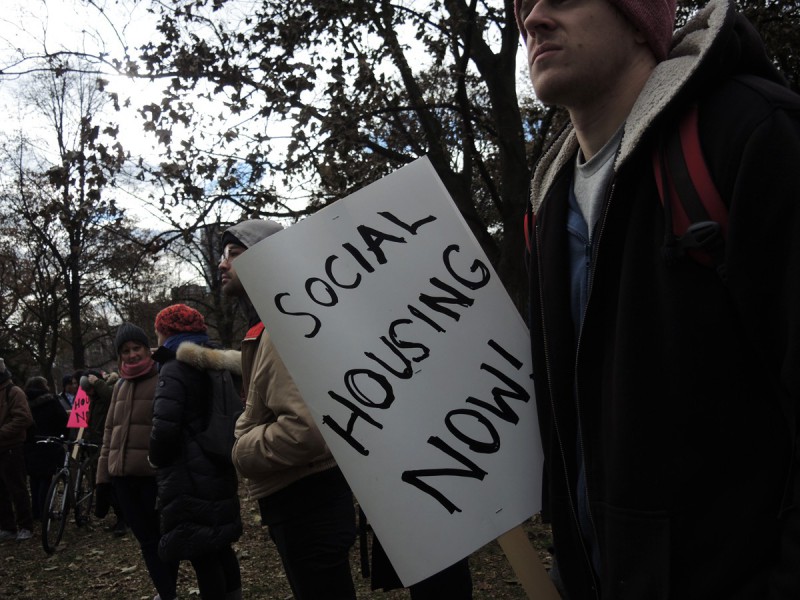 In the end, a majority of council members, including Mihevc, voted against both motions and instead supported the counterproposal to focus the city's efforts on assessing the possibility of opening a maximum of 400 spaces – which would not necessarily be beds but potentially just chairs or mats – in existing shelters, motel rooms, and a warming centre. The city would also attempt to speed up the opening of three shelters, originally slated for 2019, to sometime in 2018. But the immediately available armouries would remain unoccupied, despite the announcement by the federal government that it is prepared to negotiate the use of the armouries as temporary homeless shelters should the city request it.
The proposal that passed will only cram more beds into the already overcrowded existing shelters, but it does not address the crisis or provide immediate respite for many of those who are homeless. Further crowding, even if possible, will dramatically increase the risk of infectious diseases, infestations, and violence. The city's plans to rely on more motel beds may benefit homeless families, but it won't help single people, who represent the largest section of the homeless population. Moreover, the city's proposed new warming centre, even if opened relatively quickly, will not provide beds or adequate washroom facilities.
Most notably, the proposals do nothing to ensure sufficient shelter beds a year from now. This means the crisis – and its lethal consequences – will persist.
Austerity at its most lethal
City council's failure to substantively address the shelter crisis on December 6 was part of a long-range austerity agenda to limit the provision of shelter for the homeless, dismantle city services, and push people to the fringes. The only thing in the way of this process of abandonment has been the resistance of homeless people and their allies. The protests, the marches, the occupations and the readiness of people to speak out are the only means of challenging what is happening.
OCAP and many others in the community have had to apply relentless pressure to challenge the abandonment of homeless people. Along the way, there have been major actions and ongoing skirmishes. In 1999, OCAP set up a "Safe Park" for the homeless in a downtown park and held it for three days before an early-morning police raid drove them out. In 2002, during a visit to Toronto by the Pope, OCAP took direct action to ensure homeless people had a roof over their heads by taking over an empty apartment building. The "Pope Squat" lasted for months and the building is now stable housing. By 2013, under the infamous mayoralty of Rob Ford, the city policy of keeping shelter occupancy to 90 per cent was being openly disregarded. A protest at City Hall, in which OCAP set up a shelter in front of Ford's office, led to dozens of arrests but forced the city to respond. In April 2017, OCAP set up an all-night sleep-out outside Tory's multimillion-dollar downtown condominium to demand he address the shelter crisis. The recent mobilization at the December 6 council meeting is part of a long struggle that is far from over.
Most notably, the proposals do nothing to ensure sufficient shelter beds a year from now. This means the crisis – and its lethal consequences – will persist.
Since council failed to respond seriously or adequately to the shelter crisis, the pressure has continued and some measures have been won. Additional respite space has been opened at the Canadian National Exhibition grounds, followed closely by the addition of two more facilities, one of them in the City of Toronto's Metro Hall. As extreme cold weather gripped the city in late December, the hopelessly overwhelmed shelters and substandard backup facilities scrambled to meet the need, and as the likelihood of freezing deaths became apparent, so did public and media outrage about Tory's earlier decision to not open the armouries.
Faced with increasing public condemnation, Tory opened the Moss Park armoury in January, but he refused to address the underlying problem of the severe shortage of shelter beds. This means that, as of April 15, when the backup winter respite centres shut down, the 700-plus people staying in them will be dumped back onto the streets. OCAP called for a rally at City Hall on January 24 – the day the mayor's executive committee was scheduled to have its first meeting of the year – to demand that the city either add 700 beds to the shelter system by April (and meet its 90 per cent occupancy target by the end of 2018), or continue to operate the respite centres until every single person staying in them can be guaranteed shelter.
On January 16, about a week before the planned action, eight members of council – remarkably including Tory and Mihevc – released an open letter calling on their fellow councillors to support the respite centres staying open past April 15, and to once again consider the demand to add at least 1,000 shelter beds. While the proposals contained in the letter still need approval from the majority of council, as well as adequate budgetary allocations, this development nevertheless points to a significant retreat by the city establishment. It is an important testament to the power and necessity of fighting back. While the struggle to win adequate and decent shelters – and, beyond that, housing that low-income people can afford – is far from over, small victories along the path can pave the way for larger ones.
The readiness to leave people out in the cold or, at best, cram them into wretched facilities that rob them of their health and dignity is, in some ways, the ultimate act of austerity; it is a shameful and callous state of affairs that requires unions and community organizations to step up. If we don't want to live in communities where people are left to die on the streets, we must win this fight.
Since this article was printed, on February 12 Toronto City Council voted in favour of a motion to make available the funds to add 1,000 new shelter beds in 2018. Read Yogi Acharya's article in Rabble about the success, and the struggle still ahead.
Readers like you keep Briarpatch alive and thriving. Subscribe today to support fiercely independent journalism.