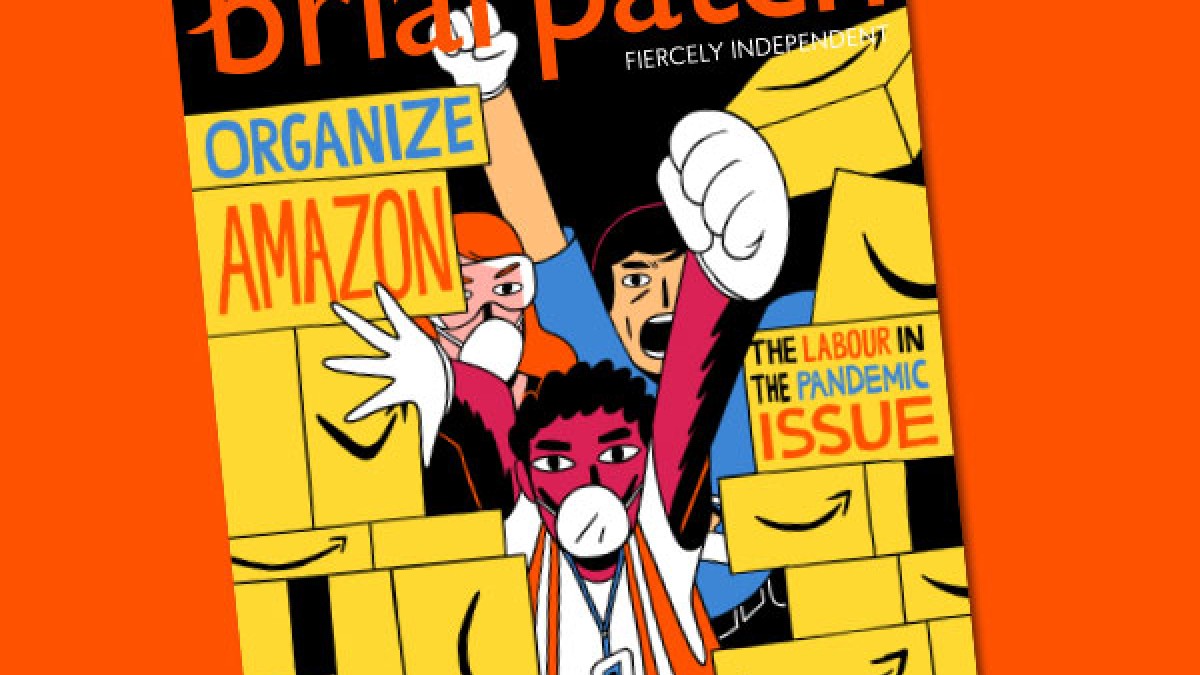 Exorcise Amazon
Letter from the Editor
Today – the day I'm writing this letter – is Prime Day, Amazon's annual two-day "shopping event" when Prime members get discounts and free shipping on products. In the space between the one-click ordering and the package that arrives on your doorstep, I think of the army of workers in Amazon warehouses dashing between shelves to pick and package your product.
As people scrambled to buy household items and cleaning supplies online in the first weeks of COVID-19 lockdown, Amazon saw massive surges in demand. This year alone, the company has hired over 300,000 new workers in the U.S. It's captured around 40 per cent of the U.S. online retail market. Its founder and chief executive, Jeff Bezos, has increased his wealth by $74 billion this year.
E-commerce was already growing before the pandemic hit; now, the pace will be breakneck. More and more middle-income retail jobs will be replaced by low-wage work in vast distribution centres like Amazon's. The company's influence doesn't extend only to its workers – what Amazon does impacts all of us. It hosts the databases that allow U.S. Immigration and Customs Enforcement (ICE) and the Department of Homeland Security to track and apprehend migrants. Bezos owns the Washington Post, the most widely circulated newspaper in the Washington metropolitan area. The company has pioneered new strategies for worker exploitation – patenting a wristband that tracks warehouse workers' hand movements, and using heat-mapping technology to identify Whole Foods stores at risk of unionizing.
"For every union, politician, or community group who thinks that a press release denouncing Amazon's mistreatment of workers is going to bring decisive change, consider that Amazon has gained in public favourability ratings during the pandemic. Amazon has become lodged in our society. The only way to exorcise it is to organize it."
Amazon is just the crest on a wave of a new world of work. As economist Armine Yalnizyan tells Ryan Hayes in "New Traditions," precarious employment tends to increase after a recession – there was a spike in part-time jobs in the '80s, self-employment in the '90s, and temp agency work following the 2008 crash. During and after the recession that we're teetering on the edge of, we'll see an increase in low-paid, non-unionized, and part-time jobs.
The stories in this special issue represent a particular way of thinking about how to fight back against both the new and old tactics to erode workers' rights. Here at Briarpatch, we believe in building power from below. That looks like Foodora workers spearheading the campaign to fight their misclassification as independent contractors and win the right to unionize. It looks like migrant agricultural workers forming committees at their farmhouses and their dorms to develop common tactics and demands. It looks like Amazon workers in Canadian warehouses calling for salts to help them organize, using the old techniques of talking to workers on the shop floor, and working together to choke a bottleneck.
Efforts that are led by workers themselves build worker confidence, solidarity, and, ultimately, power. In that vein, the articles in this issue of Briarpatch follow the people working through the pandemic and, as much as possible, allow them to tell their stories in their own words. Really, I can't put it any better than the Amazon Workers Collective does when they say, "For every union, politician, or community group who thinks that a press release denouncing Amazon's mistreatment of workers is going to bring decisive change, consider that Amazon has gained in public favourability ratings during the pandemic. Amazon has become lodged in our society. The only way to exorcise it is to organize it."