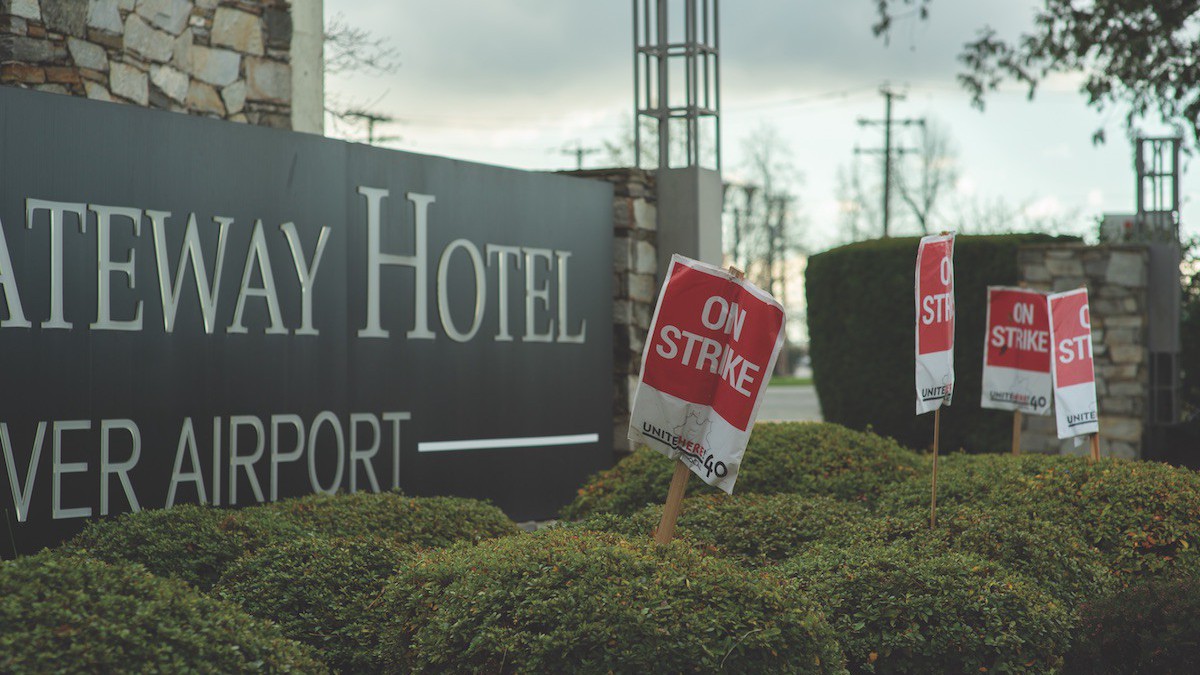 The right to return to work
Elisa Cardona's children can tell something has changed. For the past two years, she's struggled to pay for dentist visits and groceries. Between the stress and mounting grocery bills, she's lost weight. She tries to educate her children on budgeting but says it's difficult for her kids to understand that if they eat everything in the pantry, there won't be anything left.
"They can feed off of that and tell that something is wrong. I try to keep them in the loop about the financial situation of it, because, I mean, schools don't do that," says Cardona.
Things were different before the pandemic. After working at the Pacific Gateway Hotel as a host and server for seven years, Cardona had job stability, a decent wage, as well as health and pension benefits. It was her first job in Canada. "I did more outings with the kids. We were more involved in the community. We did more trips, and I wasn't so grinchy or scroogie with the grocery shopping," says Cardona.
Like many workers in hospitality, Cardona and her co-workers found themselves abruptly without work in mid-March 2020. Within weeks, the hotel told its workers via an internal company app that it had been contracted by the federal government to be used as a quarantine facility for two months. Rather than rehire workers who had been laid off to staff the facility like other hotels-turned-quarantine-facilities had done, the Red Cross was brought in. A small group of the hotel's original staff continued to do admin work at the hotel, but most of the original workforce was left out in the cold.
"That's not okay, because we can do the work that the Red Cross is doing in there," says Cardona.
"We're still here. We want our jobs back, and you're not going to get rid of us."
Initially, the laid-off workers were covered by the recall rights in their collective agreement, which entitles workers to return to their job should the position become available again within a specific time frame. But the pandemic outlasted those recall rights, and the Pacific Gateway's contract with the federal government continued to be renewed every three months, up until January 2022.
By terminating workers and refusing to allow them to return when business resumes, hotel owners won't have to honour the wage increases that workers have earned during their lengths of employment, their workload protections, vacation time, seniority, or medical and pension benefits. Instead, they can hire new workers at low wages.
Ultimately, over 140 Pacific Gateway workers have been fired. The majority of the fired workers are women, many of them women of colour. In May 2021, the workers who survived the layoffs decided to go on strike in solidarity with their laid-off co-workers.
Out on the picket, Cardona, an avid hiker, walks around the hotel to stay warm and keep her mind busy. A riverside trail snakes around the Pacific Gateway and along the banks of the Fraser River. Planes descend low over the hotel on their way to the nearby airport. Cardona spends around 20 hours a week on the picket line, less than the full-time hours she used to put in at the hotel's restaurant.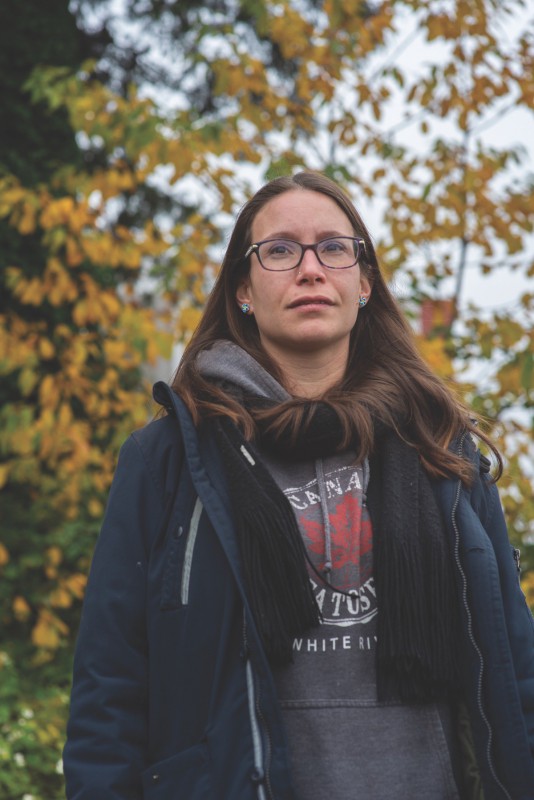 Setting out for a walk around the hotel in November, Cardona's co-workers rattle off a laundry list of politicians they've emailed and called. Workers have also testified in front of government committees and filed a human rights complaint, but they have received little acknowledgement from the federal Liberal government.
Throughout the pandemic, the Pacific Gateway Hotel has continued to make money from government contracts and industry bailout funds. Their main source of revenue has been from the quarantine facility contract with the Public Health Agency of Canada, which Unite Here Local 40 estimates to be worth $50,000/day, approximately the cost of renting every room in the hotel.
Despite firing the majority of the Pacific Gateway's workforce, both of the hotel's owners, PHI Hotel Group and Van-Air Holdings Ltd., received money from the Canada Emergency Wage Subsidy, a fund set up to help employers "re-hire workers, help prevent further job losses, and ease your business back into normal operations."
Unite Here began sounding the alarm about expiring recall rights at the end of 2020. Months later, amid tense contract negotiations with Hospitality Industrial Relations (HIR), a bargaining agent representing hotels and resorts across the province, workers at 32 hotels were threatened with a lockout, meaning they would be forbidden from returning to their jobs.
A recall agreement was reached with HIR in September 2021 that guaranteed recall protections until July 1, 2023, or until the pandemic was declared over by the World Health Organization, whichever comes first.
Thousands of workers now had their right to their jobs protected for years to come, but the Pacific Gateway and the Hilton Metrotown were outliers. Neither hotel would commit to bringing their workers back.
In January 2022, Unite Here Local 40 was contacted by Members of Parliament who had been following the situation, letting them know that the Public Health Agency of Canada contract would end at the end of the month. On February 1, the Pacific Gateway posted job ads on Indeed looking to replace the workers on the picket line.
Nearly a year into the strike, Cardona and her co-workers refuse to give up and go home.
"We're still here. We want our jobs back, and you're not going to get rid of us," she says.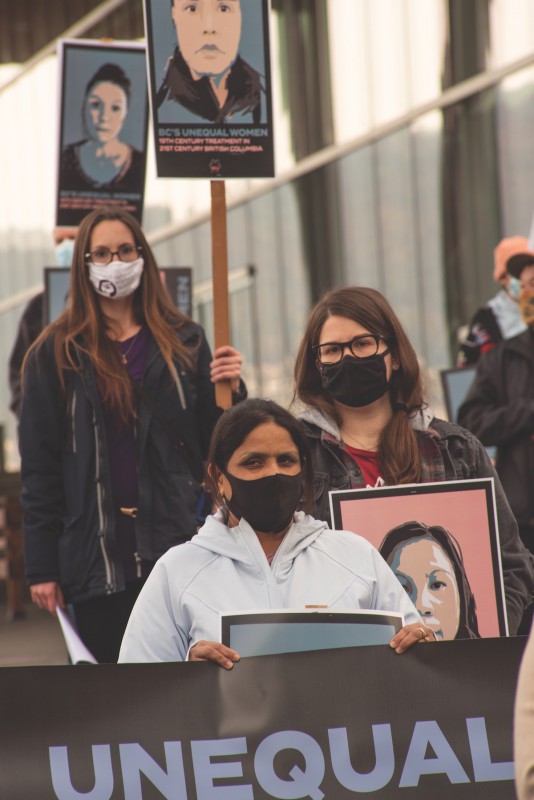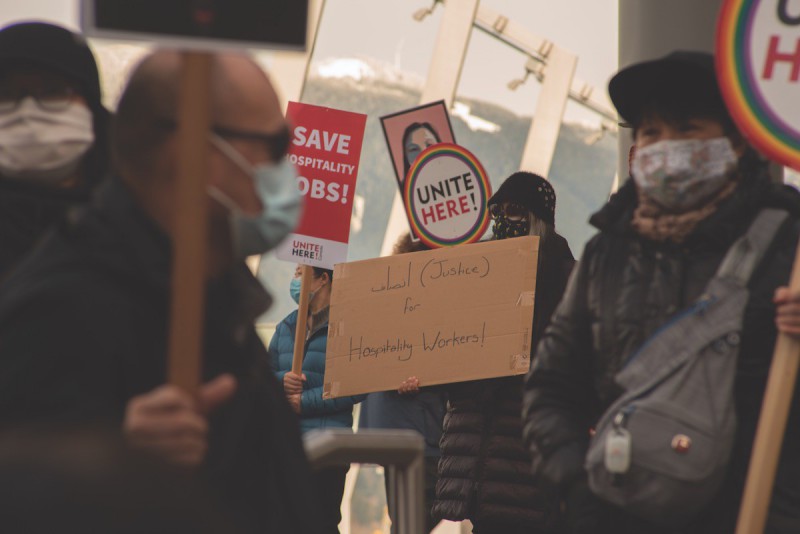 —
In early 2020, Cecilia Rutter had been looking forward to finishing her last weeks of work before a month-long trip to the Philippines to see her family, a trip she had planned for months. Since immigrating to Canada in the late 1980s to work as a live-in caregiver, she has tried to make regular trips home. Now, with the hotel shutting down service and borders closing, she wasn't sure when she would see her family again, or when she would work another shift at the Hilton Metrotown.
"I was so stressed out because, you know, like, how could I make money and pay my rent? So everything felt like a bomb [went off]," she says.
After nearly 22 years working as a room attendant, Rutter didn't know what to do with the free time the early pandemic afforded her. Feeling herself slipping into depression, she made a point of reconnecting with her co-workers to go on daily walks.
As case counts dwindled in the summer of 2020, the owners of the Hilton Metrotown began calling staff back and offering them one or two shifts a week. Rutter accepted shifts whenever she could, but those very few hours and CERB payments paled in comparison to what she had made as a full-time worker pre-pandemic.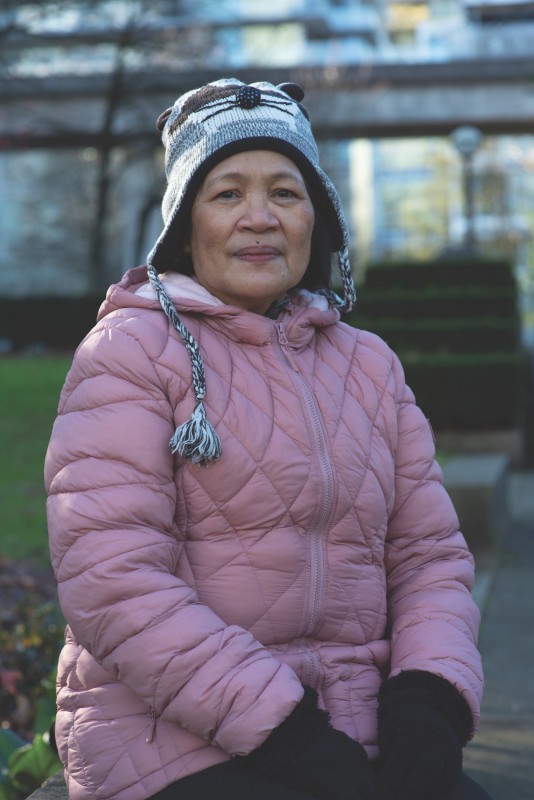 However, not all of Rutter's co-workers were asked to return. The hotel terminated nearly 100 workers – and when the union fought to get them their jobs back, the hotel owners locked out the remaining workers, refusing to allow them to staff the hotel.
The Hilton Metrotown workers have been locked out and on the picket line since April 2021. The hotel is within earshot of the SkyTrain light rail system and the biggest mall in the province. It's a busier, noisier environment than the Pacific Gateway, with bus drivers, plumbers, and gig economy delivery drivers honking and ringing their bike bells in solidarity as they pass.
After over two decades at the Metrotown, Rutter was confused by the lockout. Like Rutter, many of the workers had been at the hotel for decades. At the hotel's 20th anniversary, Rutter says the general manager told the staff they were "family." Rutter's son, Mark, is seated next to her when we meet in a mall food court in November, and he pipes up to say he hates the use of the word "family" in work contexts.
Mark is also involved in the labour movement. He works at a grocery store while studying at a university in the Vancouver area and is a proud member of UFCW 1518. After becoming a manager at the grocery store, he quickly became disillusioned with managerial culture – he found he related more to the workers than the bosses.
"I just saw how they treated the workers and how they cut them short," he says. "And I just had to stand up and be like, 'No, these are the people that I stand for.'"
"I was so stressed out because, you know, like, how could I make money and pay my rent? So everything felt like a bomb [went off]."
But room attendants like Rutter have another threat to their livelihood to worry about: the end of daily room cleaning.
While hotels had been cutting down on daily room cleaning before the pandemic, touting the cuts as environmental initiatives and rewarding guests with hotel credits for opting out, they've recently changed their approach. These days, cutting down on daily room cleaning is about limiting interactions between guests and staff, and the practice has accelerated during the pandemic under the guise of COVID safety.
Recent comments from Hilton CEO Christopher Nassetta reveal that some hotel owners are hoping to make these cuts permanent.
On a February 2021 investor conference call, Nassetta said the company is focused on making Hilton hotels "higher-margin businesses and creating more labor efficiencies, particularly in the areas of housekeeping, food and beverage, and other areas." His hope is that hotels will "require less labor than they did pre-COVID."
Regardless of how hotel owners spin it, cutting down on daily room cleaning has significant impacts for their workforce.
Since the housekeeping workforce is dominated by women of colour, reducing housekeeping staff specifically means cutting down on the number of women and racialized people working in hotels.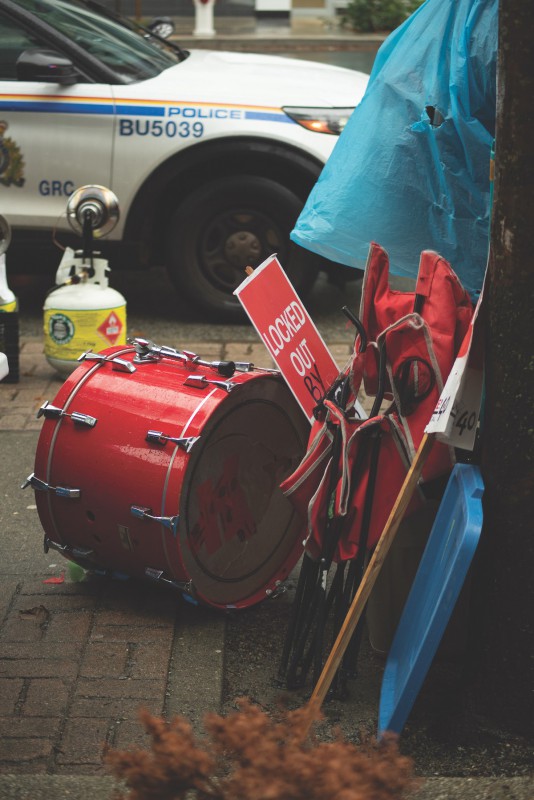 For the room attendants who remain, work will become more physically demanding. When rooms are cleaned less frequently, the mess that builds up requires more time and effort to clean. Housekeeping is already a physically demanding job that is vulnerable to becoming more intense when hotels shift services to attract clients, as demonstrated by research by Karen Messing and Ana Maria Seifert.
In "Cleaning Up After Globalization," Messing and Seifert explore how work intensifications brought on by new marketing initiatives and precarious employment practices impact room attendants' health and social lives. They note that "since cleaning is far from the minds of those who devise these work and marketing strategies, any changes in products and services are likely to have major unforeseen consequences for cleaners' workloads."
When Rutter started working as a room attendant, she didn't think she'd last more than a month. The work was physically exhausting, and with demanding daily assignments – the number of rooms attendants are expected to clean – she didn't always get to take a break. Years later, after Rutter returned to work following a major surgery, lifting a large mattress sent her back to the hospital. More time in recovery impacted both her finances and her ability to send remittances to her family in the Philippines.
To this day, she swears housekeeping is the hardest job in any hotel, but she stuck with it to support her son.
After over two decades as a room attendant and nearly a year on the picket line, Rutter's future in hospitality feels uncertain. Despite recent setbacks, she and her son are optimistic.
"We always grew up kind of poor, so we were always just familiar with the feeling of having no money. This is just another layer of it," says Mark. "Fighting is definitely part of our heritage."
For now, Rutter will be out on the picket line every day, rain or shine, with her co-workers.
"Sometimes I don't feel like being there, you know, but you talk to your co-workers, we have lots of fun. We are very close to each other now. […] If you have a problem, you go there. Your problem is gone! We're still there because we keep fighting," she says.
Readers like you keep Briarpatch alive and thriving. Subscribe today to support fiercely independent journalism.