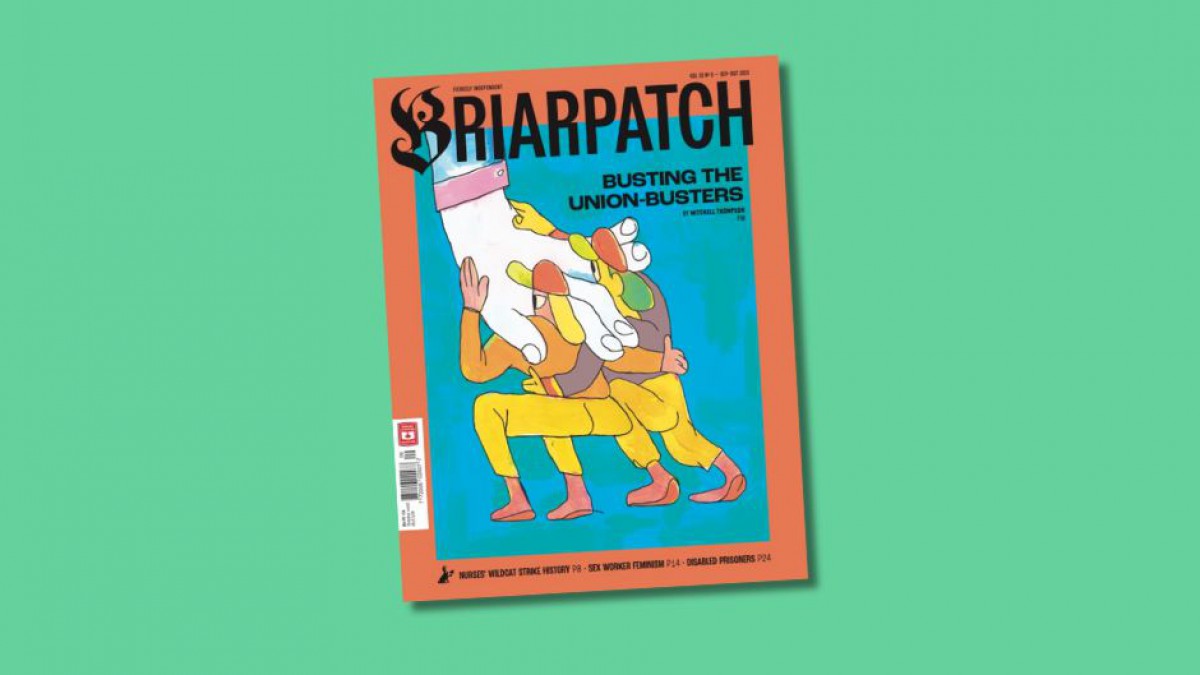 Yes, you read correctly – this is your copy of Briarpatch! We turned 50 years old this year, and to mark such a big feat for a scrappy, radical magazine, we decided it was time for a redesign. For the past several months, we've been collaborating with Kevin Yuen Kit Lo and Marie-Noëlle Hébert of LOKI, an activist design studio based in Montreal, to develop a new look.
We wanted Briarpatch's redesign to honour our Saskatchewan roots, reflect our fiery politics, and usher in the next 50 years of radical media. To showcase the wide range of topics we cover while maintaining the rigorous literary aesthetic the activist design studio is known for, Lo and Hébert drew from the tradition of blackletter newspaper mastheads for our new logo and the signature "B" you'll find at the end of every article in this issue. For the title fonts, they were inspired by 19th century wood types and hand-lettered protest placards.
They also created a mascot for Briarpatch – a mischievous, troublemaking activist rabbit named Scrappy who lives in briar patches. Scrappy got their name because of the scrappy nature of our supporters, who have kept the magazine alive through bottle drives, skate-a-thons, and furniture donations. Briarpatch's longtime hometown of Regina, Saskatchewan is a city full of rabbits and they're a constant reminder of our troublesome relationship and responsibility to the environment, and the creatures we share it with. Scrappy represents the magazine as a megaphone-toting, spray-painting, organizing, riot-inciting troublemaker. You'll find Scrappy throughout this issue, announcing our Quotes from the Underground, representing our Sustainers, and signing off on this letter, as well as in our announcements and promotional materials.
I'm so thrilled to present the new design with this issue's slate of incendiary articles. Nurse, organizer, and researcher Rajbeer Grewal digs into the history of nursing wildcat strikes, and considers the consequences essential workers face – and the gains they risk winning – by taking job action. F.T. Green investigates the Canadian government's funding of Indigenous police forces and the false promise of "culturally appropriate" policing. And in our cover story, Mitchell Thompson interviews workers and organizers to find out how they out-organized union-busting bosses.
I'm also excited to feature more prisoner writing and art in this issue. Trish Mills, a dedicated prisoner justice advocate, speaks with disabled, racialized prisoners in Ontario about the disabling nature of prisons and what it's like navigating the criminal justice system as a disabled person. The art accompanying Mills' writing is by Peter Collins, whose art we featured on the cover of our Prison Abolition Issue. Collins was a lifer at Bath Institution in Kingston, Ontario, where he was known for feeding the birds and drawing their portraits.
The timing of our redesign is ironic. As we launch our new look, Meta has blocked Briarpatch in response to the Canadian government's Online News Act. In early August, I went on Briarpatch's Instagram account to post a call for pitches for our upcoming Black Radicalism special issue in collaboration with the African, Caribbean, Black Network of Waterloo. Not only was I prohibited from posting, Briarpatch's feed was gone. We're still posting behind a VPN, but many readers in Canada can't view our content or that of other independent media.
As Big Tech's news ban keeps people from seeing the news that affects them, I'm grateful that we can send our content straight to your doorsteps. But many of our readers access our articles online and discover our content through social media. Meta and Google's news block means that, like other independent media outlets, we're going to have a hard time reaching online readers and new readers, circulating our calls for pitches, and sharing announcements.
To keep reaching new audiences and publishing movement-building articles, we'll need readers' help. Turn on your VPN to see our content on social media, go to briarpatchmagazine.com and click "Sign up" to receive our announcements via our newsletter, and – most importantly – share Briarpatch with your friends, families, and comrades. Briarpatch has survived far bigger hurdles than Big Tech's tax tantrum, and with reader support, we'll reach new audiences despite the news ban.

*We'll be updating our website with the new design in the coming months.
Readers like you keep Briarpatch alive and thriving. Subscribe today to support fiercely independent journalism.