Call for pitches: Black Radicalism special issue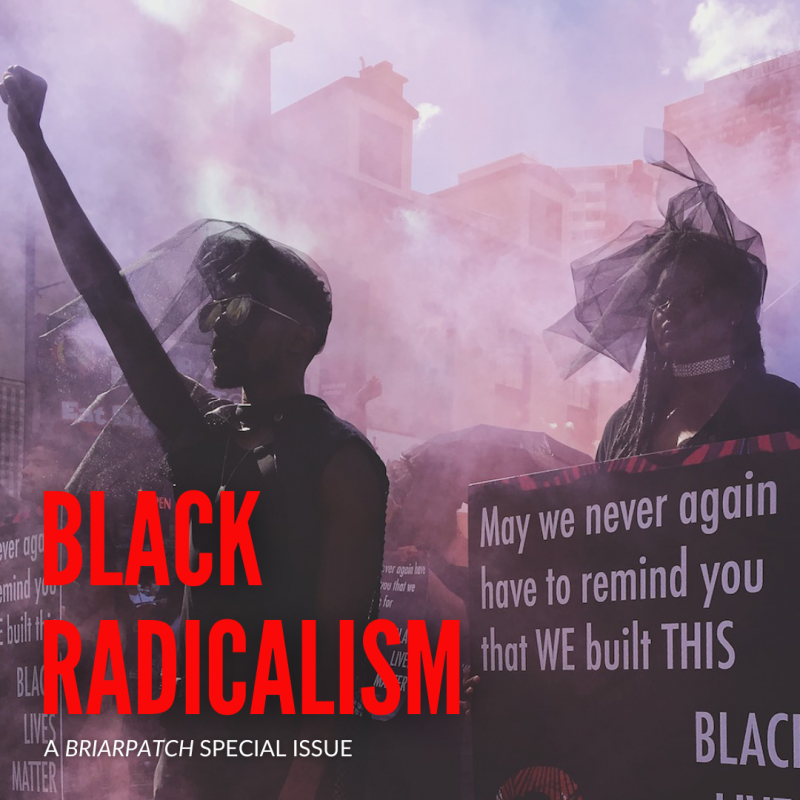 Black radical organizing in so-called Canada didn't begin during the 2020 uprising against police violence: Black people have been fighting for survival and liberation on these lands for centuries.
In African, Caribbean, Black Network of Waterloo (ACB Network) member Ciann Wilson's words: "We stay committed and we stay connected because of this profound, radical love that we have for our communities and all our possible futures of thriving."
For our January/February 2024 issue, Briarpatch is partnering with the ACB Network to publish a special issue about Black radicalism. The Black Radicalism issue will be edited by Briarpatch's interim editor Sophie Jin – a non-Black settler – with the help of ACB Network organizers Fitsum Areguy, Ann Marie Beals, Ruth Cameron, Ciann Wilson, and Teneile Warren.
The ACB Network's purpose is to combat anti-Black racism in society; to reduce and remove structural barriers to employment, education, housing, and health care for Black community members; to highlight local Black-led initiatives; and to develop Black leadership to catalyze a movement for Black liberation in Waterloo. Over at Briarpatch, we're long-time fans of the network's organizing (check out their profile in our July/August 2023 issue), and we're so excited to join forces with them to make this special issue.
What we're looking for
We are looking for investigative reporting, historical analysis, photo essays, timelines, personal essays, poetry, reviews, profiles, interviews, roundtables, debates, visionary fiction, art, and other contributions that defy standard categorization.
Below is an incomplete list of topic suggestions, and we invite submissions beyond these categories:
Black radical organizing in the Prairies, the North, and rural so-called Canada
History and modern-day storytelling and oral histories celebrating African ways of knowing and being
Diasporic and transnational Black radicalism for resisting neocolonial forces
Radical kinship and Black and Indigenous solidarity; history of Black radicalism in Canada; revolutionary wars waged by Black and Indigenous people against colonialism
The role of Black people in the fight for Land Back and decolonization, and of Indigenous people in Black liberation
Afro-Indigeneity, pretendians, and anti-Blackness in Indigenous communities
Black communities surviving public health crises; Black people's resistance, survival, and erasure in the AIDS/HIV epidemic, COVID-19 pandemic, and the drug poisoning crisis
Black community self-defense; the role of street gangs in political organizing
Black well-being and Black radical feminist futures
The story of Black Canadian fugitive libraries and Black radical education and archiving
Black ecologies, farming, and environmental justice toward Black independence from the state
Black radical tradition in queer movements and organizing
Anti-Blackness in Muslim spaces; radical Black Muslim organizing
Black death, state violence, and Black liberation
Black radical care work, radical love, and mutual aid as central to liberation
How to pitch
Pitches for this special issue are due by August 15, 2023.
This issue will feature writing and art mostly from Black contributors. Preference will be given to pitches from Black writers and artists. If you're Black, please self-identify in your pitch email.
Your pitch should describe what ground you will cover, give an estimated word count, and indicate your experience or background in writing about the issue. If you haven't written for Briarpatch before, please provide a brief writing sample. Send your pitch to pitch[at]briarpatchmagazine.com.
Before pitching, take a look at some of our back issues to see what we have recently covered. Please review our submission guidelines and our guide to pitching.
If you're an emerging Black writer who wants more support in polishing a pitch or developing an angle for your story, you can email sophie[at]briarpatchmagazine.com with a draft of your pitch by August 7, 2023.
If your pitch is accepted, a first draft of your article will be due September 12, 2023, followed by a collaborative editing process lasting until about November 14, 2023.
Our standard rates of pay are:
$150 – Profiles, short essays, parting shots (generally <1,500 words); feature art
$250 – Feature stories (generally 1,500-2,000 words); photo essays
$350 – Research-based articles and investigative reportage (generally 2,000–2,500 words)
We're working to secure additional funding for this issue, in which case we'll raise our rates of pay for contributors. If you're interested in donating to increase contributors' fees for the Black Radicalism issue, head to our donate page and email publisher[at]briarpatchmagazine.com to us know your donation is for the Black Radicalism issue.
We reserve the right to edit your work (with your active involvement), and cannot guarantee publication.