Briarpatch is going on tour!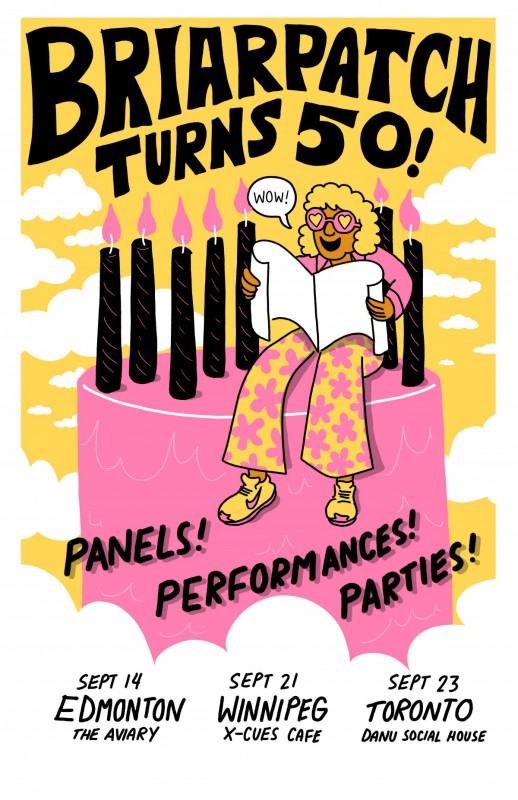 You read that right! Since it's our 50th anniversary, we thought it was only appropriate to commemorate the occasion with a few parties.
In true Briarpatch fashion, of course, we're not just throwing any kind of party – we're holding panels with local writers and organizers to push conversations about pressing issues facing the left, and we're hosting performances by musical artists embodying our fiercely independent ethos. A party thrown by a radical publication better be a radical party, after all.
Come get politically activated with us at the following venues:
Sept. 14, Edmonton – The Aviary. Doors 7:30, program 8:00. Panel featuring Jeremy Appel & Cole Rockarts. Music by Aladean Kheroufi.
Sept. 21, Winnipeg – Xcues Café & Events Centre. Doors 7:30, program 8:00. Panel featuring Lenard Monkman and Mahlet Cuff. Music by Treyson Sinclair.
Sept. 23, Toronto – Danu Social House. Program 8:00. Panel featuring Matthew DiMera & Daniel Sarah Karasik. Music TBA.
(And yes, we'll be having a hometown event in Regina later in the year!)
All events are PWYC and by donation only – nobody turned away at the door. Masking is encouraged.
See you soon, comrades!