Free transit is just the beginning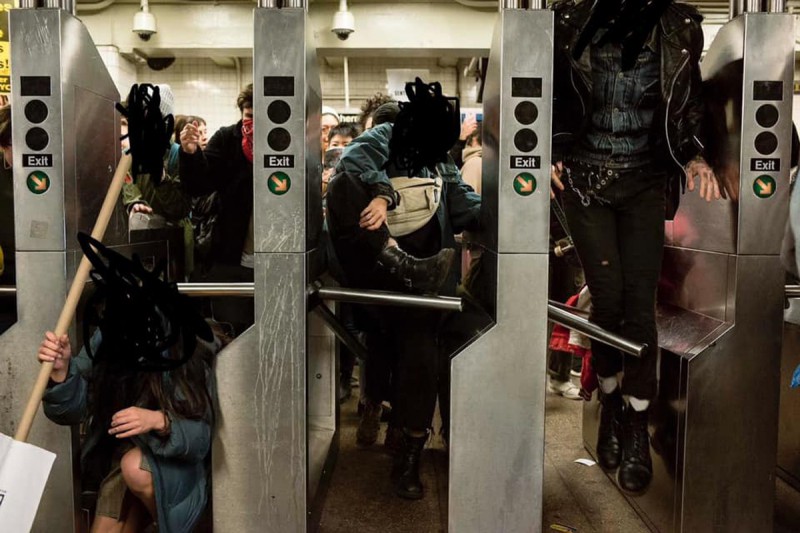 Militant transit struggles are breaking out across the Americas.
In Chile, transit riders responded to a proposed 4 per cent fare hike with explosive protests that included mass turnstile jumping, peaceful marches, and vandalism or destruction of subway stations in Santiago. New York Governor Andrew Cuomo's decision to hire 500 more transit cops for New York City's subway – along with increased fares and a series of viral videos of incidents of police violence in the subway – have triggered massive fare evasion actions and rallies.
Last week, bus riders in Vancouver were refusing to pay fares until TransLink offered a fair contract to transit workers, while activists in Montreal marched for a transit-focused Green New Deal. Others in Toronto plastered the city with beautiful posters calling for free transit and proper funding of the TTC. Fare strikes and rallies for free transit are scheduled in several cities for November 29 – the same day as the global climate strike. Transit workers are striking against their private employer in Washington, D.C. while Vancouver SkyTrain workers voted 96.8 per cent in favour of job action. Campaigns continue to escalate in power and scale.
But it's the specific demands for free transit that knit seemingly disparate movements for climate action, anti-poverty, and prison and police abolition together into a potentially world-changing force.
It's no coincidence that these efforts are all taking place at the same time. Public transit is one of the most powerful sites of struggle that we have in our cities, given it's the backbone of how many people get to work, grocery stores, schools, and social activities. The physical nature of the service – requiring strangers to congregate in bus shelters and train stations, often anxious about delays and costs – represents a site of highly effective collective power if harnessed. But it's the specific demands for free transit, through spontaneous actions of turnstile jumping and campaigns like "swipe it forward," that knit seemingly disparate movements for climate action, anti-poverty, and prison and police abolition together into a potentially world-changing force.
Technocratic transit wonks often condescend to advocates of fare-free transit, arguing that municipalities need more funding to improve service and that calls for free transit undermine that goal. Of course it's true that transit departments need massive amounts more money – but that shouldn't be coming from regressive fares that increasingly benefit corporate owners like SNC-Lavalin's botched light-rail project in Ottawa. Instead, excellent transit systems can and should be fully funded by increasing taxes on rich households and corporations and rerouting current spending on roads and highways.
Such a transition will have a huge range of benefits: boosting ridership, cutting emissions, making streets safer for pedestrians and cyclists, and ensuring that everyone has the ability to travel regardless of income. It's an exceptionally straightforward policy to implement, and can serve as a clear rebuttal to the growing trend of privatization and austerity.
Transit agencies will no longer have to worry about "fare evasion," which has long been used to justify dystopian securitization measures. After the TTC's alleged loss of $61 million due to fare evasion in 2018, it launched a widespread ad campaign to threaten riders with $425 fines and dozens of new fare inspectors and transit enforcement officers. Similarly, New York responded to a reported loss of $215 million last year from fare evasion by hiring 500 more Metropolitan Transportation Authority cops – costing almost $250 million over four years (that's in addition to the over 700 existing transit police and 2,500 NYPD officers who patrol the city's subways and buses).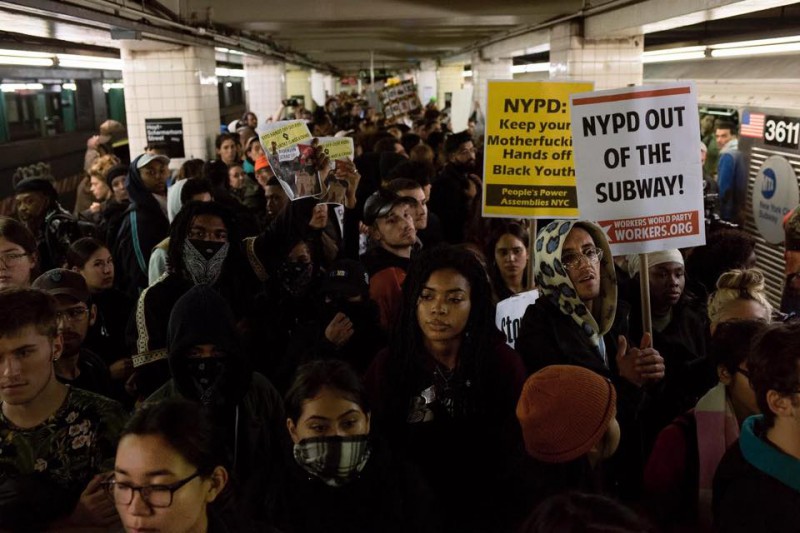 Unsurprisingly, such enforcement is highly racialized: two-thirds of the MTA riders arrested for fare evasion in the second quarter of 2019 were Black, while a decade's worth of TTC data indicated that Black transit users have been fined at a rate almost double their demographic. Transit police are increasingly profiling and detaining undocumented people on transit, leading to deportation and incarceration. While getting rid of fares doesn't eradicate racist policing, it removes one of the main tools used to harass and detain in transit spaces.
Free transit also protects transit workers. Bus drivers, especially, are forced to bear the brunt of rider anger at high fares and poor service. According to a survey conducted by the Amalgamated Transit Union of drivers, 73.6 per cent of assaults are caused by fare disputes. If we want to reduce the very threat of attack and abuse that workers face on the job, we should remove the primary source of incidents: fare disputes.
Ditching fares means that people are no longer denied transportation due to lack of money. It also means that riders can board the bus far more efficiently, not having to scan their transit pass or put a pocket full of coins in the farebox, increasing the ability for the vehicle to remain on schedule, and for riders to be able to rely on its service. Some cities have half-heartedly introduced low-income transit passes but they're often still far too expensive or require a byzantine means-testing process. It would be far simpler just to abolish fares.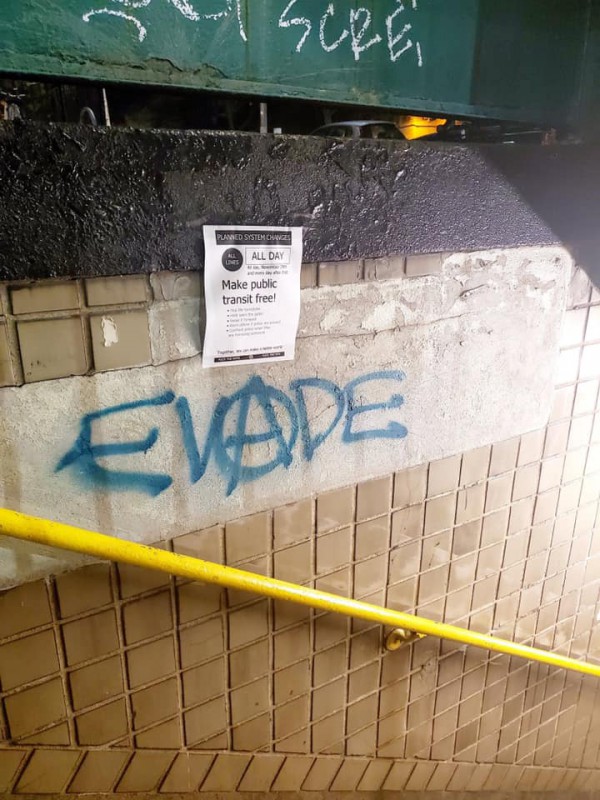 It's not some utopian demand. Over 100 transit systems operate fare-free around the world, including much of Estonia. Dunkirk, France, became one of the largest examples, when it introduced free buses to its population of 200,000 last year. About half of riders surveyed said they were new transit users and were using it instead of driving a car, a clear indication of the policy's power to reduce transportation emissions in a city. Such an approach can be scaled up to any level, of course, including to intercity bus service or national passenger rail.
Free transit is about much more than transit: an end to austerity, a refusal of police power, and a demand for decommodified and universal public services. We simply can't build the world we dream of until we confront ruling class power in all its forms. As geographer Juan Correa told CityLab, people in the highly unequal country of Chile attacked the subway because companies were extracting profits from them through higher fares: "This was a moment of rage, of stating that this institution was public, but they make me pay and with a hike that is unjustified."
Free transit is a struggle for genuinely public and democratic control of our society. Activists in Chile and New York City are showing us how to win. Let's join them at the turnstiles today.