A New School for Wet'suwet'en Youth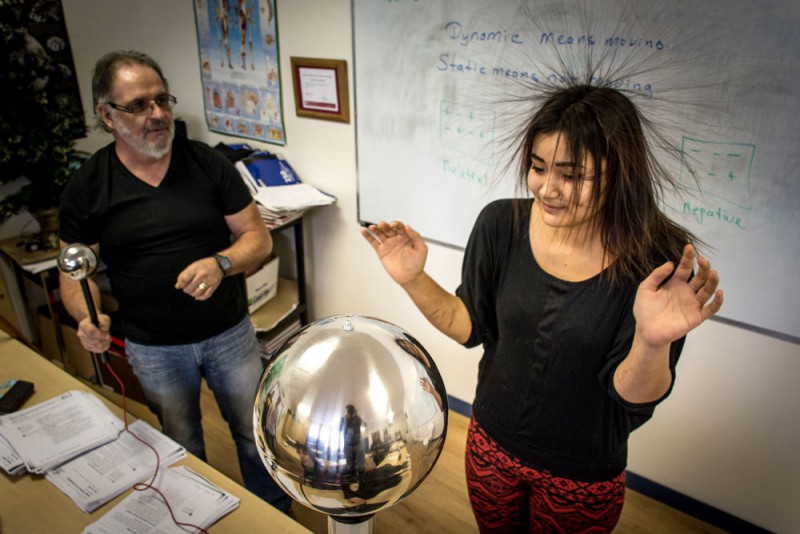 Knocking on doors and looking for "phantoms" was the humble and hopeful beginning for iCount High School in Moricetown, a Wet'suwet'en village in northern B.C. "These kids were basically in hiding. People on the reserve called them 'phantoms,'" says iCount co-founder Lorna Butz, describing kids who had left the school system and were drifting around the reserve with nowhere to go and nothing to do.
According to 2011 census data, 42 per cent of surveyed First Nations adults aged 20-24 achieved Grade 12 graduation. While this is a three per cent increase over the 2006 statistics, it is far behind non-First Nation population graduation rates of 87.5 per cent in 2006 and 89.9 per cent in 2011. A 2011 discussion paper from the Assembly of First Nations suggests that "Lack of education results in the marginalization of First Nations individually and collectively at the political, social, and economic level and this reality must be addressed."
The on-reserve high school in Moricetown was spearheaded by Diane Mattson and Tom and Lorna Butz, three educators who had spent full careers in the school district system in the nearby town of Smithers. Over the years, they had witnessed first-hand how some students from the reserve disengaged and eventually disappeared from their classes. Aware that barriers such as racism, difficult home lives, and transportation issues made it hard for some students to engage in the public system, they felt a different approach was needed.
The three partnered with Kyah Wiget Education Society in Moricetown, a band-run and federally funded organization whose mandate is to deliver community education at all levels. iCount itself is federally funded by Aboriginal Affairs and Northern Development Canada, with a top-up from the B.C. government to ensure that band schools receive the same funding as provincial public schools.
To round out the team, they hired Dale Cutler, a Wet'suwet'en First Nation member who lives in Moricetown. Passionate about working with youth, Cutler spent years leading the after-school youth drop-in program at the Dze L K'ant Friendship Centre in Smithers before joining iCount. "This is what I've been wanting to do for years in the community," he says.
Together, the team found 27 students, most of whom had left the education system, and opened the first class of iCount High School in 2012. The most import­ant part of that first year was creating an atmosphere of comfort to encourage students to be a part of the program. The iCount team has a holistic approach, learning about each student and finding out what they need to improve their lives. While academic study is a part of the program, it isn't the whole focus. "We want to get these kids skills for life," says Tom Butz. By partnering with Northwest Community College, iCount High School students have participated in an introduction to trades class and a cook's helper class. Self-awareness, physical fitness, interacting with nature, work placements, and doing practical construction projects are all part of the curriculum.
The students seem eager to share their stories of transformation. "It's good here – everyone's nice to each other and we treat each other like a family," says Natalie Michell. "In the mornings, we have a huddle and rate how we are feeling on a scale of one to 10. We can share our problems, and if we want to talk to our teachers, they are there for us. I used to be the one who sat in the corner by myself," she says. "The school has helped me build my confidence to get out there and have fun."
Cain Michell didn't get along with some of the teachers at the Smithers high school and spent many days in a room reserved for "disruptive" kids. At iCount, "the teachers sat with me and explained things better, and I got more time with the teacher and that helped a lot." His friend Josh Rousseau explains how things have changed from his old high school. "I used to fist fight a lot and get into trouble. Now I just don't. I like it better here."
"In the high school in Smithers I was getting bullied a lot," says Shania Michell. "I switched schools and I feel so much safer here. Also," she continues, "I hadn't done physical education since I was in Grade 8 – I'm in Grade 11 now and now I love doing PE." She describes attending the "Winter Warriors" program, which is a before-school physical training routine put on by two of the teachers three days a week. "I am one of the only girls that goes," she says. "I couldn't even do two push-ups and now I can do about 20 – it helps me get my anger out and I like getting in better shape."
As Shania and I talk in the school kitchen, it fills up with students on their break, and the clanking and chaos makes it hard to carry on the conversation. Somewhere in the background, an Iron Maiden guitar solo rings out on an acoustic guitar and a falsetto voice breaks over the din.
Everyday victories
The iCount teachers surmise that the transition from the small, on-reserve elementary school to the high school in town is overwhelming for some students. Creating a sense of family and comfort brings down their level of anxiety and increases students' participation.
Jaksun Grice, principal at Smithers Secondary School, says, "It's no secret that across the province Aboriginal learners struggle. One of our main areas [of focus] is asking: how are our Aboriginal kids doing?" Over the past four years, School District 54 (which includes elementary and high schools in Houston, Telkwa, and Smithers) worked to create a textbook in consultation with Elders and community members and has included lessons for all grades on Wet'suwet'en culture, the impact of colonization and residential schools, and the art, writing, and contributions of contemporary Indigenous people.
"I think it is getting better. If you look at our graduation ceremony last year, we had the most Aboriginal students ever walk the stage in this district," says Grice. He acknowledges that the big high school isn't for everyone. "We've had kids that leave our school and go to iCount High School, and we've had kids that were in iCount that have come back, and I think that trend will continue. There [are] some elements at iCount that the kids really like – that small cohort of kids with a small group of teachers – that's great. And there [are] also kids that say, 'I want to be on the sports team, I want to be part of drama' and they come back. For Moricetown to have the capability of K-12 education is a great thing. I think both schools will always be a little different."
After iCount opened, word spread about Tom Butz's crazy science experiments, the field trips to go rock climbing, and the chance to build drums and use the school's recording studio, and more students started showing up. Now, with six staff members and over 50 kids, the school is at capacity. After winning a national video contest launched by the Assembly of First Nations, the students know they have something special to share. "It feels like we're famous – like we are role models and other kids want to come here too," says Natalie.
The students at iCount seem to have found a new respect for themselves and understand the transformation both in their own lives and in their community. The school's workout centre was installed by the students and teachers themselves, and it consists of a large outdoor shelter and all-weather workout equipment that can be used by anyone in the community. There is also a snowboard park with rails and ramps. "The windows at the band office always used to be getting broken, and kids were stealing from the gas bar," says Shania. "Most of the kids that were getting into trouble are going to school here now and none of that is happening anymore."
Creating a sense of belonging and safety extends beyond the school walls, says Lorna Butz. "How many people from the surrounding communities have actually been to Moricetown?" she asks. She sees closing the gap between the reserve and the world outside as an important strategy to break down some of the historical isolation experienced by students on the reserve.
In the fall of 2014, a curious structure appeared on the reserve by the side of the highway. The three-storey framework, which looks like a giant Jenga game, is actually the structural basis for an ice climbing tower – an economic development opportunity created through iCount Services (a separate enterprise) to create on-reserve employment for iCount students. "We want to create reasons for people to come to Moricetown" says Butz. "The kids have their belay tickets and we are opening this tower as an opportunity for other schools, tourists, and locals to come here."
While the vision is far-reaching, the success is built on the everyday victories of students writing a paragraph, finishing a math worksheet, supporting each other, and seeing that an education is more than the sum of its parts. Because iCount High School is aligned with the social security of their extended family and culture, the students are finding that high school can be a source of empowerment.
Readers like you keep Briarpatch alive and thriving. Subscribe today to support fiercely independent journalism.