The #UniteAgainstRacism campaign – what it is and why we launched it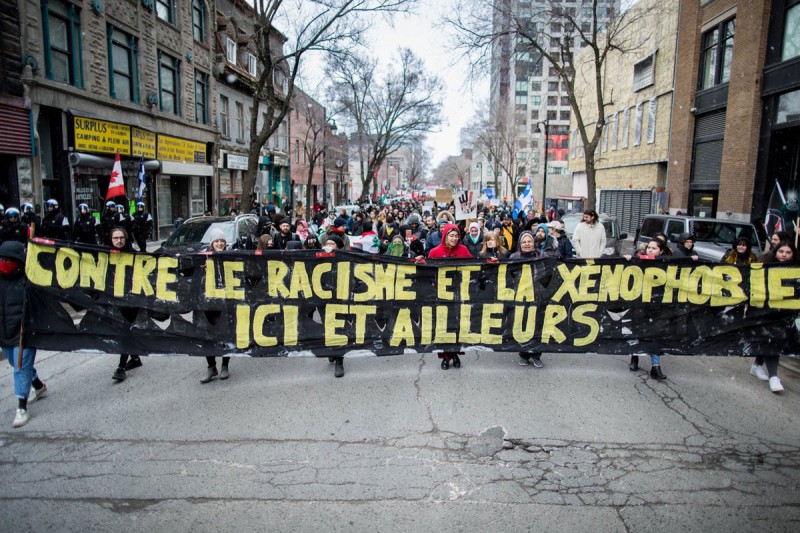 Just over a year ago, meetings began to take place of self-organized groups of migrant workers and allies across the country. Our guiding question was: what do we need to do together in 2019?
We were facing an election in Ontario where a Conservative win was all but certain. We could see the same fate approaching in Quebec and Alberta. We knew what was at risk. Labour rights and a $15 minimum wage in Ontario would be clawed back. The debate on immigration and religious symbols was sure to be reignited in Quebec. In Alberta, Jason Kenney would give corporate kickbacks and slash social services.
In the United States, across Western Europe, in the Philippines, Israel, and in other countries, right-wing politics are gaining ground by demonizing migrants and Others. These politics become particularly pronounced in election years. With the federal election approaching, we knew Canada was not immune.
Before the media reported a 47 per cent increase in hate crimes, and a 30 per cent increase in far-right organizations in Canada, our members – migrant, undocumented, and precarious workers, most of whom are racialized – were already experiencing increased attacks. And before polling showed that 69 per cent of Conservative supporters thought there were too many racialized immigrants, increased racism on the ground was palpable.
Our communities need to know that racism is an electoral strategy to divide us, make us fight each other for scraps, while those at the top continue to live in luxury, stall climate action, slash wages and public services, and attack women's and queer rights.
We felt an urgency then – which we knew would only increase in 2019 – to defeat the the xenophobic right's agenda at all levels of government. We knew that our work couldn't be about just stopping one political party, or one election in a single region, but rather we had to focus on the strategic and organizing logic of the right which pervades all parties: racism, xenophobia, and divisiveness.
And so 35 organizations, mostly volunteer groups of migrant workers, launched the Migrant Rights Network and the #UniteAgainstRacism campaign on December 18, 2018. This is the first time we have come together with an explicit purpose to push forward multi-issue struggles.
The Migrant Rights Network aims to:
Build capacity, self organizing and solidarity between everyone in the country without permanent resident status, because we have been and always will be some of the first to be targeted
Demand action and propose a vision not just on issues of concern to migrants and refugees, but for all working-class people in the country
Through mass action and direct popular education, stem and overturn the rise of xenophobia and racism to stop the success of the right at all levels of government, on behalf of all of us.
We will do this in alliance with labour, environmental movements, Indigenous movements for self-determination, faith groups, and others. We will do this in ways that brings new people into all kinds of organizations, and strengthens existing organizational infrastructure.
We have a three part strategy:
1. Mass Political Popular Education
We are training hundreds of facilitators across the country to host workshops, engage in conversations with people close to them about xenophobia and racism, and propose a transformative vision. The facilitators are from different language communities in few priority sectors: immigrants, migrant workers, labour, and environmental groups. We have also made all our materials publicly available and editable, so that anyone can use them.
To change minds, win over hearts, and inoculate our communities from mass racism, people need to speak to members of their community whom they already trust. Our communities need to know that racism is an electoral strategy to divide us, make us fight each other for scraps, while those at the top continue to live in luxury, stall climate action, slash wages and public services, and attack women's and queer rights.
2. Days of Action
On March 21, May 1, June 16, and September 2 we are organizing mass days of action. Each of these dates are significant for different reasons. June 16 is International Domestic Workers' Day and Father's Day, and actions are anticipated in 11 cities. These actions are about creating opportunities for various social movements in communities across the country to build practical solidarity by organizing together. By announcing a calendar of actions rather than just one date at a time, we want to create momentum and solidify alliances. The upcoming September 2 day of action has already been endorsed by 15 labour councils. These days of action serve to build broad anti-racist movements that are united by five key demands outlined below.
3. Joint platform
We began with a broad agenda, and continue to invite groups and organizations to define and expand these five demands. We are putting forward an anti-racist politics that is not separate from economic, gender, social, or environmental justice. In doing so, we are proposing a benchmark against which politicians who claim to be progressive, but only pay lip service, can be assessed. Our platform is:
DECENT WORK: Decent wages, and at least a $15 minimum wage, full labour rights, and no employer-specific or time-limited work permits
UNIVERSAL SERVICES: Full access to quality public services including healthcare, education, income security, childcare, pharmacare, pensions, and more for all residents
STATUS FOR ALL: Permanent resident status and family unity for all migrants and refugees here, and landed status on arrival for those that arrive in the future. No detentions, no deportations!
JUST SOCIETY: Indigenous self-determination, gender justice, and an end to racism – particularly anti-Black racism and Islamophobia
NO DISPLACEMENT: An end to practices and policies that further climate change, wars, corporate impunity, dirty mining, and economic exploitation which forces people to migrate
This is who we are, this is what we are doing. This is an invitation to join in, to organize and to build this process. Together, we will win.
Members of Migrant Rights Network Actions & Popular Education Committees:
Cenen Bagon (Vancouver Committee for Domestic Worker and Caregiver Rights)
Karen Cocq (Migrant Workers Alliance for Change, Ottawa)
Byron Cruz (Sanctuary Health, Vancouver), Paola Flores (Cooper Institute, Charlottetown)
Syed Hussan (Migrant Workers Alliance for Change, Toronto)
Deena Ladd (Fight for $15 and Workers Action Centre, Toronto)
Marco Luciano (Migrante Alberta, Edmonton)
Luis Alberto Mata (FCJ Refugee Centre, Toronto)
Niel La Dode (Immigrant Workers Centre, Montreal)
View the full list of Migrant Rights Network members here.