Event: Winning the Fight for Affordable Housing & Rent Control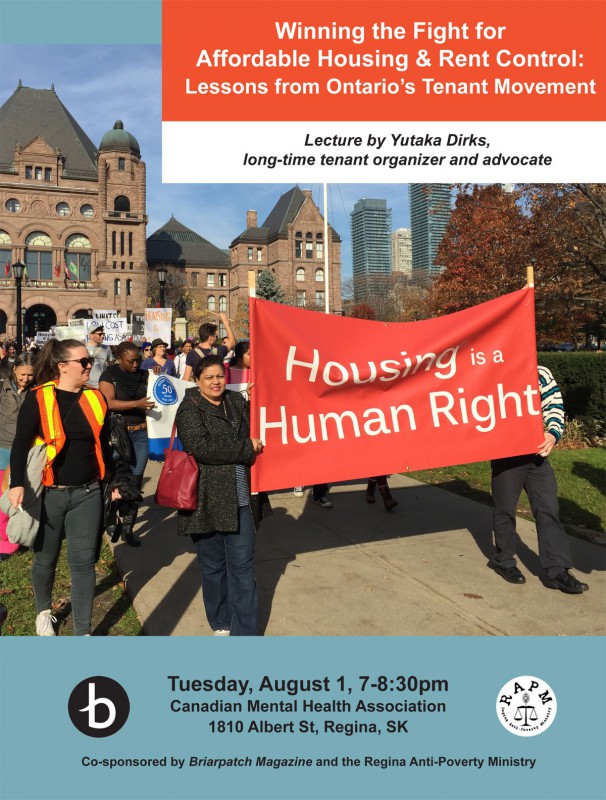 Date: Tuesday, August 1st
Time: 7 PM – 8:30 PM
Location: 1810 Albert Street, Regina, Canadian Mental Health Association (CMHA) building
Description:
The newly introduced Rental Fairness Act in Ontario has expanded rent regulation to cover almost 240,000 tenants who were living in buildings not protected from exorbitant rent increases. The new law also increased protections for tenants who faced eviction by landlords claiming they need the unit for a family member; as gentrification heated up in Toronto and other cities, landlords had been abusing this process in order to evict long-standing tenants in favour of new tenants who would pay much higher rents. This represents the largest step forward for tenant rights in the province in a decade. How did it happen?
Briarpatch Magazine and the Regina Anti-Poverty Ministry invite you to join Yutaka Dirks, longtime tenant organizer and frequent contributor to Briarpatch on housing, homelessness, and labour issues, as he discusses the housing crisis in Ontario and how tenants, housing advocates and their allies built the foundation for a successful campaign for tenant rights and housing affordability.
Yutaka Dirks has been involved in activism for affordable housing and to end homelessness for over two decades. From 2008 – 2017, Yutaka Dirks worked as a provincial organizer for the Advocacy Centre for Tenants Ontario, a legal clinic in Toronto. He was the co-chair of the Housing Network of Ontario, a province-wide coalition of housing advocacy and non-profit organizations that advocated for a long-term affordable housing strategy. He is a frequent contributor to Briarpatch Magazine and his writing has been nominated for a Canadian Association of Journalists/CWA Award for Labour Reporting and the CBC Creative Non-Fiction Prize. He currently lives in Montreal.