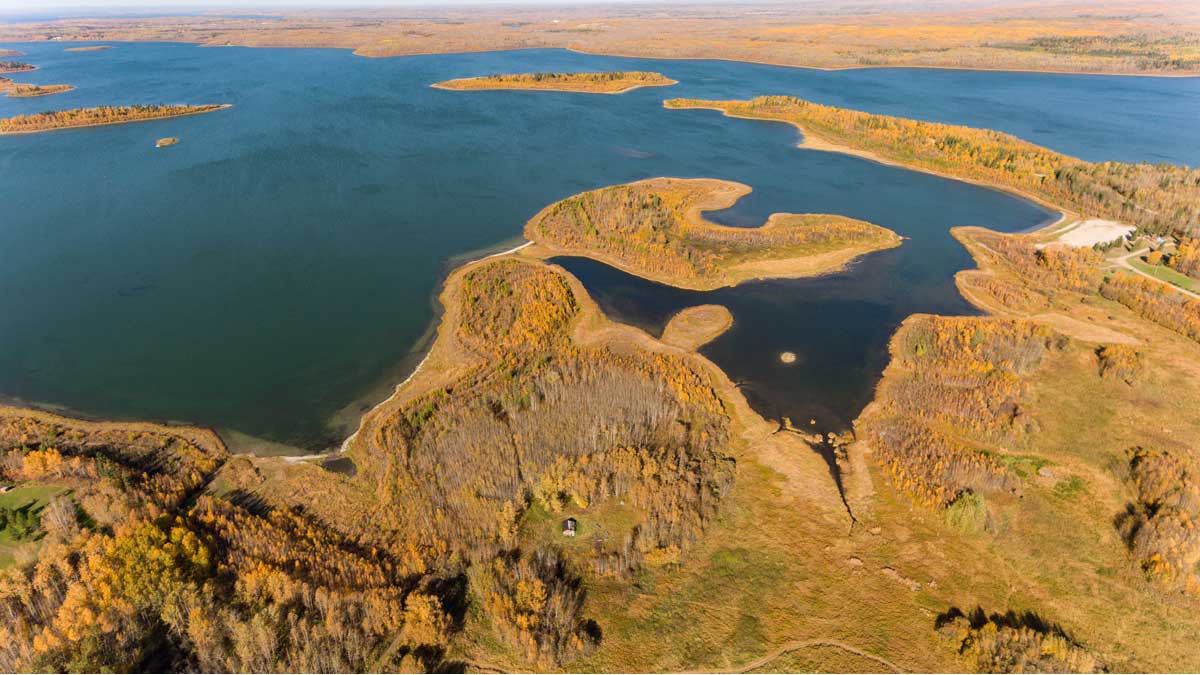 Tarsands vs. treaty
A just transition case study
In 2008, Beaver Lake Cree Nation (BLCN) filed a legal action against the governments of Canada and Alberta over the constitutional standing of numerous projects, including tarsands development – one of the world's largest and most carbon-intensive energy developments. The high-stakes action represents a precedent in the Canadian court system. The Beaver Lake Cree case will be the first time the court is asked to delineate what counts as too much industrial development in the face of constitutionally protected treaty rights.
The conflict is between the promise in Treaty 6, which was signed in 1876 between the imperial Crown and First Nations. The treaty guarantees and affirms BLCN's inherent right to hunt, trap, fish, and gather in perpetuity throughout their traditional territory and beyond, and the government's allowable use of lands.
It took five years of battling just to get the case to go to trial. Having welcomed a veritable cavalcade of tarsands projects over the last couple of decades, Alberta and Canada have fought this legal action every step of the way. The two governments applied for a motion to dismiss the case, calling it "frivolous, improper and an abuse of process." But the courts disagreed – both the Court of Queen's Bench and at the appeals level – and said no further "delaying tactics" should be permitted.
The key issue is now going forward to trial: because of Crown authorizations, swaths of Beaver Lake Cree's traditional territory no longer support the Nation's way of life. Habitats have been fragmented and lands and waters have been degraded in ways that impede the Beaver Lake Cree's meaningful exercise of treaty rights.
"Beaver Lake's case raises pressing issues of fundamental importance to the Treaty relationship and reconciliation, but not yet considered by the courts: to what extent does Treaty 6 protect a meaningful way of life, and to what extent is the Crown obligated to consider cumulative effects on the meaningful practice of that way of life when it authorizes development?" noted Karey Brooks, legal counsel for the Beaver Lake Cree, in a press release last November.
The Nation can no longer ignore the impact to their land and way of life. As I explain on raventrust.com, "Canada and Alberta have issued more than 19,000 individual authorizations (permits), which have translated into 300 individual industrial projects that take up more than 90 per cent of Beaver Lake Cree traditional territory. As a result, the once-pristine forest and hunting grounds are now covered with over 35,000 oil and gas sites, 21,700 kilometres of seismic lines, 4,028 kilometres of pipeline, and 948 kilometres of road – with devastating effects on wildlife populations like the woodland caribou and fish species."
"Alberta and Canada argue that they are doing their diligence in their due process to consult with First Nations. What the Beaver Lake Cree Nation seeks is not an arbitrary process, but rather consent as affirmed in the UNDRIP Article 19," explains Crystal Lameman, treaty coordinator for the Beaver Lake Cree.
"What the Beaver Lake Cree Nation seeks is not an arbitrary process, but rather consent as affirmed in the UNDRIP Article 19."
The United Nations Declaration on the Rights of Indigenous Peoples (UNDRIP) mandates that "States shall consult and cooperate in good faith with the indigenous peoples concerned through their own representative institutions in order to obtain their free, prior and informed consent before adopting and implementing legislative or administrative measures that may affect them."
"Yet Alberta is asking for an exemption of in-situ projects from federal regulation, and that downstream emissions from the burning of fossil fuels be excluded from the regulatory review process, on the grounds that they already are subject to an onerous environmental review process of in-situ oilsands development through the Alberta Climate Leadership Plan (ACLP)," says Lameman. "What Alberta fails to mention is that the ACLP does not provide for protection of Treaty rights, omits cumulative effects and does not consider emissions from the combustion of Alberta oil outside of the province's borders, [like] downstream emissions."
On the supply side, the ACLP still allows emissions from the production of the tarsands to increase 47.5 per cent above 2014 levels. And Canada's and Alberta's carbon emissions calculations focus only on domestic carbon pollution. Neither the Alberta emissions cap nor the Pan-Canadian Framework on Clean Growth and Climate Change account for the emissions caused by burning exported Canadian fossil fuels – mainly Alberta oil.
"Emissions play a role in the cumulative effects of climate change and environmental impacts, therefore impacts to treaty rights. Thus, First Nations should be involved in decision-making, but we are not – and this is what we seek," adds Lameman.
"Where 80 per cent of all future oilsands growth will be from in-situ development, Canada's largest industrial project cannot be dismissed from any environmental assessment. The majority of in-situ oilsands development in Alberta is in Treaty 6 (west) territory and that of the territory of the Beaver Lake Cree," Lameman continues.
After spending five years in the court system defending their right to even bring this case forward, the Beaver Lake Cree have recently asked the court to order Canada and Alberta to pay a portion of Beaver Lake Cree's trial costs in advance. This is the same mechanism that made it possible for the Tsilhqot'in to sustain nearly two decades of litigation and to win their historic title case. A hearing on the Advance Costs Order was held in February in Edmonton. Now the Beaver Lake Cree are awaiting the judge's ruling.
We're inviting Canadians to donate to the case at www.tarsandstrial.com. Helping to fund the case would allow the Beaver Lake Cree to use their scarce resources to benefit the community. It would be an injustice if lack of funds created an impenetrable barrier to the judicial recognition of Beaver Lake's rights.
Readers like you keep Briarpatch alive and thriving. Subscribe today to support fiercely independent journalism.