Saskatoon's green party
WAM Festival promotes small actions for big change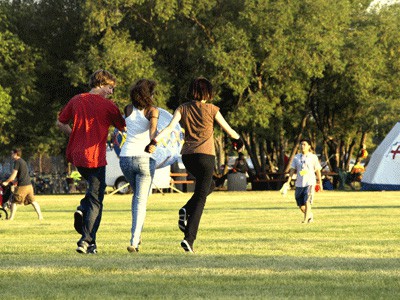 If you stumbled upon the We Are Many Festival in Saskatoon one sunny afternoon in August, you might have thought it was just like any other large-scale music festival in any other Canadian city. Then you might have noticed the compost and recycling bins next to the usual trash cans, or the table selling locally grown organic vegetables, or the workshop tents full of lively conversations about the environment, writing and peace. "Oh," you might think to yourself, "this is different." And you'd be right.
Intended to be a model that other mid-sized cities can adopt and adapt, We Are Many was a free, three-day festival held in Saskatoon's Diefenbaker Park in August. Its aim was to combine education and arts to inspire individuals to make changes in their daily lives that, collectively, could represent a substantial step towards a more environmentally sustainable city.
The festival featured three full days of live music, while tents around the perimeter of the park hosted workshops on everything from peak oil to making baby food from scratch. A booth in the centre of the park encouraged attendees to sign the "WAM Pact," committing signatories to any number of specific actions that would contribute to a lower-impact lifestyle.
According to festival organizer Ellen Quigley, the idea for the event emerged as a response to the prevalence of negative emotions – anger, cynicism, despair – within many environmental movements. "You can't convince people to get on board with some kind of doomsday prophecy," she said, "whereas movements that are based on joy grow spontaneously."
The We Are Many movement was driven by the joy – not to mention the hard work and enthusiasm – of a small group of committed individuals, mostly under the age of 25, with little or no experience organizing an event of this magnitude.
An estimated 10,000 to 15,000 people came through the park over the weekend. (Getting a precise count was difficult since people entered from all sides of the park and there was no admission fee.) Appealing to people of all ages and political orientations, the festival was a step towards breaking down stereotypes in the environmental movement – merging the message of the fist-pumping, Birkenstock-wearing, tree-hugging activists with the realities and needs of mainstream society, and infusing the environmental movement with a little bit of hope.
Live performances graced the main stage throughout the festival. Headliners included Fred Penner, Joel Plaskett Emergency, Boots Riley & Silk-E, the Weakerthans and Tom Jackson. The hands-down highlight for festival organizers was joining Fred Penner on stage for a song. Penner, who still sings about sandwiches and happy feet, wrote a song specifically for the event; he taught it to the organizers backstage and they all performed it together. The song, "Glory Bound," began: "Start with one, and soon the many will take this world and turn it around."
Though the big-name performers certainly succeeded in drawing a crowd, the core of the festival was education. Hundreds of festival-goers participated in a range of workshops offered in two tents at the edge of the park. A total of 34 hour-long workshops were held over the weekend, with topics including geothermal heating, vermicomposting, the importance of food diversity and small-scale wind turbine construction. All of the workshops – even those held during Friday's cold weather – had at least 15 participants.
The largest tent in the park housed a bustling eco/info fair, where community organizations and businesses could show off their eco-friendly projects and products.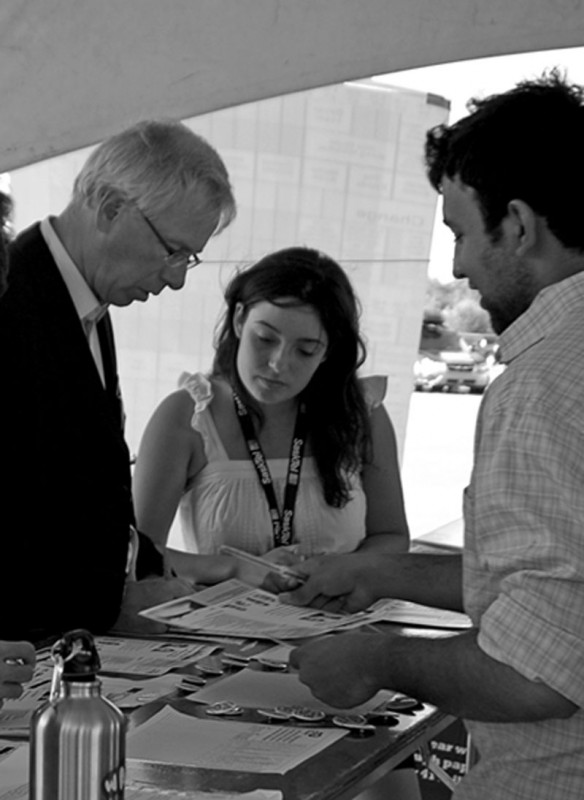 At the centre of the park, participants gathered around a booth to sign the WAM Pact. The pact presents 21 practical, achievable actions. Signatories can choose which actions they feel able to commit to. About 800 people have signed the pact so far. Heather Morrison, one of the initial festival organizers, told me that signing the WAM Pact has had an impact within her circle of friends: "I have friends who will show me their bike helmet and say "˜WAM Pact!'" She also told me about some friends who say "WAM Pact!" to each other as they turn their power bar off at night. This collective reinforcement of more environmentally sustainable habits is precisely the everyday consciousness that organizers were hoping to instill.
It was critical to the organizers that the festival be free and accessible to all. With a $170,000 budget, this meant that large-scale sponsorship was paramount. The City of Saskatoon, in addition to providing financial support and the physical site, also lowered all city bus fares to $1 for the duration of the festival to encourage the use of public transportation. Other major partners included the Saskatchewan Ministry of Tourism, Parks, Culture and Sport, the U.S.-based Hunt Alternatives Fund and the Saskatchewan Council for International Cooperation.
While major funders were, well, fundamental, Quigley also emphasized the importance that in-kind contributions from partner organizations like SCIC played, providing staff time, ideas and general administrative support.
Volunteers were also a huge help. One hundred and fifty of them, mostly high school students, lent their labour at the event – collecting donations, encouraging people to sign the WAM Pact, introducing workshop facilitators and generally helping out wherever they were needed.
The festival is being followed up by a series of town hall meetings, with the intention of drafting specific, practical proposals to city council on how to make Saskatoon a more sustainable city. As an effort to transform the excitement and energy generated by the festival into tangible institutional changes, Quigley described these meetings as a "good way to make gentle, friendly recommendations to our local government with built-in citizen feedback."
While organizers are content to release We Are Many into the world and hope that other groups in other cities will use their model, they do intend to maintain the close connections they made through the festival. It's likely that we'll see them working together on equally interesting projects in the future. According to Quigley, one of the most gratifying outcomes of the event has been finding "a group of people who love to work together." Morrison echoes this sentiment: "If you get good people working together, you can accomplish anything."
For more information on the We Are Many Festival, to sign on to the WAM Pact or to get in touch with organizers about organizing a WAM festival in your city, visit www.wearemanyfestival.com.
Readers like you keep Briarpatch alive and thriving. Subscribe today to support fiercely independent journalism.