The People Power Behind #NL_Rising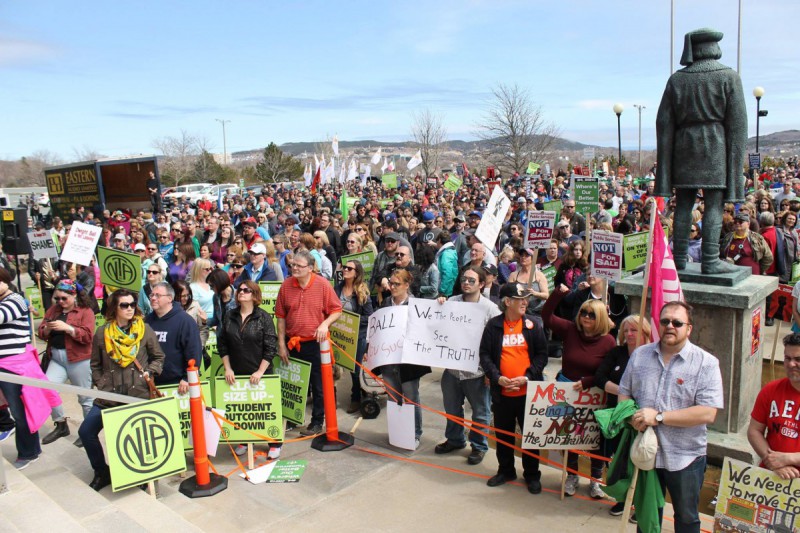 Thousands of people converged on the Confederation Building on Saturday, May 7, the largest event so far in a wave of anti-budget protests that has swept Newfoundland and Labrador. The rally, dubbed #NL_Rising, was organized by the Newfoundland and Labrador Federation of Labour and was attended by members and supporters of many labour unions, marching from multiple sites, as well as the Canadian Federation of Students, union members' families, and the public. A march organized by grassroots group Coordinated Approach NL also joined in; they stood out in part for two large puppets depicting Premier Dwight Ball and Finance Minister Cathy Bennett, garnering praise and laughter from the crowd.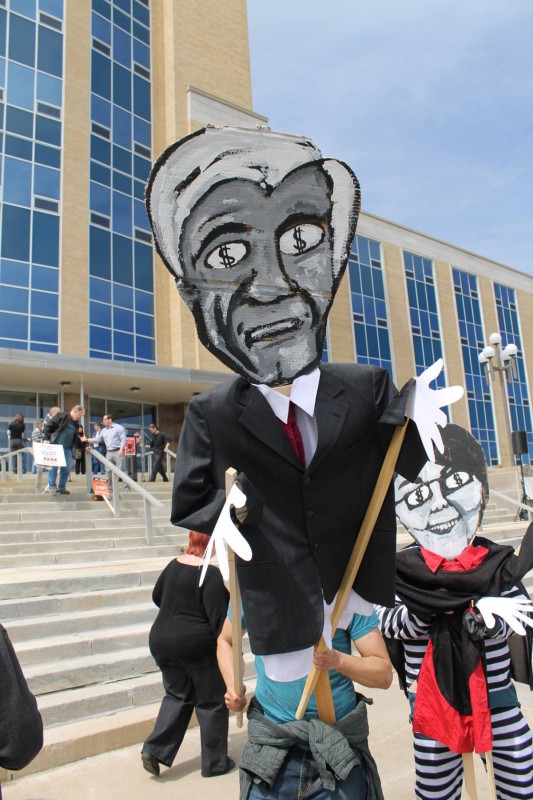 Since the new Liberal government's budget was brought down on April 14, public discontent has grown intense.
Charlene Blake, originally from Croque on the island's Great Northern Peninsula, marched with Coordinated Approach NL and expressed that the budget brings back memories of the collapse of Newfoundland's cod fishery.
"The reason the whole situation is really hitting home for me is because I was 10 years old when the fishery closed down. That was government mismanagement. I was hurt by them already to the point that right now I sit down and cry because I feel like they're doing it to me all over again," Blake told Briarpatch after the demonstration, her voice beginning to shake. "I feel like that 10 year-old girl again."
The 1992 cod moratorium triggered the largest mass layoff in Canadian history and changed the province's economic history forever. Blake criticized government compensation at the highest levels, saying that the province cannot afford such high levels of executive pay in the face of increasing reliance on food banks and cuts to health services. A sunshine list authored by the Telegram, the province's largest daily paper, as well as generous severance pay for Ed Martin, ex-CEO of Newfoundland's Crown energy corporation, have been the object of intense scrutiny in recent weeks. Martin's severance pay of $1.38 million is greater than the amount that the province will save annually by closing half of its libraries.
"This [is] stuff that we've fought for over the years to move forward. And this government is pushing us back? It makes absolutely no sense, none," she said. "And when so many people are screaming out for change and for things to happen and things to be different, it's almost like there's nowhere we can turn," Blake said, lamenting that Lieutenant Governor Frank Fagan won't intervene. Among the many online petitions that have been circulating on Newfoundland's social media in recent days are those appealing to Fagan to dismiss Ball and Bennett, and to dissolve the government.
The budget raises and introduces taxes and fees while also imposing job cuts and cutting operating grants. Schools, nursing homes, government offices, courts, and other facilities and services are set to close, alongside cuts to dental care, mental health, home heating assistance, and many other programs. A new tax on books, the closure of a majority of the province's libraries, the imposition of multi-grade classrooms and a new, regressive deficit-reduction levy have gained attention as being particularly damaging.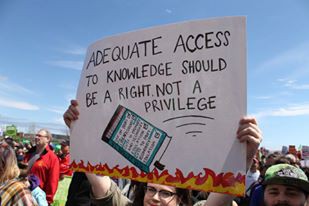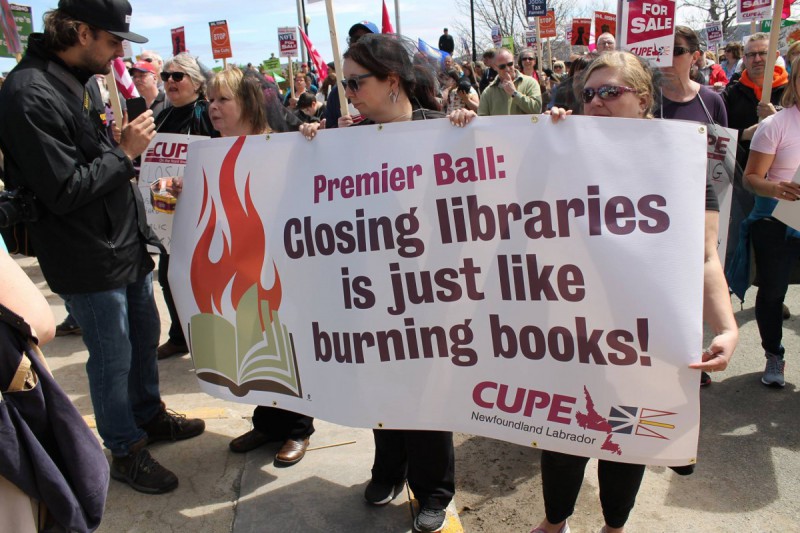 Briarpatch was present at the protest, which was thick with signs and flags. A face painting table, folk music, and dogs sporting signs helped give the rally a lively atmosphere at times, though there was also a moment of solemnity for those affected by the Fort McMurray wildfire and organizers circulated to collect donations. Newfoundlanders have a significant history of working in Fort McMurray.
Trade union leaders, as well as representatives of student, women's, and seniors' organizations were among the speakers, all of whom denounced the Liberal government and the budget.
Colleen Power performed an original song called "Go Away Dwight and Cathy," which called for Ball and Bennett's resignations and framed the Liberals' austerity measures as antithetical to the approach adopted by their federal counterparts.
Jerry Earle, the President of the Newfoundland and Labrador Association of Public and Private Employees (NAPE), was among the speakers who highlighted the budget's disproportionate impacts on women. Robin Whitaker, a feminist anthropologist at Memorial University who was also present at the demonstration, described some of the effects.
"Austerity is a feminist issue because it does affect women – I think in all contexts, probably, that's the case. It also affects particular groups of women and other groups disproportionately," Whitaker said, while expressing optimism about the emerging protest movement.
"Senior women come to mind, particularly senior women who maybe don't have a workplace pension or only have a very small one because they've had [a] history of contingent work across their lives," Whitaker said. "An austerity budget is going to affect them very much," she continued, adding that elementary school teachers and librarians, professions that are largely represented by women, have been particularly targeted in the budget's cuts.
Whitaker also highlighted the tendency for women to end up "picking up the slack" when state support evaporates and leaves care work and other services underfunded and understaffed.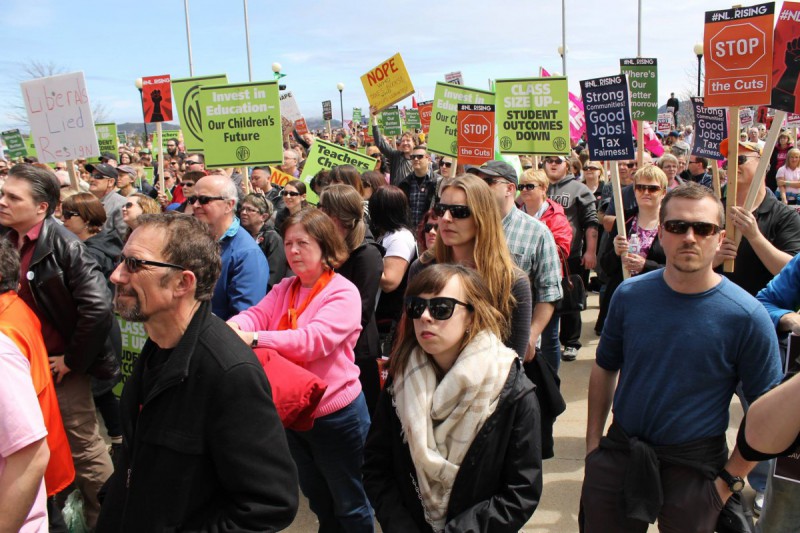 The group Mutual Aid NL was founded shortly after the budget was announced with the aim of helping those who are adversely affected by the austerity.
Co-founder Jasmine Leicester of Paradise, NL, explained that the group is working to establish miniature community libraries in response to impending library closures. The group also tracks and provides advice on protest activity.
"It's a grassroots group where people across the province can have dialogue about how we can better be helping each other," Leicester said of Mutual Aid. "If government is not going to help people, let's capitalize on our history of helping each other."
Charlene Blake expressed hope that action against the budget would continue.
"I don't know where this is going to go from here. I'm hoping the people are going to continue to fight against it. … We've got to stop playing the blame game and come together as a province and as a people and find a solution."
Readers like you keep Briarpatch alive and thriving. Subscribe today to support fiercely independent journalism.