The Juliet stories
Book review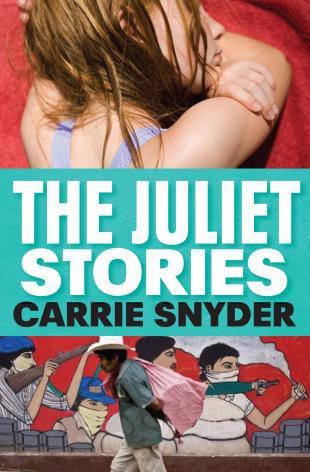 The Juliet Stories
By Carrie Snyder
House of Anansi Press, 2012
Carrie Snyder's new novel-in-stories begins in 1984 as Juliet Friesen's parents move their American family to Nicaragua. The country is in the grip of war. The Sandinista National Liberation Front (FLSN) has overthrown the Somoza Dynasty, which had ruled the country for decades. The Sandinistas have begun "taking back from those with too much and sharing it out equally: farms, land, food, education." And now they are under attack by counter-revolutionaries (the Contras) funded by the American government.
The Friesens are members of a Christian solidarity organization called Roots of Justice. As 10-year old Juliet explains, they will bring "ordinary Americans to the border towns where Contras ambush and murder ordinary Nicaraguans. The ordinary Americans will not let that happen. They will stand, peaceful and strong, in between." The simple, graceful prose of the book's first half is crafted by a careful, knowing heart; Snyder, like Juliet, lived in Nicaragua as a child, when her parents moved there to protest the Contras.
We experience revolutionary Nicaragua as a young Juliet does: a hot, luscious place to explore – with only hints of danger. She loses herself at play in the dusty Managua streets, she becomes enamoured with a vibrant, young peace activist who stays with her family, and she eats freshly caught fish with Nicaraguan boys holed up in a rocky cave surrounded by the ocean at hightide.
Juliet understands that the people of Nicaragua are threatened by a war being waged by her president, but because her father Bram leaves the family in the relatively safe city of Managua while he organizes volunteers near the front lines, Juliet is able to emotionally shield herself from the violence which is "happening far away from here… to people who don't look like me."
Snyder doesn't shy away from showing us the stumbling steps that both Juliet and her mother Gloria take as they try to navigate their privilege, as in the excellent story "Borrowers"; but her interest is in the personal, not the political. The stories are Juliet's, and her stories are about her family: the love she has for her father Bram, even as he is largely absent; the ambivalent, difficult feelings she has for her mother, physically present but emotionally opaque.
At one point, a large group of Roots of Justice volunteers gather to protest the deployment of an American warship off the Nicaraguan coast. The atmosphere is festive and later Juliet remembers them singing "Where have all the flowers gone?" She thinks, "What are the flowers, if not for plucking? …what are soldiers, if not for war? But war is never mentioned in the song. How can the most important part be left out and the song still say everything that needs saying?"
In the first part of the novel, Snyder's prose accomplishes this same feat. Gloria's slow unravelling is painfully clear to the reader, even though Juliet is unable to comprehend it. It is precisely through Bram's absences and his sparse appearances in the narrative that the reader is able to know him, frustratingly flawed but wholly alive.
Snyder loses her assured, novelistic pace in the second half of the book when Juliet's family moves to Canada to care for her sick brother. The stories in this section examine discrete moments in her life – relationships, death, pregnancies – through largely self-contained stories separated by years. But by virtue of the much larger period covered in the second half of the book, too much is left untold; the parts of Juliet's life that aren't shown seem so significant that what we are left with feels vaguely hollow. Thankfully, there are a few notable exceptions, including the haunting "Four Corners of a House."
What her childhood experiences in Nicaragua mean to the now-grown Juliet exist in that same territory of the unknown. When Juliet returns to the country years later for a wedding, instead of learning how she might evaluate the success of the work of the Sandinistas or of activists like her parents, Snyder brings Juliet's relationship to her mother into greater focus.
Motherhood and family are themes that run throughout the book. When they are in Nicaragua, Juliet's home is a large, open world: she develops friendships with older Roots of Justice volunteers, her father and mother's lives criss-cross with an expansive web of people. When the Friesens move to Canada and grapple with tragedy, the family shrinks to a sphere defined by blood-relation, even as they become isolated from one another. In the final pages of the book Juliet has children of her own, and envisions the family as a "wall of protection"
But is our only responsibility to our nuclear family, or should we act, as Juliet's parents did, to ensure justice and safety for others?
Snyder seems to try to answer this question in the final story, when Juliet and her children watch a young woman being evicted across the street. Juliet replays the scene in her mind, and instead of merely watching, she imagines intervening.
"I couldn't just sit there and watch," she says to the caretaker, and points to herself with her family across the street. "You can't be there and here," he says. It is in Nicaragua, when the young Juliet attempts such tricks, that Snyder shows her talent for magic.
Readers like you keep Briarpatch alive and thriving. Subscribe today to support fiercely independent journalism.