TD Scholars ask TD to cut ties with Coastal GasLink pipeline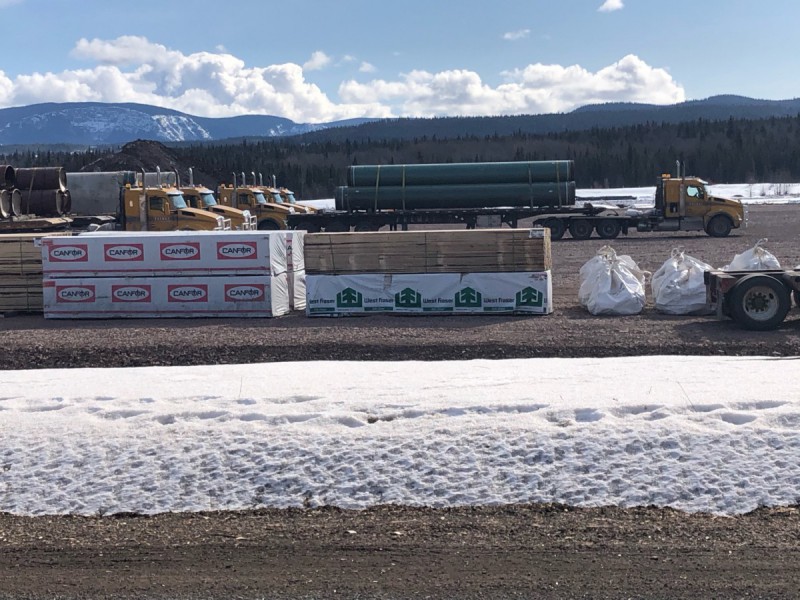 To:
Robert Dorrance
Chairman, Chief Executive Officer and President
TD Securities
Bharat Masrani
Group President and Chief Executive Officer
TD Bank Group
April 16, 2020
RE: Open letter from TD Scholars regarding TD's involvement in the Coastal GasLink project
Dear Robert Dorrance and Bharat Masrani,
We write to you as recipients of the TD Scholarship for Community Leadership to ask that TD cut its ties with the Coastal GasLink pipeline, both as a creditor and financial adviser. TD Securities is the financial adviser for KKR, the owner of a 65 per cent share of the pipeline, and the bank also contributes to the 17 credit facilities* financing three pipeline companies, including TC Energy. The Coastal GasLink project violates the sovereignty of the Wet'suwet'en Nation, exposes its Peoples to violence, and disregards their right to free, prior, and informed consent in decisions regarding resource development in their territory. These rights are enshrined in the United Nations Declaration on the Rights of Indigenous Peoples (UNDRIP). In solidarity with the Wet'suwet'en, we ask that TD act in accordance with its public commitment to reconciliation to pressure its clients to withdraw support from a project that advances the brutality of colonialism. In 2016, 70 TD scholars asked you to withdraw your support from the Dakota Access Pipeline, a project that similarly violated Indigenous rights. We hope that this time, TD will stand on the right side of history.
The Wet'suwet'en Hereditary Chiefs have been clear: they do not consent to pipeline construction in their territory. All five clans of the Wet'suwet'en have opposed all pipeline proposals; none have provided free, prior, and informed consent to Coastal GasLink to conduct business on Wet'suwet'en lands – territory over which they have legal jurisdiction to govern (Delgamuukw v British Columbia, 1997). And yet, the pipeline is planning to run a 670 kilometre route passing through unceded Wet'suwet'en territory. In supporting this project, TC Energy, the federal and provincial governments, and the RCMP are "openly violating Wet'suwet'en, Canadian, and international law."
The Coastal GasLink pipeline additionally threatens the Healing Centre at the Unist'ot'en Camp. The Centre, offering healing through connection with the land, is "the embodiment of self-determined wellness and decolonization." The RCMP's use of militarised tactics and arbitrary arrests to support Coastal GasLink's attempts to enter the land are thus an invasion of unceded land where many come to heal and receive life-saving support, and a violation of UNDRIP. In their request for a judicial review of the B.C. Environmental Assessment Office's decision to extend the environmental certificate for the pipeline, Wet'suwet'en Hereditary Chiefs have also indicated the failure to consider the threat this project poses to Indigenous women. As Indigenous leaders and land defenders have long maintained, and as was corroborated by the findings of the National Inquiry into Missing and Murdered Indigenous Women and Girls, extractive projects increase violence against Indigenous women as transient man camps are established during construction. To proceed with this project is disgraceful by any just measure.
In a 2017 report, TD reiterated its aim of "turning commitments into action to support Indigenous progress." The report also highlighted TD's commitment to the principle of free, prior, and informed consent of Indigenous Peoples. Now is the time to put these principles into action. As recipients of the TD Scholarship for Community Leadership, we have been celebrated by TD for our efforts to work toward justice and sustainability. We value the networks we have formed thanks to this award, and have benefitted from its recognition and financial support to continue such efforts. We now draw on this network and our shared commitments to ask that TD pressure its clients to adhere to the principles of free, prior, and informed consent of Indigenous Peoples, and to withdraw its support from this irredeemably unjust project.
* A credit facility is a type of business loan. In this case, "Numerous banks contribute money to these 17 credit facilities and the lead agent bank is responsible for organizing those [multiple] lenders."
Sincerely,
Niyousha Bastani (2013)
Selin Jessa (2013)
Celina O'Connor (2001)
Daniella Barreto (2009)
Rachel Garrett (2014)
Donovan Taplin (2012)
Annaliese Meyer (2015)
Aube Giroux (1996)
Joanna Bowen (1996)
Isabel Gagné (2016)
Aspen Murray (2017)
Abigail Bonnington (2018)
Charlotte Durnford-Dionne (2018)
Keneisha Charles (2019)
Vivian Huang (2019)
Elijah Dietrich (2017)
Jathusha Mahenthirarajan (2017)
Kian Drew (2017)
Reigh-Leigh Foster DeBaie (2006)
Gina Jihyun Kwon (2015)
Cindy Chen (2017)
Jana Abdul-Rahim (2019)
William Sanderson (2017)
Emma-Cole McCubbin (2014)
Dardan Isufi (2016)
Hayden Cheung (2018)
Kathleen Irwin (2013)
Philippa Adams (2005)
Qi Kang Zuo (2018)
Si Ming Lin (2019)
Chloé Trépanier (2012)
Shelby Angalik (2016)
Joanna El-Mikati (2016)
Media contact:
Niyousha Bastani: [email protected]