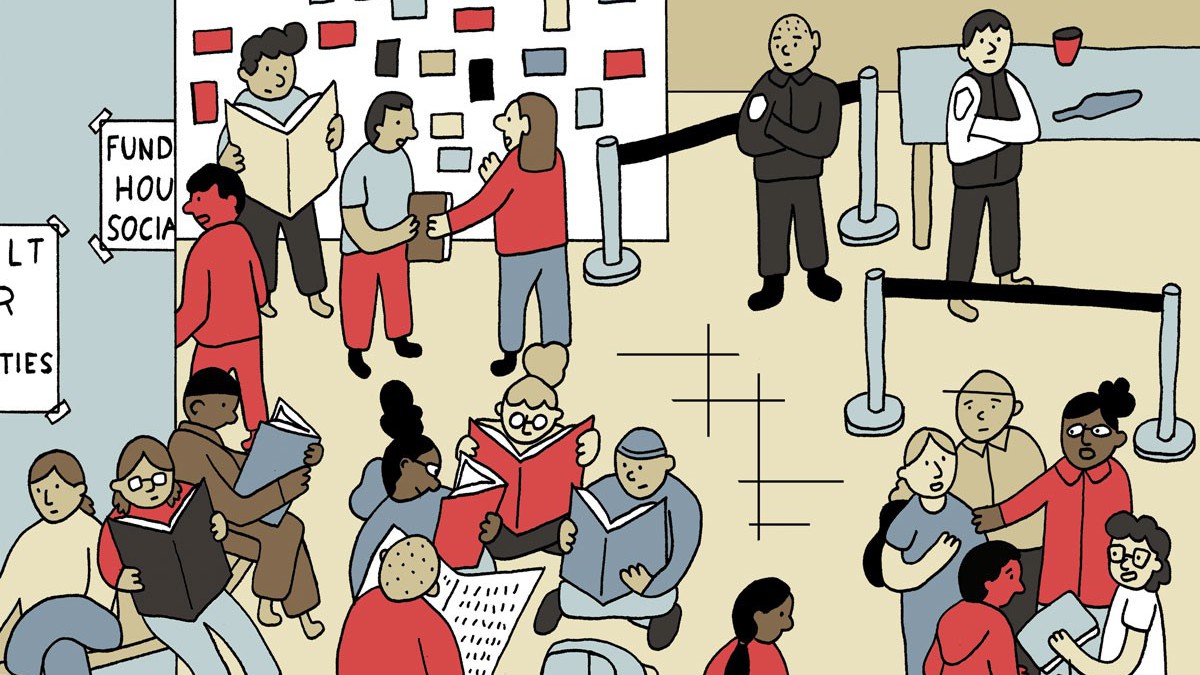 The library foyer is packed with people. Many sit on the ground reading a book – popular selections include Robyn Maynard's Policing Black Lives, Owen Toews' Stolen City, and Tanya Tagaq's Split Tooth – while others chat quietly among themselves. Neon sticky notes are circulated for attendees to fill out and post on the wall next to a large yellow sign asking, "what is your vision for a better library?" There's an electric, almost festive, mood in the air.
But the occasion itself is far from celebratory. Signs taped to a concrete pillar in the middle of the foyer make that abundantly clear: "Fund & House Social Services," "Consult Our Communities," "Stop Security Screenings." A giant banner reading "Millennium for All" hangs from the second-storey balcony facing the foyer – and the airport-like security checkpoint of metal detectors and mandatory bag searches that the 200 people have gathered to oppose with an hour-long "read-in."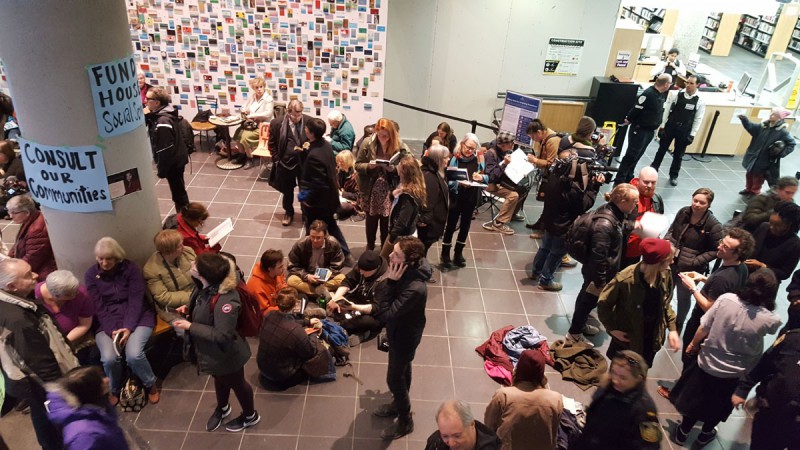 A month before, in late February, Winnipeg's downtown Millennium Library abruptly installed an invasive screening process using contracted private security to confiscate all alcohol, drugs, needles, sharp objects, and any other item that "may provide a safety or security risk" to staff and other patrons. Everyone entering the library has to pass through screening, and anyone who refuses the search and scan is denied access to the library. No notice was given to community organizations before the checkpoint was installed. In fact, the only group consulted about the plan was the Winnipeg Police Service, whose headquarters are literally across the street from the library and who receive almost one-third of the city's annual operating budget.
"I thought it was horrifying," says Bronwyn Dobchuk-Land, professor of criminal justice at the University of Winnipeg and member of the prison abolition organization Bar None, in an interview with Briarpatch. "Being familiar with the Millennium Library and the kind of space it is and who uses it, and being familiar with the way that politics work in Winnipeg with public discourse and security – you just know immediately who it's intending to keep out. It's so disappointing, because the Millennium Library is actually such a special library."
The screening process has been criticized as Transportation Security Administration (TSA) inspired "security theatre," and an explicit attempt to further displace oppressed people from a gentrifying downtown. It's the first of its kind in a Canadian library, something library manager Ed Cuddy effectively bragged about during a community consultation organized by Millennium for All. In contrast, a public library in Richmond, Virginia, contacted by CBC said that they wouldn't even consider introducing bag checks and metal detectors, despite being in a state with open-carry gun laws.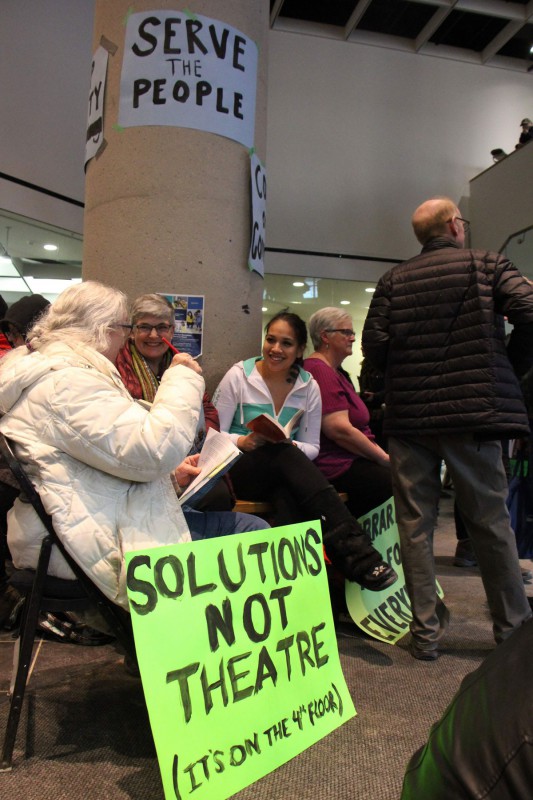 Library users in Winnipeg are fighting back. The newly formed group "Millennium for All" has presented a strong and nimble public response, organizing regular events such as the read-in and read-out (where people read segments of their favourite books outside of the city hall), coordinated call-in campaigns to councillors, and presentations to council committees. In mid-March, the group hosted a packed community consultation to make up for the outreach that library management never undertook. Other organizations, including the Manitoba Harm Reduction Network, Sunshine House, and Spence Neighbourhood Association, have voiced serious concerns about the screening, with some pulling their programming from the library until the measures are removed.
In a city whose left is largely spinning its wheels in getting the milquetoast NDP back into power, the struggle over whom Winnipeg's downtown library belongs to – an issue intimately tied to racist crises of housing, harm reduction, and policing – serves as an unexpectedly sophisticated example of what's possible when leftists organize outside of the electoral sphere and commit to winning a single protracted struggle.
On pins and needles
Library management required a crisis to justify the introduction of security measures. It found one in the city's so-called "meth epidemic," a spectre that has been frequently leveraged in recent years by business interests to explain an alleged rise in erratic behaviour, property crime, and violence – and in turn, they call for an increased presence in policing and surveillance in the city's rapidly gentrifying downtown.
"You just know immediately who it's intending to keep out. It's so disappointing, because the Millennium Library is actually such a special library."
Cuddy, manager of library services, has repeatedly invoked the statistic of a 75 per cent rise in "incidents" at the Millennium Library between 2013 and 2017. He has regaled media and committees with terrifying tales of a machete fight on the fourth floor of the library, gun ammo found in the washrooms, and masked gang members staking out the building. But a closer examination of police statistics unearthed by CBC in June indicates that the increase in incidents deemed serious enough to call the cops came primarily from "disturbance" calls, a broad category that includes fighting, screaming, shouting, swearing, singing, indecent exposure, and loitering (311 per cent increase, from 9 in 2013 to 37 in 2018) and well-being checks (a 143 per cent increase, from 7 to 17). Assaults only rose from 7 in 2013 to 13 in 2018. When you add up all of the "incidents" from 2013 to April 2019, the highest numbers were of "disturbance," "intoxicated persons," and "well-being," the latter arising when the police are called to check on a person's own safety.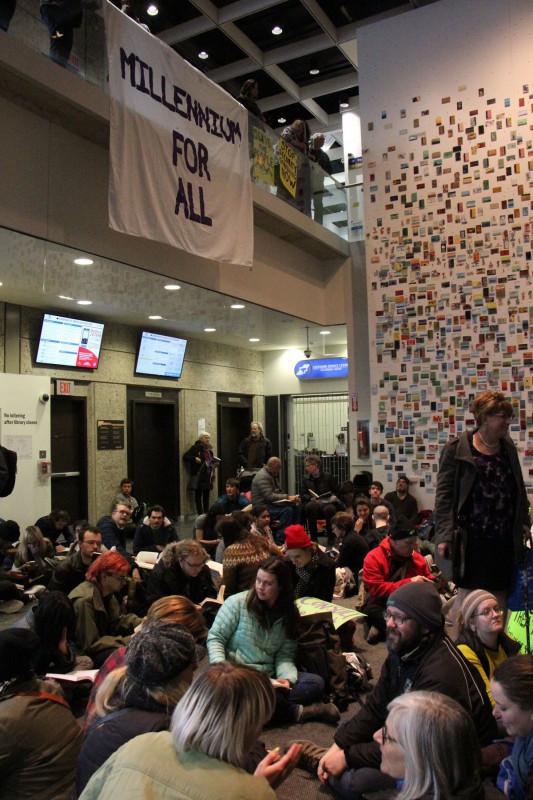 Of course, the police aren't summoned for every incident; some patrons leave before a call can be made, or the situation is deemed manageable, like in the case of verbal threats. But the metal detectors and bag searches can't stop those. Nor would they stop the majority of assaults: the June investigation by CBC found that only one of 27 assaults that took place between the start of 2018 and March 2019 involved a weapon, meaning a full 96 per cent wouldn't have been stopped by the security measures.
The security screening similarly betrays that the process isn't really about preventing physical attacks but is instead about the demonization of needles by city management. During the community consultation in mid-March, the City of Winnipeg's director of community services, Cindy Fernandes, pointed to police photos published in the media of clean or capped syringes that had been confiscated in the nearby skywalk system as evidence of the need for the measures, while Cuddy reported to the city in May that security had confiscated between 500 and 700 needles since the measures were introduced. Veda Koncan, project coordinator at the Manitoba Harm Reduction Network (MHRN), says in an interview with Briarpatch that new needles and other drug-use equipment help keep drug users safe by minimizing the sharing of needles and pipes, which can lead to higher risks of HIV and hepatitis C – and that the library taking away those supplies or preventing access to people who carry them "really shows that they don't understand harm reduction at all."
Only one of 27 assaults that took place between the start of 2018 and March 2019 involved a weapon, meaning a full 96 per cent wouldn't have been stopped by the security measures.
"The obvious impact is that people who use drugs won't be able to access the library, which also means they can't access library resources," she tells Briarpatch.
Such resources don't only include books. Libraries offer physical protection from hot and cold weather, water, bathrooms, computers, Internet, and printers. Many of these are crucial factors in securing housing or employment, or simply being able to sit or socialize without being harassed. Ultimately, libraries are last-ditch stopgaps that can't provide the deeper solutions of affordable rent and strong social services. But they are nevertheless a critical Band-Aid, which is now being ripped off – with nothing to replace it.
Carceral creep
Some will argue that people who still want to access the library can just leave banned items at home, or find somewhere else to spend time.
But many of the people who rely most on the library's services literally don't have a home and need to carry everything on their person to the few public spaces that remain. Others use medical equipment that will set off the metal detector and would prefer not to divulge such personal information to a random security guard or wait in a long line. For Indigenous and Black people, especially, the security measures can serve as traumatic reminders of personal experiences with incarceration, policing, and child welfare. A peer working group of the MHRN made up of people who use drugs discussed the impacts of the security measures in a meeting in late April, including triggering "foster-kid syndrome" of feeling vulnerable and guilty even when they're not, and they compared the experience to visiting prison and feeling criminalized. Koncan of the MHRN says that a report was compiled and sent to the city, but they only received a "thanks for your concern" email in return.
"The obvious impact is that people who use drugs won't be able to access the library, which also means they can't access library resources."
The lockdown of the library is taking place within a much broader context of the ongoing gentrification and dispossession of poor Indigenous people from the downtown to make way for capitalist interests like True North Sports + Entertainment, which owns the Winnipeg Jets, the Bell MTS Place arena, and a new block of luxury highrises that city council recently exempted from affordable housing requirements (this ongoing saga is detailed in Owen Toews' recent book, Stolen City). It's also concurrent with the recent police murders of 26-year-old Indigenous man Chad Williams and 43-year-old South Sudanese man Machuar Madut, and the death-in-custody of 30-year-old Sean Thompson, whose family is originally from Little Saskatchewan First Nation. Manitoba has the highest rate of incarceration in the country, with Indigenous people making up three-quarters of all prisoners despite being only 15 per cent of the general population; Dobchuk-Land explains that a series of policies such as zero tolerance for bail breaches, proactive policing for arresting "disorderly" people, and putting police in charge of well-being checks have contributed to this. The same process has manifested in the province's liquor stores, with the union-supported introduction of armed police and discretionary ID checks at the door, while efforts by the city to hire a private contractor to clear "homeless camps" were – thanks to rapid organizing by anti-poverty groups – beaten back.
Brianne Selman, a former Millennium staffer who now works at the University of Winnipeg's library and is part of the Millennium for All group, says in an interview with Briarpatch that the situation has to be understood within the context of crushing austerity, like the closure of the urgent care unit at Misericordia Health Centre in 2017 by the province's Conservative government: "The lack of any sort of treatment facilities downtown means that people can't go anywhere," Selman says. "With the shelters being shut to anyone who's visibly intoxicated, there's nowhere left to go. Millennium, in a lot of ways, has become the last hill in terms of public spaces downtown."
Security at the door instead of safety on the floor
It's a hill that people are willing to fight on.
That includes those brand new to activism. After quitting a lengthy career in the restaurant industry in September, Graeme Young found himself spending far more time at the downtown library. He tells Briarpatch that not having a steady income meant that he would go to borrow books, use digital streaming services, make Christmas presents, and watch basketball games at the library instead of going out to a bar. That abruptly ended in February with the installation of the security measures: "Then it was just wildly unwelcoming," he recalls. "I haven't been there in a number of months."
One thing led to another and Young found himself at the first community consultation event, putting his name on the email list, and soon starting to attend Millennium for All meetings. Because of his newly flexible schedule, Young was able to present at weekday municipal committee meetings on behalf of the group; he notes that there's no bag check or metal detector at city hall and that he didn't realize how easy it is to present there.
"The goal is to win: to see the security come down," he says. "But however it shakes out, I think we are all coming away with a greater understanding of what we do and don't want in our city, how that change comes about, how to deal with crummy city administration. I think it's a learning experience for everyone."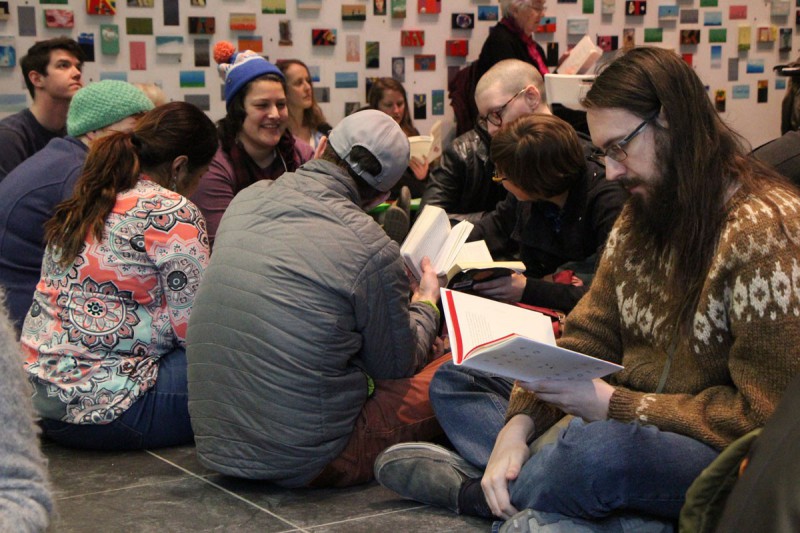 Activists don't hold any illusions about the challenges ahead. Months have passed since the installation of the security process, and library patrons will likely be getting used to it – either that or finding other places to go. Levi Foy of the harm reduction centre Sunshine House says that already under-resourced staff are likely experiencing fewer threats as a result of security turning away people who use drugs or have mental illnesses, which they will view as a net positive despite the measures being a deeply exclusionary response. Koncan concurs, noting that people often incorrectly conflate the feeling of being uncomfortable with being unsafe, and that drug use doesn't make people unsafe to be around. Selman says the security measures are "the false illusion of security" for the overwhelmingly white profession of librarianship.
"With the shelters being shut to anyone who's visibly intoxicated, there's nowhere left to go. Millennium, in a lot of ways, has become the last hill in terms of public spaces downtown."
But Millennium for All continues the struggle, making zines, circulating petitions, and preparing a report to be released in September alongside an official report to city council by library services. Alternatives to racist and exclusionary security measures are near endless: hiring more social workers or community members to build relationships with patrons; bringing security services in-house and centring them in harm reduction; increasing the number of front-line library workers; providing disposal containers for needles; training staff to use naloxone kits; and installing a safer consumption site for people who use drugs. Other options include partnering with legal clinics for low-income library users, providing basic resources like public washrooms and showers, or following the lead of libraries like Halifax by providing snacks and warm drinks in the morning. Bigger-picture demands require fundamentally challenging austerity, like increased funding from higher levels of government for housing and harm reduction, and an end to the criminalization of drug use and unhoused people. But everyone agrees that change has to start with the immediate removal of the security measures. As a sign put it at the March read-in: "Mr. Cuddy, Tear Down This Wall!"
Foy says that he understands the concerns of staff, especially if they're under-supported by management and not familiar or comfortable around people who use drugs. But he insists that an invasive security process isn't the solution, suggesting the answer instead lies in "ensuring that people are best supported and dealing with these things in a very humane kind of way."
"The best way to do that is by actually forming relationships and not being afraid of the people who are using your space," he explains. "That's pretty key. This is just a fear tactic. It's an immediate gut reaction to fear. Once you get over that initial hump, it's actually quite easy to work with the community."
Readers like you keep Briarpatch alive and thriving. Subscribe today to support fiercely independent journalism.