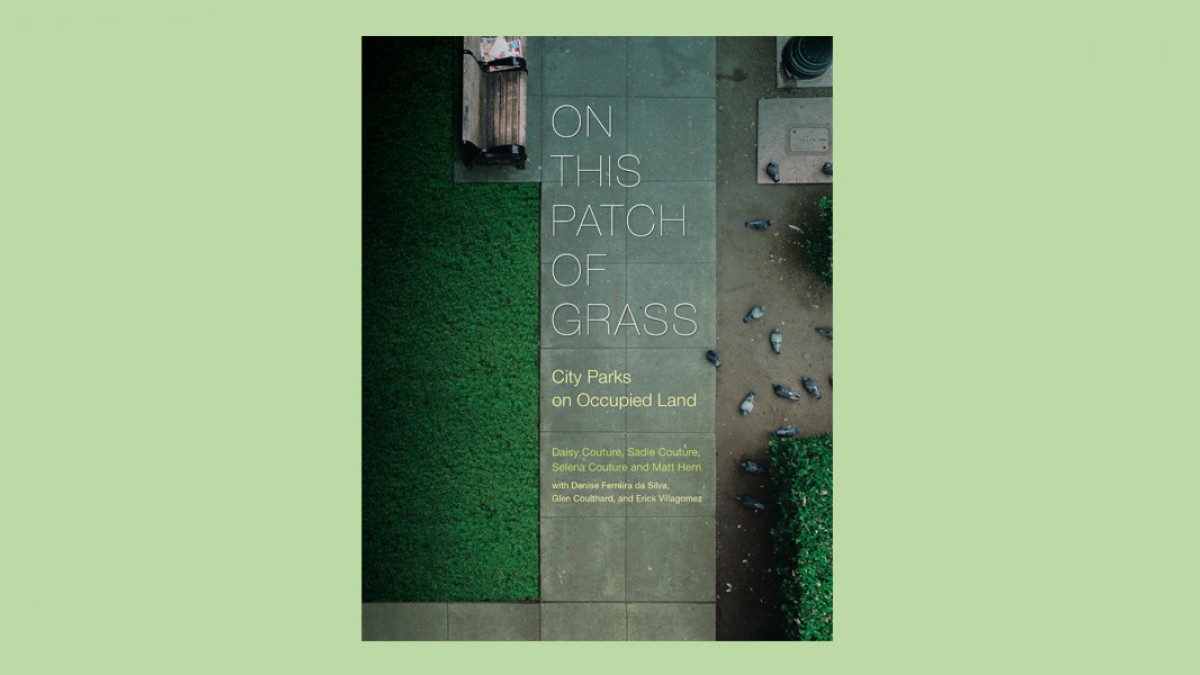 "Pacifying the unruly city"
Book review of _On this Patch of Grass: City Parks on Occupied Land_
In June 2018, six people at the Justice For Our Stolen Children Camp were arrested by Regina police. Videos showed police officers physically carrying non-violent protesters by their arms and legs out of the tipis that had been set up in Wascana Centre. The camp was established by Indigenous protesters demanding justice for the deaths of Colten Boushie and Tina Fontaine, as well as shedding light on systemic racism in the child welfare and criminal justice systems.
At the camp's height, 15 tipis stared defiantly up at the Saskatchewan legislature. The camp hosted powwows, feasts, soccer games, book launches, and vigils. And while the camp lay on Treaty 4 territory – the homeland of the Métis Nation and the original lands of the Cree, Ojibwe, Saulteaux, Dakota, Nakota, and Lakota – it also sat on Wascana Centre, an urban park operated by the Saskatchewan provincial government in conjunction with the City of Regina and the University of Regina. The Provincial Capital Commission and Regina police said they were concerned about park visitor safety, and that the camp violated park bylaws that banned overnight encampment, fires, and unofficial signage. In July, radio talk show host John Gormley called the protest an excuse for "free camping" – an accusation that played to racist stereotypes of freeloading Indigenous people.
These colonial tools of control – both official laws and social norms that prioritize white uses of park space – were used to expel Indigenous peoples from a public area that lies in their traditional homeland. This episode in Regina forced settlers to think about which rules we enforce and which rules we let slide in parks. Who is expected to follow the rules and who is not? Who is unquestionably welcome in these so-called public spaces and who is not? These are also some of the questions that the book On this Patch of Grass: City Parks on Occupied Land asks.
On This Patch of Grass examines the colonial aspects of Vancouver's Victoria Park – colloquially known as "Bocce Ball Park" – which is located on the traditional and unceded territories of the Musqueam, Squamish, and Tsleil-Waututh nations. This volume is both a personal and an academic text: the four authors – parents Matt Hern and Selena Couture and their children, Sadie and Daisy Couture – have lived beside Bocce Ball Park since 1991. Hern, in his long vocation as a community organizer and scholar, has written a dozen books that make leftist interventions into the institutions of ordinary life – forcing readers to rethink schools, team sports, safety, cities. This newest book is in the same vein – it takes a seemingly benign bit of urban space and lays bare its contradictions.
The book is separated into four main parts. Through Sadie's use of oral history interviews and Daisy's photo essay, readers explore the ways that different visitors experience and use the park. Selena uses place and street names around Victoria Park as a springboard to examine the colonial history of the park and the land on which it sits. Hern looks at urban park history in order to demonstrate that urban parks generally have "an abiding interest in the assertion of order, pacifying the unruly city, instrumentally deploying the natural world for political ends and managing carefully structured renditions of what constitutes appropriate human behaviour."
Hern's analysis resonates with Joe Hermer's arguments in Regulating Eden: The Nature of Order in North American Parks (University of Toronto Press, 2002). Hermer argues that governments use parks to satisfy the public by producing a seemingly authentic wilderness experience that is still heavily regulated and subject to social norms. Among park scholars, the lens of Indigenous sovereignty and colonialism is more readily applied to national parks; this volume expands this park literature by applying these discussions to urban space.
Sadie explains that in urban parks, plants, animals, and humans are policed and expected to adhere to both official and unofficial social laws. Drinking is one of the most obvious examples of regulated social protocol that is policed unevenly across social groups in Victoria Park. Middle-class white park visitors who drink recreationally in the park are deemed acceptable, but Black and brown folks as well as homeless people who drink in the park are considered unruly and irresponsible. Although the same law applies to both groups of drinkers, it is almost exclusively the behaviour of marginalized people that is policed.
The authors say that "parks as they are currently constituted are always colonial enterprises" and spaces upon which the performances of whiteness take place. But parks are also spaces that give us "clues as to how we can share land in a decolonial sense." The authors do not lay out a clear set of steps for how this decolonization should take place – but in a book authored by four white settlers, this feels, to me, like an appropriate move rather than a shortfall of the volume. However, the argument might be stronger if it included more Indigenous voices weighing in on how to make this claim a reality.
The Justice For Our Stolen Children Camp regularly posted a wish list on its Facebook page. This wish list usually included supplies like firewood, Dr Pepper, and bug spray. But one day their wish list simply stated: "calm allies who are able to engage with visitors." The major strength of this short book is to invite people who do not regularly think critically about parks to start doing so – and to engage their peers in this conversation. It provides a base of knowledge on which white settlers can build in order to act as better accomplices in the process of decolonization.
Readers like you keep Briarpatch alive and thriving. Subscribe today to support fiercely independent journalism.