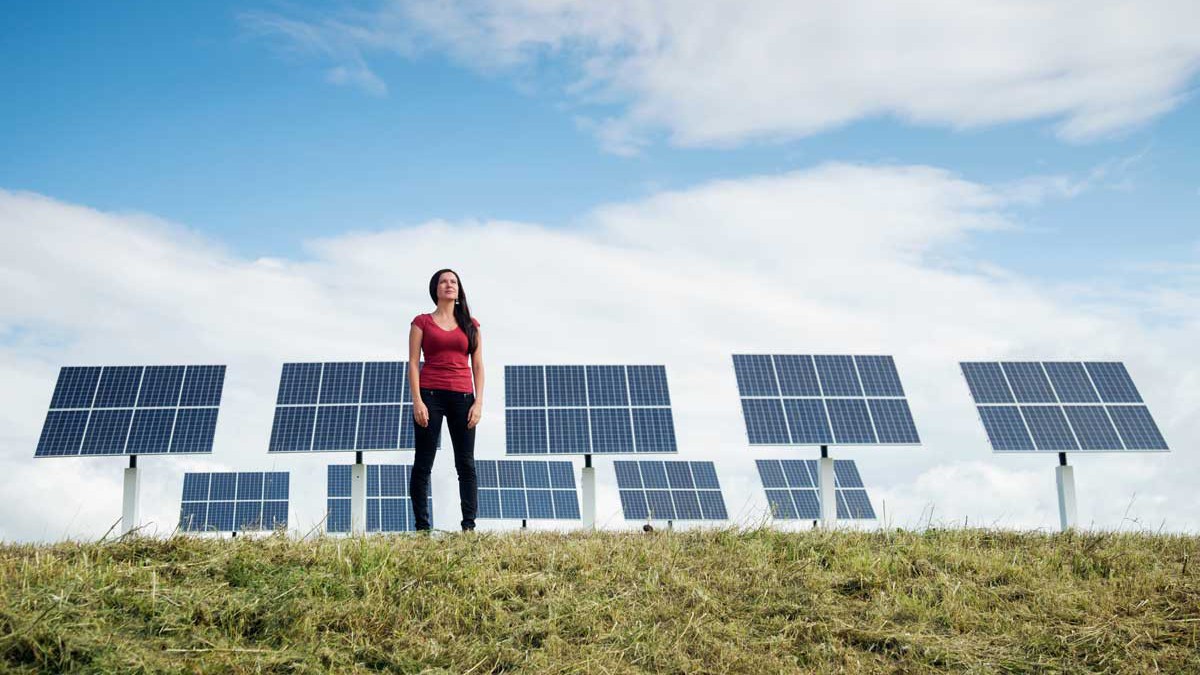 This is what Indigenous energy sovereignty looks like
A just transition case study
As the people of the land, air, and waters, Indigenous nations have been the first to feel the impacts of climate change. Just as we are at the front line of climate impacts, we must also be at the forefront of climate solutions. This is where Indigenous Climate Action (ICA) was born.
"We respect the sovereignty and the autonomy of Indigenous communities to determine what they need to do to address climate change," Eriel Deranger, executive director of ICA and a Dene woman from the Athabasca Chipewyan First Nation, tells me. "Indigenous Climate Action supports a growing movement of Indigenous climate justice leaders. This year, we are building up a Just Transition program because we see this as a critical component in supporting self-sufficiency and resiliency."
Energy sovereignty means enabling Indigenous communities to own and operate our own energy systems; to use renewable and locally available energy sources like wind and solar; and to stop burning fossil fuels and stop relying on corporations for energy. These kinds of democratic energy systems are aligned with Indigenous cultures, knowledge, and land rights, and they increase the resiliency of Indigenous communities that have been negatively impacted by colonialism and capitalist resource extraction.
ICA is guided by a volunteer steering committee of Indigenous peoples stretching from Mi'kmaq to Dene and T'sou-ke country, and including the many territories in between. Twenty stewards, leaders, and change-makers carry out ICA's mission to nurture an energy sovereignty movement from the ground up.
Entering into our second year, ICA is focusing on four strategic areas that will empower Indigenous leaders to address the urgency of a changing climate. We are:
hosting gatherings to discuss climate change, how it's affecting lands and waters, and supporting grassroots climate solutions;
amplifying voices of Indigenous citizens who are active agents of change within the climate crisis;
curating resources that honour our ancient wisdom and knowledge as solutions for climate change;
supporting Indigenous sovereignty, because we have the inherent right and authority to make decisions about our nations' well-being and our collective future.
What we have found so far is that the solutions to climate change are as diverse as our peoples, governing structures, languages, and territories. In some communities, challenging the drivers of climate change – such as stopping oil and gas projects – is most pressing. In other nations, building post-fossil fuel systems is necessary to displace exploitative energy and shift away from capitalism.
"We respect the sovereignty and the autonomy of Indigenous communities to determine what they need to do to address climate change."
Melina Laboucan-Massimo is a Cree woman, an ICA co-founder and steering committee member, and the founder of Lubicon Solar – and she's leading ICA by example. Lubicon Solar began by installing solar panels to power the community health centre in Lubicon Cree territory, in the heart of Alberta's tarsands. Laboucan-Massimo explains, "It is essential we rebuild our communities in ways that are reflective of our own Indigenous philosophies, and which maintain our reciprocal relationship with the Earth. This includes the type of energy we are dependent on. The projects I build, I hope, make our elders and ancestors proud – because their teachings are about not taking more than you need, as we prepare and work for the generations to come."
In the last six years, Laboucan-Massimo has been charting the path for Indigenous-led clean energy after asking herself, "If I can't stop the tarsands today, what can I build for tomorrow?"
She's also helped the Tiny House Warriors install solar panels along the proposed Trans Mountain pipeline expansion route. The Secwepemc Women's Warrior Society has opposed the oil pipeline expansion, and Laboucan-Massimo has worked with the women leaders to solarize their tiny homes, which currently block the pipeline's route and assert Secwepemc law and jurisdiction.
This year, Laboucan-Massimo will become ICA's Just Transition director. She will support Indigenous communities ready to embrace the transition to clean energy, and she plans to focus on communities impacted by extractive industries. She aims to pair this work with language and cultural revitalization camps like the Onaman Collective.
Shifting to energy systems that align with our ancient lifeways is honouring our past as Indigenous peoples, and is building a model that the rest of the world needs to see.
Readers like you keep Briarpatch alive and thriving. Subscribe today to support fiercely independent journalism.