Freedom Is a Constant Struggle: Ferguson, Palestine, and the Foundations of a Movement
Book review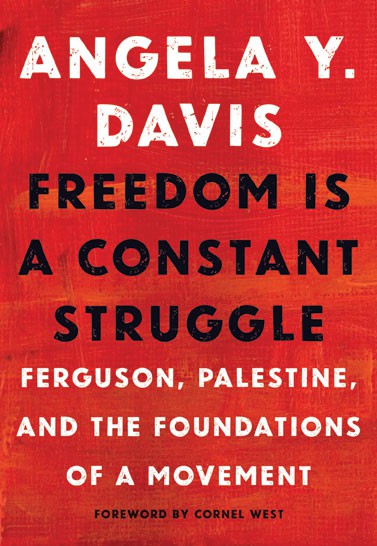 Freedom is a Constant Struggle: Ferguson, Palestine, and the Foundations of a Movement
Angela Davis
Haymarket Books, 2016
In the fall of 2014, a grand jury decided not to charge the police officer who had shot and killed an unarmed, Black teenager named Michael Brown. Those who protested in Ferguson, Missouri, were confronted by a militarized show of force from police, who wore camouflage, drove armoured vehicles, wielded military weapons, and set off tear gas in the streets. On the other side of the world, Palestinians recognized in these protests their own long struggles against occupation and colonization, and they took to Twitter with expressions of solidarity and advice on how best to fight through the harmful effects of tear gas. During the months of protest against racist state violence, movement leaders from the U.S. and Palestine linked the Ferguson police to Israeli security by exposing that the law enforcement agencies deployed in Ferguson had participated in training programs led by Israeli security forces. They also showed how corporations like Combined Tactical Systems Inc. were profiting off of tear gas used in both Ferguson and Palestine.
Angela Davis' new book, Freedom is a Constant Struggle, foregrounds these struggles for justice in Ferguson and Palestine in order to advance her lifelong project of linking up struggles for freedom across time and space. The book is incredibly wide-ranging, with a clear focus on linking contemporary Black movements to longer struggles for abolition, radical reconstruction, and civil rights, and to struggles against apartheid and injustice around the world.
The book is a compilation of interviews conducted by Frank Barat (a human rights activist and coordinator of the Russell Tribunal on Palestine) and recent speeches given by Davis to university audiences around the world. This format makes for a text that is highly accessible because of its conversational style. On the other hand, those looking for in-depth analysis will not find it in this book. Unfortunately, the large number of intriguing connections that Davis draws between incarceration, militarization, capitalism, racism, segregation, and colonialism are left largely undeveloped and receive only superficial engagement. Read this book, then, for its inspiringly broad look at the history and currency of social struggles for freedom, and turn to other sources for deeper analysis.
Davis' book is a call to action. Her wish is that each of us involved in disparate social justice movements expands and connects our activism; that we realize "the importance of approaching both our theoretical explorations and our movement activism in ways that enlarge and expand and complicate and deepen our theories and practices of freedom." In this regard, she makes the crucially important point that our notions of freedom must extend beyond formal and legal freedoms for particular groups of people. On several occasions, reflecting on the long history of Black people's struggles in the U.S., Davis reminds us that our movements didn't push far enough. For example, movements successfully fought and won emancipation and civil rights, but Black communities in the U.S. continue to suffer from injustices that include incarceration, poverty, and racist police violence because these earlier struggles did not push to their full potentials. In other words, although slavery has ended, we sometimes "fail to recognize the extent to which cultural and structural elements of slavery are still with us." Davis calls for this generation to fight for full substantive freedoms, so that future generations will not be left addressing the same issues. She references the Black Panthers' Ten-Point Program and the brief period of Radical Reconstruction (1865–77), both of which offered expansive visions of freedom but were ultimately narrowed to the smaller frame of civil rights. Contemporary movements must not yield to narrowed conceptions of freedom – it's time to win the most expansive forms of justice.
Perhaps most importantly, Davis's book locates the source of social change in movements. She writes: "Every change that has happened has come as a result of mass movements.… Many people are under the impression that it was Abraham Lincoln who played the major role, and he did as a matter of fact help to accelerate the move toward abolition, but it was the decision on the part of slaves to emancipate themselves and to join the Union Army – both women and men – that was primarily responsible for the victory over slavery…. When one looks at the civil rights era, it was those mass movements – anchored by women, incidentally – that pushed the government to bring about change." In this way, it is up to us to change our worlds by forcing power to yield to our demands. We must do so through careful, expansive movement building, organizing that draws links between feminist, LGBTQ, anti-racist, anti-imperialist, anti-capitalist, anti-colonial struggles and issues, and efforts that drive toward the fullest senses of freedom.
Readers like you keep Briarpatch alive and thriving. Subscribe today to support fiercely independent journalism.