Evicting the landlord
Organizing for tenant control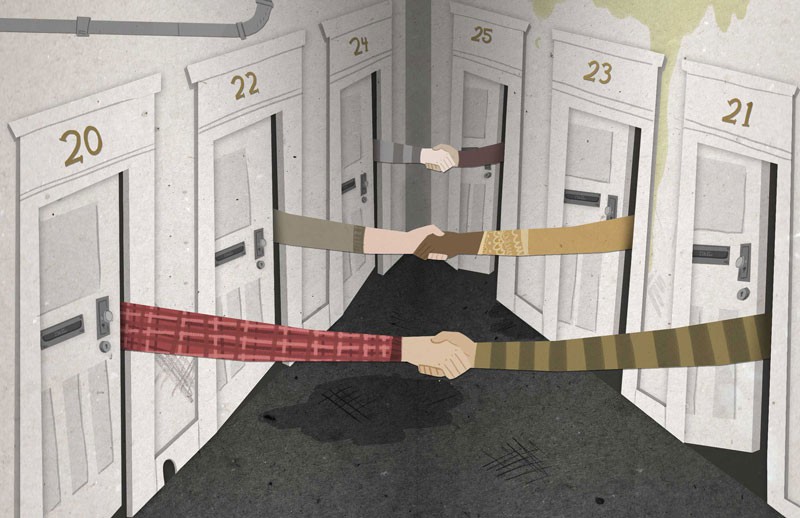 In 2002, then president George W. Bush said, "We want everybody in America to own their own home … Owning something is freedom, as far as I'm concerned." Canadians seem to agree: 69 per cent of Canada's 13.3 million households own their own home or carry a mortgage. Much attention has been paid to the challenges facing homeowners since the economic meltdown in 2008. Activists have lent support to anti-foreclosure movements in the U.S. with meaningful successes. The four million households in Canada who rent face similar challenges to maintain their housing, yet they don't receive the same sympathies as those facing foreclosure.
In Canada, tenants have lower incomes than homeowners, on average, but they spend a greater proportion of their income on housing costs. Forty per cent of renters in Canada spend more than 30 per cent of their income on rent, while less than 19 per cent of homeowners spend as much on housing. Lack of lower-rent housing is most pronounced in larger centres like Vancouver and Toronto but is also a serious issue in smaller cities such as Victoria, Kelowna, Regina, and Barrie.
Between 1996 and 2006, there was a net loss of 86,000 rental units in Ontario. Most of this loss resulted from the conversion of former rental properties to owners'-use properties like condominiums. More recently, there has been increased production of purpose-built rental housing, but the available rental housing falls far short of what is needed.
Poor and working-class people everywhere – including people from racialized communities, immigrants and refugees, people with disabilities, and single parents – struggle to find homes they can afford. When they do, they are often faced with a new set of problems. Stats Canada has found that over 400,000 tenant households are living in overcrowded conditions, and 370,000 apartments are in need of major repairs.
"Tenants tend to get organized to take on bread-and-butter housing issues: maintenance, high rents, harassment, or abuse by landlords," says Cole Webber, a tenant organizer in Parkdale, a diverse, lower-income neighbourhood in downtown Toronto.
The goal of organizing
Bringing people together to act in their shared self-interest is a key goal of community organizing. Because people with power do not hand out concessions to those with less power from the goodness of their hearts, leverage is necessary to make gains. People who share grievances can come together and take collective action against the source of their problems, tipping the balance of power and securing victories that would be impossible as individuals.
"I worked with a group of Hungarian Roma tenants recently who all agreed to hold a rent strike, demanding repairs to their units which had been needed for a long time," says Webber. "They took action on the disrepair issue after rallying together against the anti-Roma racism of the building superintendent. The super was fired, and many tenants who withheld rent had repairs done." Once this injustice was dealt with, the activity of the tenant group faded. Tenant struggles are often small or short-lived, but they can be instructive for all forms of organizing.
"The main goal of organizing should be to build more organizers," says Marianne LeNabat, an Industrial Workers of the World member who formed a tenant association in her New York City apartment building. "In my experience, until we started organizing, it never occurred to some of my neighbours that there was such a thing as struggling in that moment."
In 2007, LeNabat moved into a small unit in an old tenement in the financial district, one of the few residential buildings left standing after the area was razed in the 1960s to build the World Trade Center towers. The street was nicknamed Sodom South for its numerous strip clubs and lap dance parlours. The building housed a mix of market-rent and rent-controlled units, but it wasn't until Hurricane Sandy hit in 2012 and the building was left without power that LeNabat met most of her neighbours.
"I called a meeting in my apartment. We learned from one of the older tenants that there had been a fight with the landlord in the '90s, and the tenants hired a lawyer and won in court," says LeNabat. "We didn't have money for a lawyer. We used direct collective action instead." All but two of the tenants in the building agreed to withhold part of their rent as they created a list of maintenance-related demands. Working together in the aftermath of the hurricane, the divide between tenants in rent-controlled units and market apartments was bridged.
"We were successful and were able to develop the confidence and leadership of several of the tenants," says LeNabat. "But at the same time we were dealing with our landlord, there was a tenant struggle for repairs in Sunset Park in Brooklyn. We failed to make any serious connection with that fight."
Patience, vision, victory
Tenant organizing is an experiment in co-operative action that increases the control people have over decisions and policies that affect them. But for tenant organizing to contribute to radical social change, it must accomplish more than that. "A housing struggle could potentially capture a broad section of working-class people," says Webber. "What needs to exist to keep people together between times are neighbourhood-based organizations, a directly democratic group that can consolidate, reflect on, and support those individual tenant struggles."
The Ontario Coalition Against Poverty (OCAP) has been organizing for almost 25 years, through times of broad social mobilization as well as regressive periods with little movement activity. OCAP has been a leader in many province-wide campaigns, including today's Raise the Rates campaign focused on social assistance, but it always stays rooted in its direct membership made up of shelter users, rooming house and public housing tenants, and activists working at social service agencies, especially in Toronto's downtown east neighbourhood.
"Housing, shelters, and services for poor people in the neighbourhood are threatened by extensive development and revitalization," says Liisa Schofield, an organizer with OCAP. "Our Taking it Back campaign aims to force the City to expropriate empty buildings and open them as housing and space for needed services."
The campaign launched in September of 2013 with a demonstration at 230 Sherbourne Street, a long-time rooming house that has stood empty since 2008. In 1985, Drina Joubert, a 41-year-old homeless woman was found dead behind the property. OCAP hopes to honour her memory by forcing the City to convert the property to affordable housing. A similar community-based campaign in Parkdale was successful in 2011 when a neglected property was reopened as Edmond Place, providing 29 units of affordable housing.
"A campaign to expropriate is going to take a long time," says Schofield. "We are making sure to do the work on the ground to build support for that to happen. We are asking the community what they want to see, what services need to exist in the neighbourhood." Long-term vision and patience are necessary ingredients in any movement seeking systemic change. Unfortunately, in today's austerity-driven political climate, tenants are often forced to fight rearguard battles to defend what little affordable housing exists.
In 2011, Toronto Community Housing Corporation (TCHC) was hit by allegations of financial mismanagement. TCHC is the largest non-profit landlord in Canada, housing 164,000 people. The city's populist mayor Rob Ford seized the moment and succeeded in firing the few members of the TCHC board of directors who refused to resign, including two tenant-elected members.
Ford appointed a new board that voted to sell off 700 units of social housing. The two tenant representatives on the board voted against the sale. Ford claimed that the sale was necessary to pay for the costs of repairs to TCHC buildings throughout the city, which had ballooned since the provincial government downloaded the responsibility for social housing to the city in the 1990s. Tenants responded by creating Tenants for Social Housing (TFSH).
"Tenants know best about what repairs are needed in our homes," said TFSH member Karlene Steer in early 2012. "But we refuse to see thousands of tenants kicked out of their homes just because a handful of managers never did their jobs."
The group went door to door in TCHC buildings, bringing out hundreds of members to city council meetings and demonstrations, all to stop the sale. They met with undecided councillors and shored up their support from council's left-leaning members. The campaign was largely successful; most councillors voted against the full sale. Just 68 scattered units would be sold, most already empty. The majority of the 700 homes were saved from the auction block.
Against the market
Just 557,435 tenant households – or four per cent of Canadians – have some type of housing subsidy. The majority of tenants live in private market units, where landlords are subject to few restrictions on the rent they can charge. British Columbia and Ontario offer marginal protection from rent increases, with a provincially set maximum rent increase for sitting tenants linked to the consumer price index. But in Alberta, landlords can raise the rent as much as they like every 12 months. It's clear that social housing needs protection, but as Toronto's experience attests, as long as tenants don't control their own housing they face potential eviction or displacement.
The Toronto Housing Company, a group of wealthy philanthropists and politicians, built the Riverdale Courts apartments in east Toronto in 1913. They believed that green space and clean homes were an important antidote to the overcrowded and squalid living conditions of workers created during the industrial revolution. By 1972, the building, now called the Bain Apartments, had changed hands and fallen into disrepair. Instead of doing the necessary repairs, the landlord announced plans to convert the apartments into condominiums.
"We decided to call a tenants' meeting to discuss resisting the landlord's plans," remembers Alexandra Wilson, who had moved into the complex a year earlier. "At the meeting, another tenant told us about a new program through Canada Mortgage and Housing Corporation that supported conversions of existing rental housing into housing co-ops."
Co-ops are collectively owned, member controlled, and managed by a board elected by the people who live there. Rent is tied to the cost of maintaining the building and rates aren't driven by market forces or landlord greed. The housing is generally more secure, and many members live for years in their buildings.
The tenants met with Toronto's councillors and the housing commissioner, and in 1974 the City agreed to purchase the property, intending to hand it over to the tenants when repairs were completed. "Two years later, we were fed up with the renovation process and wanted to throw off the municipal yoke," says Wilson. "The city housing department reneged on our deal and refused to transfer ownership to the co-op. We held out, and after a two-year effort, the City transferred the Bain Apartments to the co-op."
The program that helped convert Riverdale Courts into the Bain Co-op is no longer active, and few conversions have taken place since the late 1990s. Little social housing of any tenure type has been created in the last two decades, with some exceptions, primarily in Quebec.
Looking to Montreal
After the federal Liberal government withdrew funding for new social housing construction and co-op conversions in the early 1990s, tenants and activists in Quebec exerted significant pressure on both levels of government to maintain the construction of new units. The Front d'action populaire en réaménagement urbain (FRAPRU), founded 35 years ago, was a leader in this fight. FRAPRU now boasts roughly 150 supporting member organizations, with an active core of 30 tenant associations and housing committees across Quebec.
"Member groups send delegates to general assemblies four times a year and to one annual congress where we decide on a plan of action," says Véronique Laflamme, an organizer with FRAPRU. "Our mission is for everyone to have access to housing and to have better control of housing conditions and neighbourhood planning. The private market is not able to respect the right to housing for everyone – the state needs to develop social housing."
FRAPRU's commitment to mobilizing large numbers of affected tenants using a diversity of approaches and supporting, not supplanting, local organizing, has allowed them to wield considerable power. "We occasionally meet with political parties and government, and they know we have a large base," says Laflamme. "But it's not by lobbying that we will win. It's in the street, with the people, that we build our power."
That power has produced measurable success. After years of popular pressure, the Quebec government created a program to develop new non-profit and co-op housing in 1995. Between 2,000 and 3,000 units of social housing have been built each year since 2001. FRAPRU has also been able to protect subsidies for social housing tenants: the provincial government has agreed to sustain them when the federal money expires.
In Quebec, renters account for 38.6 per cent of all households, far above the national average, but the power of tenant organizing can take root anywhere. Across Canada, the goals and points of intervention will vary, but the stakes are high, and successes will mean tangible gains for low- and middle-income renters. Tenants can win increased legal protections from eviction, funding for new social housing, and, eventually, the full control of their own homes. In concert with other movements, these efforts can help build the organizing skills and collective power that are necessary to challenge a political and economic system that privileges property and those who own it above all else.
Readers like you keep Briarpatch alive and thriving. Subscribe today to support fiercely independent journalism.