compass/check/pulse point
Book review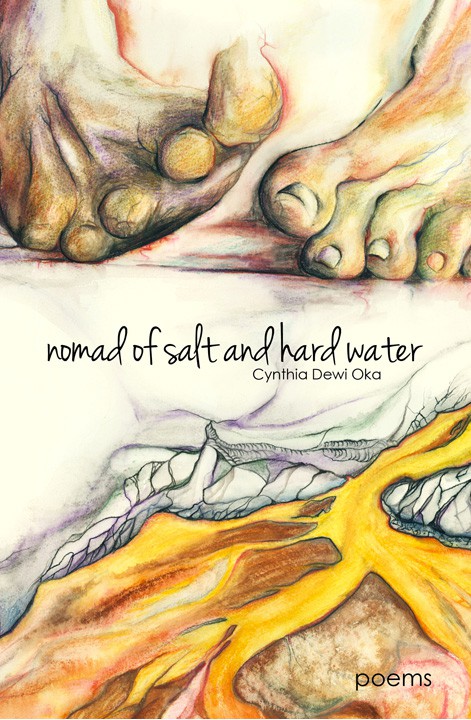 nomad of salt and hard water
By Cynthia Dewi Oka
Dinah Press, 2012
Cynthia Dewi Oka's first collection of poetry, nomad of salt and hard water, drops anchor in the transoceanic struggle of bodies against borders. Grounded in recognition of the complexities of her immigrant attempt to settle on stolen Indigenous land, where the colonial project continues through prisons and pipelines, Oka's activist poetics provide a way for readers to understand and enact lateral solidarities in the struggle for social justice.
Oka's poetic production, like her lived experience, is a composite, fragmented body made whole by performing many kinds of work at once. It relates a history of invasion, division, and flight from Indonesia. It tells of settlement in the occupied land of the Musqueam, Skwxwu7mesh, Tsleil-waututh, where discourses of the Yellow Peril still determine who will be granted Canadian citizenship. In her "postscript to Marx," she foregrounds and articulates what Marx misses: coloured women's bodied labour barbed-wired by the tense fiscal eroticism of capital. It is a lush circumvention that denies Manifest Destiny: a footpath powdered with the crushed jade and cloves of migrant struggle.
whether moss & water were baptism enough, I hid
from my father's hand in the smooth stone of her
mouth, pressing my dirt against sun
pouring out her back. there were lessons, arched
over dishes and uniforms, on decoding
time from the way ash collected in her calluses.
before my father locked the door between me
and the servants' quarters, we flip flopped through
Denpasar's mud, expatriating English like arsenic
through cloth, our hips vapour and ebb
to the equator's bass line.
This poetry enacts an aeolian process, shaping and eroding the linguistic and representational landscape of dominant media to inscribe intergenerational narratives of migrant motherhood that pulse an anticolonial heartbeat.
around us old brown women knit sinews with fishbone,
their backs coiled into the urgency of each stitch, vigilant
to the thunder of combat boots on rented timber –
that synonym to their grandchildren's heartbeat
at first dances, reciting first poems, in every attempt at love
like a frontal assault. what love could survive such metal?
my words too began as piracy
navigating three generations of placenta blindfolded and hiding
from the bodies that carried them –
For the monolingual reader, Oka's poems are a poultice of salt and chili rind held under the tongue, making a wound where histories of dissent and resistance can penetrate. A transnational/refugee/migrant/
youcan'tkeepusoutpoetry that delineates the circuits of late capital. For tongues that yearn for never learned or for forgotten languages – broken, whole or otherwise – Oka's poetry is it. Spines of surplus value hip and womb, hands and eyes, are girded with the steel of Oka poetry.
Readers like you keep Briarpatch alive and thriving. Subscribe today to support fiercely independent journalism.