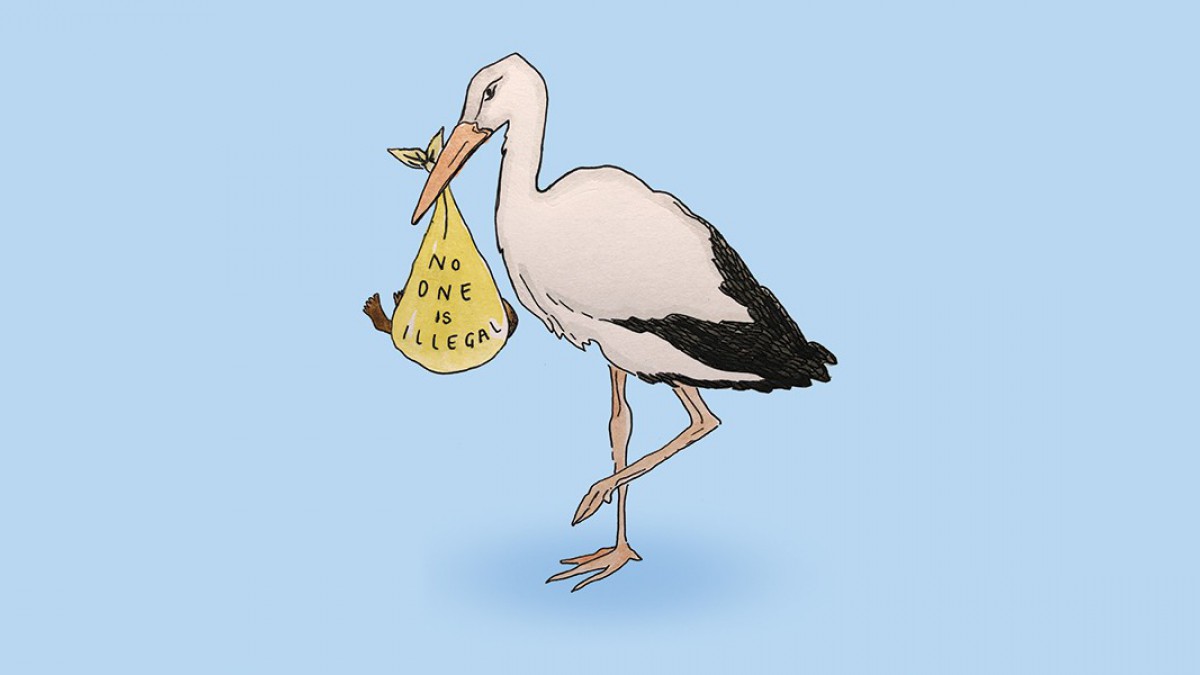 Baby book: Documenting undocumented motherhood
Editor's note, May 25, 2021:
Briarpatch published "Baby book: Documenting undocumented motherhood" in our March/April 2021 issue. The story was presented as the real-life narrative of one of its authors, Queen, becoming pregnant and giving birth to her son while undocumented in Canada. We later removed the article from our website because Queen decided she was not comfortable having the story – which includes details about her family – available online.
Since the article was published, Queen has told Briarpatch and the co-authors of the article that she fictionalized four parts of the baby book's narrative. We're issuing this correction to explain to readers what factual inaccuracies existed in the baby book, and how they came to be published.
First, the factual inaccuracies:
Queen wrote that after she lost her job, "I lost my temporary work permit and my right to exist in this country." In reality, Queen did not become undocumented at that point – her temporary work permit had not yet expired, and she began the process for applying for permanent residency on compassionate grounds.
Queen wrote that she then began to work under the table. In reality, she got an open work permit.
Queen wrote, "One day I received a letter from the Canadian government: a deportation order saying I must go back to Africa." She did not receive a deportation order – instead, she received a letter from the government telling her she was inadmissible for permanent residency on health grounds, but that she had the opportunity to provide additional information to ensure that "excessive demand" would not be placed on Canadian health services.
Queen wrote, "If I went to the doctor I could be detained for living in Canada without papers." Queen clarifies this wasn't the case, since she wasn't undocumented.
It was only after the baby book had been published that Queen realized that this fictionalization might be misleading and harmful.
Though Queen was never undocumented, she still faced enormous challenges accessing and affording health care and services, which she detailed in the baby book. This is because the Canadian state systematically denies rights to migrants – regardless of whether those migrants are refugee claimants, temporary foreign workers, or undocumented.
How they came to be published:
The baby book's co-authors, Jen Bagelman and Geraldine Pratt, worked with Queen over the course of about five years to develop and publish this story. This included Geraldine providing context for the Live-in Caregiver Program and Jen having numerous conversations with Queen – many of which were recorded and transcribed, and have been provided to Briarpatch – in which Queen consistently referred to herself as "undocumented" and said she had worked under the table. All aspects of the story in the baby book were presented to Queen's co-authors and Briarpatch's editor as fact. Briarpatch did not ask Queen for proof that she was undocumented, or for a copy of her deportation order. While we wrote this correction, Queen voluntarily provided documents to Briarpatch's editor that show that she was not undocumented.
We deeply regret publishing aspects of a story that misled our readers, and will work to make sure it doesn't happen again in the future. If Briarpatch were a mainstream publication, we might respond by promising to obtain immigration documents from contributors who are migrants before publishing their personal stories. But many undocumented people justifiably fear that declaring their immigration status to the media may lead to them being deported or arrested. At Briarpatch, we have always committed to bringing down the barriers that oppressed people face when trying to tell their stories – so we will not force contributors to prove their immigration status to us. We will, however, continue to rigorously fact-check other claims (including dates, statistics, and details of events), be transparent with readers when we've made errors, and work toward a future where no person lives in fear because of their immigration status.
Readers like you keep Briarpatch alive and thriving. Subscribe today to support fiercely independent journalism.