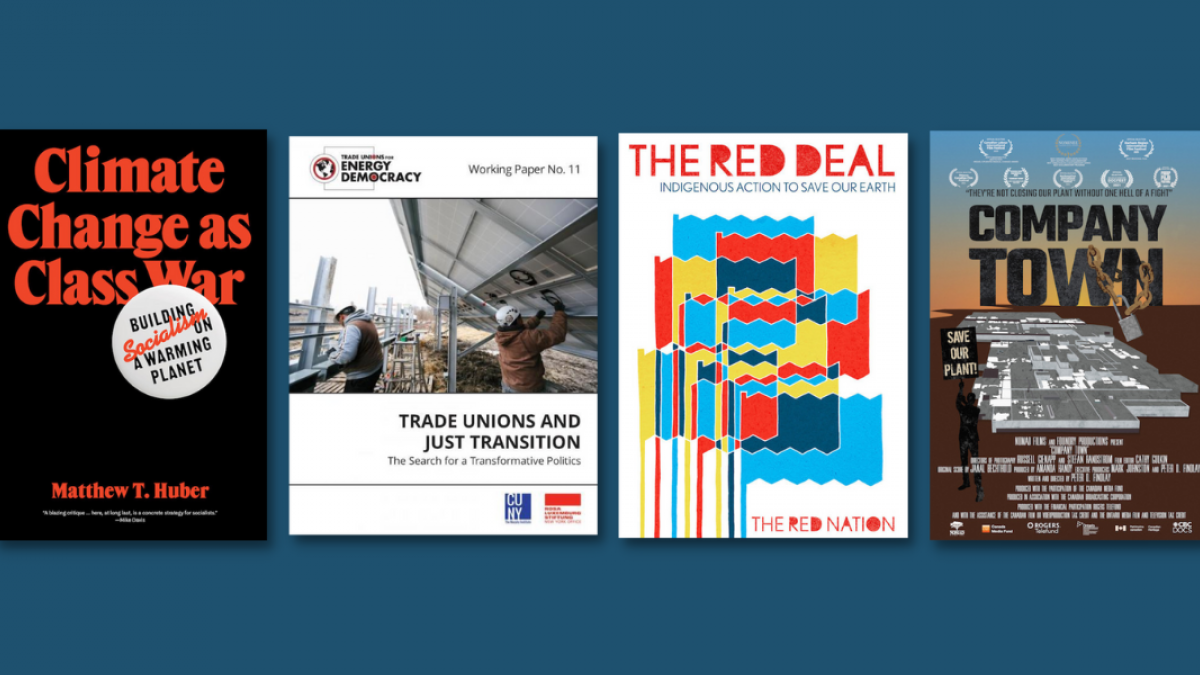 A reading list on labour's role in a just transition
From resource extraction and transportation to construction and logistics, how we manage our world must change dramatically if we are to avoid further ecological destruction and the disastrous social impacts it entails. After yet another summer of record heat waves and horrific floods, the need to transition to a more sustainable, less resource-intensive, and non-exploitative economy has never been more apparent. Such a transition is a monumental task that will require transformative political and economic change. Whether this transition is just, democratic, and reflective of the scale of the crises we face is still to be determined.
What is clear is that achieving a "just transition" will require an organized working class capable of acting collectively to challenge the status quo. A just transition must be for and by workers in solidarity with those fighting for Indigenous sovereignty, for climate justice in the Global South, and others challenging fossil capitalism. Therefore, understanding the labour movement's role in achieving a just transition is vitally important for environmental and labour activists alike, as their struggle is fundamentally the same.
The following is a list of resources to help us envision and think strategically about our collective struggle for a just transition and labour's role in achieving it.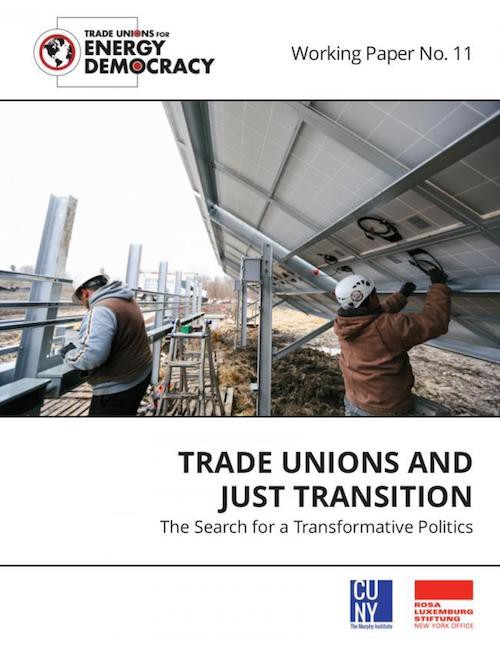 In this paper, Sean Sweeney and John Treat provide a brief history of just transition and its origins in the labour movement. They also help to clarify the different and changing ways the term is used. Notably, they highlight a distinction between a "worker-focused" approach to just transition, which emphasizes the concerns of those employed in carbon-intensive industries, and a more encompassing "societal shift" aimed at "a broader and deeper socio-economic transformation." Working through this tension and how to resolve it is a critical contribution of Sweeney and Treat's report.
Ultimately, the authors call for the international trade union movement to collectively pursue a "social power" strategy rooted in expanding public ownership and class-based union activism. This way, they argue, we can achieve a transformative just transition that not only meets the needs of workers today but also takes on the capitalist class pillaging our collective tomorrow.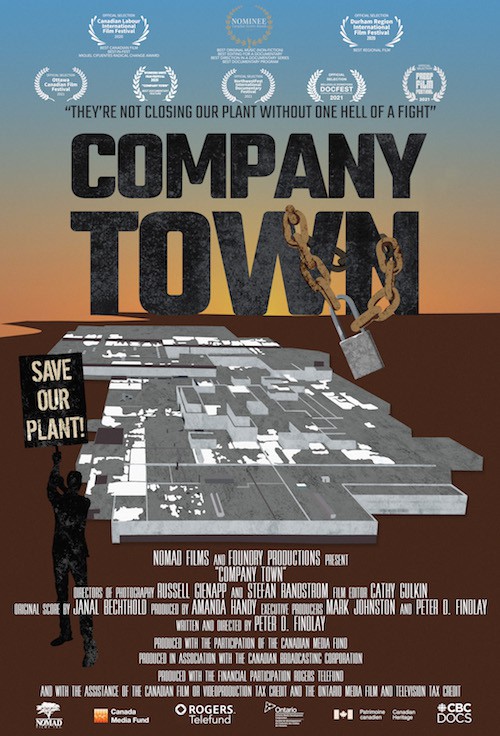 Company Town follows the story of the rank-and-file members and leadership of Unifor Local 222 as they deal with General Motors' decision to close its assembly plant in Oshawa, Ontario, in 2019. The CBC documentary highlights the work of Green Jobs Oshawa, a collective of Unifor members and their allies advocating for public ownership of the plant and its conversion to producing electric vehicles for public fleets.
Their approach is precisely what Sweeney and Treat mean by unions pursuing a "social power" strategy. Their demands seek to address the material concerns of workers while also bringing about a much more profound change in how production is organized and the purpose it serves: from corporate control aimed at profits to socialized production for social need. Although their aims have yet to be achieved, in part due to hostility from Unifor's leadership at the time, their continued struggle is one we can learn from and support as we pursue a just transition.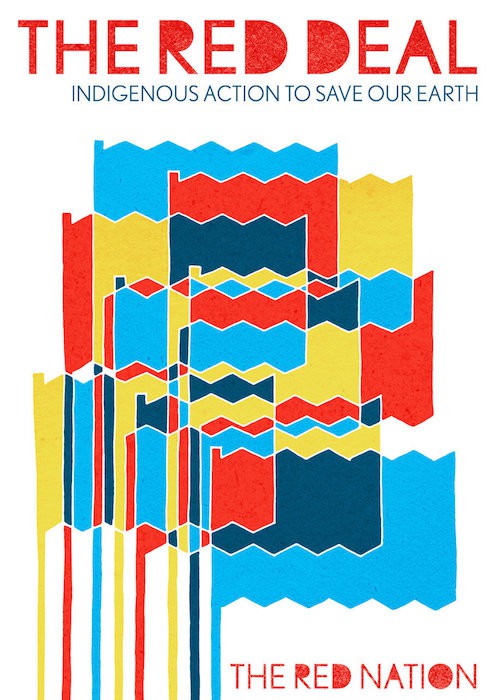 The Red Deal: Indigenous Action to Save our Earth
The Red Deal, by anticolonial group The Red Nation, helps us to envision and work practically toward a just transition, taking inspiration from Indigenous, ecofeminist, ecosocialist, and anti-imperialist struggles globally. From the Bolivian People's Agreement, which called for a dramatic shift in our relations to the environment, to the Unist'ot'en camp's resistance to the construction of a pipeline on Wet'suwet'en land, the book expertly demonstrates the deep, inherent connection between colonialism and capitalism. It makes clear that struggles for Indigenous sovereignty, such as the Land Back movement, are vital to the fight against the extractivist economy at the heart of the colonial project.
To achieve its aims, The Red Deal calls, in part, for the strengthening of international labour ties between workers in the imperial core and the Global South. This solidarity is crucial to causes like the opposition to militarization and the ecological destruction it entails. Importantly, The Red Nation also highlights the need for an ecologically sustainable economy to "be born from, and center the labor and needs of, caretakers," from educators to water protectors.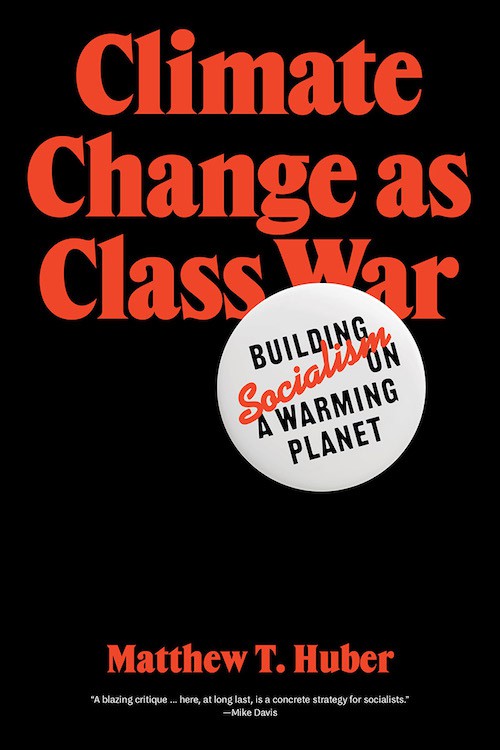 Climate Change as Class War: Building Socialism on a Warming Planet
Matthew Huber's Climate Change as Class War has been making waves in environmentalist and socialist circles. The book explores why we have yet to see serious climate action and to develop a socialist strategy for doing so in the United States. The core argument is that the environmental movement has long been dominated by technocrats and professionals instead of by the working class and organized labour. The result is that the emphasis has been on science communication and individual action instead of the capitalist class interests that are driving climate change. To change this dynamic, Huber calls for engagement in strategic industrial sectors, like electricity generation, where workers have the capacity to severely disrupt the capitalist political economy.
Huber's book has provoked some pushback, especially from the degrowth movement and others skeptical about centring a program for radical change around the Global North's "way of life." Others sympathetic to Huber's centring of class dynamics take issue with how the professional managerial class is framed in the text. For this reason, I have also included a thoughtful review by Andrew Ahern, published in The Trouble. Ahern, who is an ecological activist and member of the Sunrise Movement, embraces Huber's call to join a union to save the environment but also presses the need to situate climate action in the struggle against colonialism and imperialism.
Any reading list on labour and the working class organizing for power in 2022 would be incomplete if it did not include Jane McAlevey's insightful and powerful voice. McAlevey has extensive experience in union organizing and wrote the highly influential book No Shortcuts about the need for what she calls "deep-organizing" to revitalize the labour movement and working-class politics more broadly. In this engaging interview with Alleen Brown, published in The Intercept, McAlevey weighs in on what the environmental movement can learn from labour and how the two movements can better work together.
Most importantly, McAlevey makes the case that we need to engage with people who don't already agree with us to gain the power in numbers required for a just transition. McAlevey says "in every union campaign, I have a universe of people who have no shared political understanding of the world. If we're doing our job right, the worker is going to go through a very profound change. It's the spade work that has to be done to till the field to grow more people who understand the crisis." In other words, it is through collective struggle as workers that we can realize our shared interest and power to transform society in a more ecologically sustainable and just way.
Readers like you keep Briarpatch alive and thriving. Subscribe today to support fiercely independent journalism.