Youth Summer Job 2021: Publishing & Editorial Assistant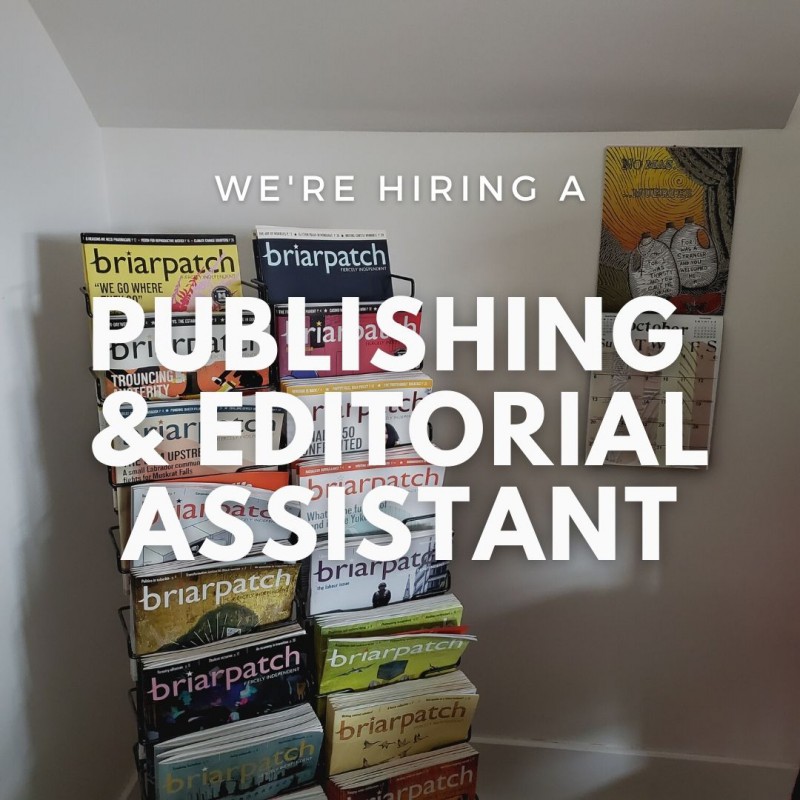 Applications are now closed.
Update, May 12, 2021: Thanks to a donation from a generous reader, we were able to increase the wage for this position from $15/hour to $17/hour!
Briarpatch Magazine is seeking a Publishing & Editorial Assistant to work with our team for ten weeks from June 14 to August 23, 2021 (dates somewhat flexible). The position is for 30 hours a week, at a rate of $17 per hour. The ideal candidate is passionate about independent media and wants to work for a grassroots organization where progressive politics are at the heart of the work.
Candidates must be between the ages of 15 and 30. Due to the nationalistic nature of the funder (Government of Canada), candidates must be either Canadian citizens, permanent residents, or refugees with protection conferred under the Immigration and Refugee Protection Act. Applicants can be based anywhere, and will work remotely.
The successful candidate will:
Work with the Publisher to expand the magazine's subscriber and sustainer base;
Work with the Editor on the production of Briarpatch and our Saskatchewan-focussed publication the Sask Dispatch. This may include a combination of writing and editing articles, working with artists, fact-checking and copy-editing articles, and laying out the magazine, depending on the skills and interest of the candidate;
Send newsletters to subscribers and manage Briarpatch's social media (Twitter, Facebook, and Instagram); and
Assist with outreach for future prizes and special issues, our Northern Writing Prize, and our abolition special issue.
You'll come away with a deep understanding of independent magazine production, including editorial, as well as nonprofit management. You'll deepen and nuance your understanding of local and international politics and social movements. This is a great opportunity for an ambitious young person to work in a friendly environment with close and meaningful mentorship, and to contribute to crucial projects that will significantly improve Briarpatch's reach and impact.
At minimum, we're seeking a candidate who:
Is fluent in English;
Has some experience writing and publishing journalistic work; and
Is familiar with Google Sheets and Google Docs.
Though no candidate is expected to have all of the following, ideally you:
Have a strong understanding of the landscape of progressive politics and media in Canada (including the labour movement, feminism, anti-colonialism and anti-racism, anticapitalism, etc.);
Have exceptional written and oral communication skills;
Are familiar with research and interview techniques;
Are organized and attentive to deadlines and detail;
Have an eye for graphic design and art, and experience with or a willingness to learn InDesign, Photoshop, and Canva;
Are digitally savvy, with experience in or a willingness to learn digital newsletter management and social media.
A desire and ability to pick up new skills is equally important as any of the above qualifications.
Briarpatch prioritizes hiring from equity seeking groups, and strongly encourages applicants who are Indigenous, Black, people of colour, poor or working-class, 2SLGBTQ+, women, and/or disabled. If you would like, please indicate if you are a part of an equity-seeking group on the application form.
Please fill out the form here to apply by 8 a.m. EDT on May 17, 2021.
We aim to contact shortlisted applicants by May 21, 2021. Work will begin on or around June 14, 2021, depending on the applicant's availability.