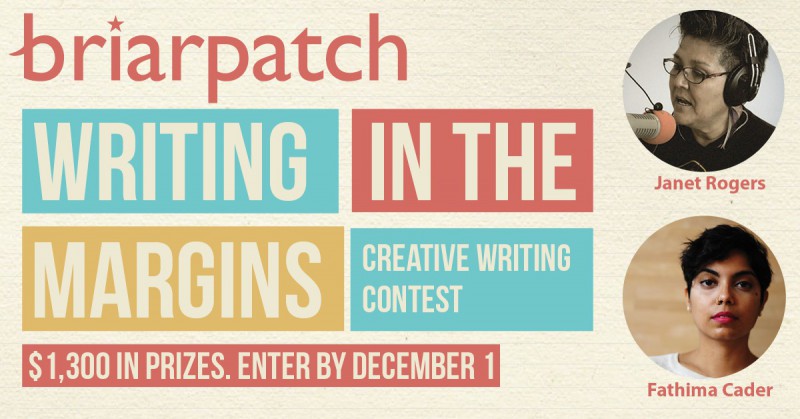 Our judges have made their selections, and the seventh annual Writing in the Margins contest winners and honourable mentions have once again awed us with the power of their stories.
Congratulations to Rebecca Salazar for her winning poem Geography Lessons and to creative non-fiction winner Leonarda Carranza for The McGill Experiments! Pick up the forthcoming March issue of Briarpatch to read our winners' work – and we'll post the winning pieces here soon!
This year's honourable mentions go to Sonya Littlejohn for Black Canadian History in Schools and Kathleen Yearwood for her story, November Threads.
Our best hometown entry goes to gillian harding-russell for her poem, Whether…Weather. Congratulations to all!
We are immeasurably grateful to our judges, Janet Rogers and Fathima Cader, for contributing their talent to Briarpatch! And thank you to all of the entrants for sharing their work and showing us new ways of looking at our struggles and our world.
Thank you to ARP, Paper Umbrella, and RPIRG for their support!