Winners and Honourable Mentions of Our Writing in the Margins Contest!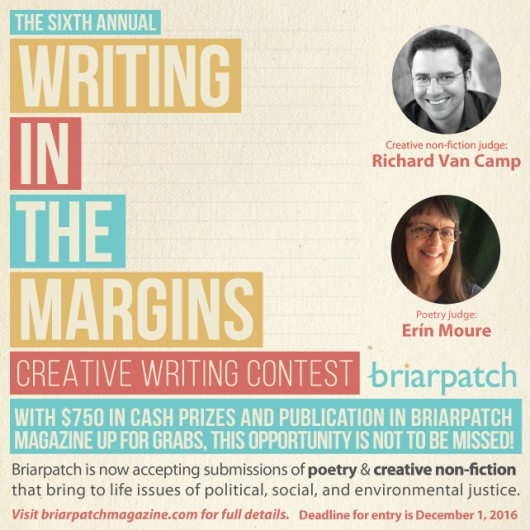 The brand new March/April issue of Briarpatch features the winners of the Writing in the Margins contest! The entries we received this year demonstrated the astounding extent of talent among writers and poets engaging with issues of social and environmental importance. We are in awe of the courageous writers who blend their art and politics to disrupt, inspire, and enrich our world.
Briarpatch congratulates Sonja Greckol for her winning poem No Line In Time, and creative non-fiction winner Joely BigEagle-Kequahtooway, for her piece, Obsidian Stone Wiya. Find the winning pieces in print in the March/April issue and online.
Congratulations also to Darian Selander, whose poem Brother earned a well-deserved honourable mention, and to Shelagh Plunkett for her story, You're One Or The Other, which was earned an honourable mention in the creative non-fiction category.
Congratulations are also in order for Nicholas Olson's story, That's My Team, which took the prize in the well-populated Best of Regina category!
Thank you to Erín Moure and Richard Van Camp for their expert and generous work supporting emerging writers. Thank you also to House of Anansi and Paper Umbrella for contributing to the prize package for "That's My Team."
Above all, thank you to all writers and poets who continue to challenge oppression and who champion resistance, growth, and solidarity.