Call for submissions for a special issue: Just Transitions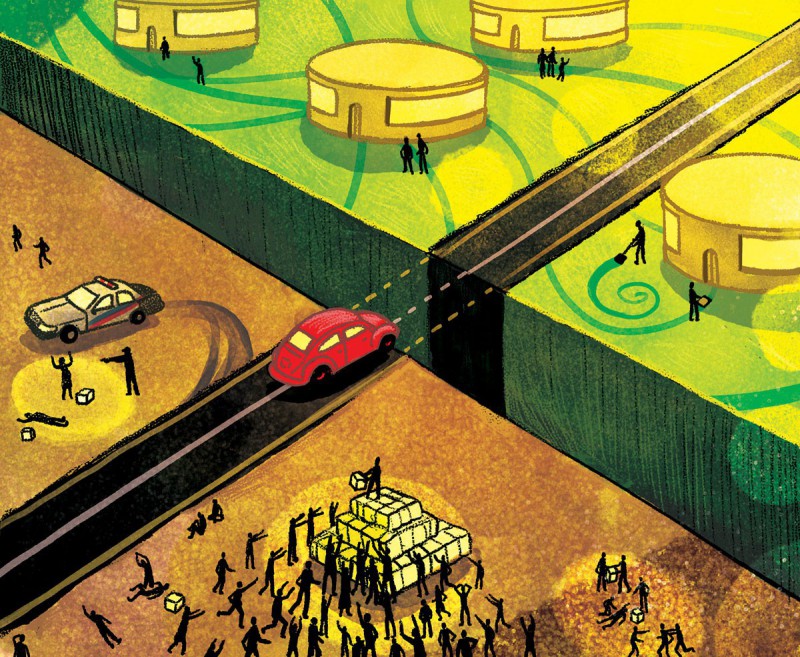 Pitches for this special issue are due on November 20, 2018.
We're teetering on the brink of climate catastrophe. Black and Indigenous communities are under attack. Capitalists and colonizers have ravaged the lands and waters we live on. But nothing about this is inevitable, and the most deeply affected communities have been – and are – fighting back.
How do we respond here, in the settler state of Canada? What future(s) do we aim to build, and how do we begin?
In the March/April issue of Briarpatch, we want to address the concept of a just transition. We see uncertainty about what we are transitioning from and to, and what justice looks like in practice and in theory. We want to use this issue to host investigations, discussions, and creative work to illustrate what radical economic and social systems are possible, and what is already being built.
The term "just transition" has typically been used to talk about a passage to a low-carbon economy, in a way that ensures dignified jobs for workers and returns some control of lands and waters to Indigenous communities. We need to push this definition further. What would it mean to transition not just to renewable energy, but to a new world beyond capitalism and colonialism? What does "justice" mean when it's envisioned not primarily for the white working class, but primarily for Indigenous peoples, Black folks, and people living in the Global South?
We're asking you to consider the following guiding questions:
What does the just transition mean to you and your community?
If successful, what does the just transition look like? What are the major shifts, and who makes them happen?
What are the main obstacles we need to overcome?
We are looking for investigative reporting, historical analysis, photo essays, timelines, personal essays, reviews, profiles, interviews, roundtables, debates, art (including visionary fiction), and other contributions that defy standard categorization.
Below is an incomplete list of topic suggestions, and we invite submissions beyond these categories.
Indigenous energy sovereignty, Indigenous food sovereignty
Indigenous anti-capitalism and economic sovereignty; relationships to land that aren't mediated by capitalism and extraction
Degrowth
Visionary fiction; imagining the just transition (utopias and dystopias)
Migrant workers; climate refugees; migrant justice and Indigenous sovereignty
Projects that act as stepping stones and preliminary forays into radical economic systems
Co-ops, anchor institutions, and the Preston Model
Borders and the just transition
Expropriation; nationalization; tensions between top-down economic systems and Indigenous sovereignty
Anarchist and socialist analyses of just transition; state projects vs. non-state projects
Feminism and social reproduction during the transition
Defining the just transition; does it mean different things to different groups?
Financing the just transition; economic possibilities to generate wealth outside of capitalism and resource extraction
Localism and the new internationalism
Your pitch should describe what ground you will cover, give an estimated word count, and indicate your experience or background in writing about the issue. If you haven't written for Briarpatch before, please provide a brief writing sample. Send your pitch to pitch[at]briarpatchmagazine.com.
Before pitching, take a look at some of our back issues to see what we have recently covered. Please review our submission guidelines and our guide to pitching.
We're continually seeking to work with more writers of colour, especially Black and Indigenous writers. If you're a writer of colour who wants more support in crafting a pitch or developing an angle for your story, you can email saima[at]briarpatchmagazine.com before November 15, 2018.
If your pitch is accepted, first drafts will be due December 15, 2018, followed by a collaborative editing process lasting until about January 15, 2019.
We have recently raised our standard rates of pay by 33 per cent:
$100 – Profiles, short essays, parting shots (generally <1,500 words); feature art
$200 – Feature stories (generally 1,500-2,000 words); photo essays
$300 – Research-based articles and investigative reportage (generally 2,000–2,500 words)
We reserve the right to edit your work (with your active involvement), and cannot guarantee publication.