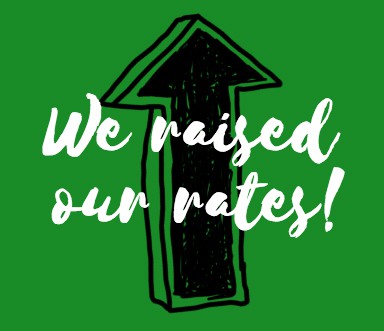 In the spring we asked for your help in raising $10,000 to hire an art director, and to raise our contributor rates. Well, we did it!
We raised just over $6,000 from subscribers like you, and a labour group chipped in another $4,000, which together allowed us to increase our contributor rates by 33 per cent. We're also temporarily hiring an art director for six months. That means we'll be bringing you a magazine that's more beautiful and packed with incisive commentary and investigations than ever before. Thank you so much for your donations and support – we quite literally couldn't have done it without you.
Our new rates for writing are as follows:
$100 (previously $75) – Profiles, short essays, reviews, and parting shots (generally <1,000 words)
$200 (previously $150) – Feature stories, photo essays (generally 1,500-2,000 words)
$300 (previously $225) – Research-based articles and investigative reportage (generally 2,000+ words)
Our new rates for art are as follows:
$50 (previously $38) – Spot illustrations
$100 (previously $75) – Feature illustrations
$40-$100 (previously $38) – Feature and spot photos
$300 (same as previously) – Cover art
We were also able to start paying our writers for blog posts, which we previously were unable to pay for. We now pay $100 per blog post. 
We're proud to continue our efforts to make political writing and art sustainable, and we're going to keep pushing to raise our contributor rates even further. If you want to help us, you can subscribe, donate, or become a sustainer.
The rate raise is effective immediately. You know what that means…