Women fight for a minimum wage
The Hong Kong Women Workers' Association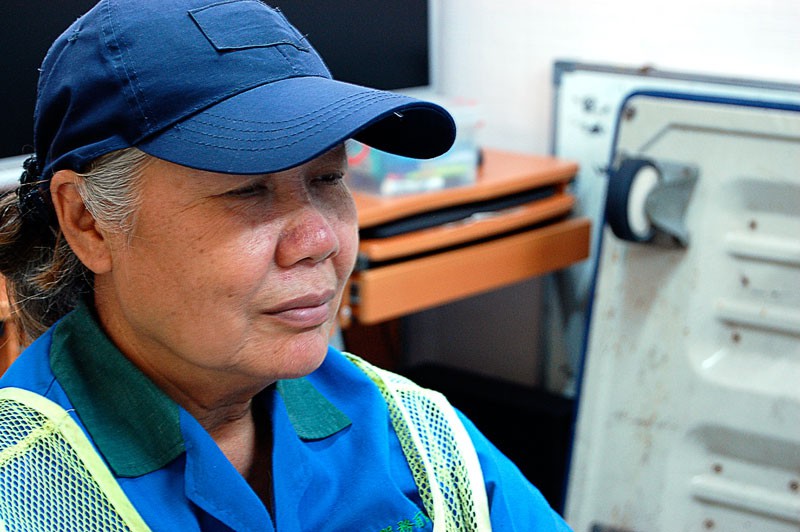 Lin Shiu, 65, walks into the small Hong Kong Women Workers' Association office, still sweating from her morning shift.
Wearing a blue suit, baseball cap and fluorescent green mesh vest, she gratefully accepts a glass of water. In an hour, she must get back to work cleaning a luxurious Hong Kong mall.
"For my age, it's difficult to find another job," says Shiu, who works eight hours a day, six days a week, and makes $3,600 Hong Kong dollars ($505 CAD) each month.
"I will work as long as I can work."
No minimum
Shiu is one of many female cleaning workers in Hong Kong who must deal with low wages, dangerous work environments and discrimination on a daily basis. She is also a board member and part-time organizer in a cleaning workers' union, working to improve conditions in the sector. Shiu says that instating a minimum wage is the first, necessary step to improving the lives of cleaning workers.
"[The Hong Kong government] doesn't really care about the workers. The policy is not for the people," she says. "The minimum wage would help us."
In 2006, Hong Kong's Chief Executive Donald Tsang introduced the Wage Protection Movement, a government program that encouraged corporations to offer cleaning workers and security guards wages at average market rates.
The Wage Protection Movement depended on voluntary participation, which was not forthcoming. The initiative shut down in 2008 due to insufficient involvement.
Today, the Hong Kong government has promised to look into introducing a statutory minimum wage, but so far, no concrete implementation plans have been taken.
Structural problems
In recent years, the number of women entering both universities and the workplace in Hong Kong has been on the rise. But according to Mei Lin Wu, the coordinator of the Hong Kong Women Workers' Association, although more women are entering the workforce than ever before, most fall into the "working poor" category.
"This means that their income is less than the minimum wage of grassroots work," she explains. "The gap between the poor and rich is the biggest in Hong Kong's history and the number of poor families is increasing."
In 2006, Hong Kong's Gini coefficient (GC), a measure of income disparity, reached as high as 0.533, surpassing that of Canada, the United States, and most Asian countries.
During this same period, the proportion of lower-skilled jobs decreased from 56.9 to 50.6 per cent.
"There is a structural problem," says Wu, adding that the present economic downturn and age discrimination also make finding employment more difficult for women with little or no formal education.
"Having working skills doesn't mean you'll find a job. The opportunity for women is not much, and opportunities are not equal among women," she says.
In 2005, 31.5 percent of Hong Kong residents aged 65 and over lived in low-income households.
"[Hong Kong is the] most free economy in the world, but what does that mean? Those that do not have money are not free. It means that labour, gender, human rights and just issues are not easy to raise," Wu says.
An uncertain future
Soon after Mary Songsirisakul Malee fell while cleaning a glass window at a Hong Kong shopping mall, she was told she had to return to work or risk being fired.
The 50-year-old, who still has health problems related to the accident, now works part-time cleaning offices and earns $1,200 HKD ($170 CAD) each month.
Like Shiu, Malee believes that a minimum wage would greatly benefit cleaning workers who, she says, are often further disadvantaged by the subcontracting systems prevalent in the industry.
"The policy does not take care of the workers. That's why the workers always become the losers," she says.
She adds that in today's economy, paying into her retirement fund has been a struggle, even though her son provides her with some financial support.
"I will go back to Thailand if I can retire," says Malee, who came to Hong Kong 30 years ago from Bangkok. "But I can't imagine my retirement. I would have no safety, no security. I can't imagine it."
Readers like you keep Briarpatch alive and thriving. Subscribe today to support fiercely independent journalism.