Water fight in the Thompson Okanagan
First Nations struggle to take back their water resources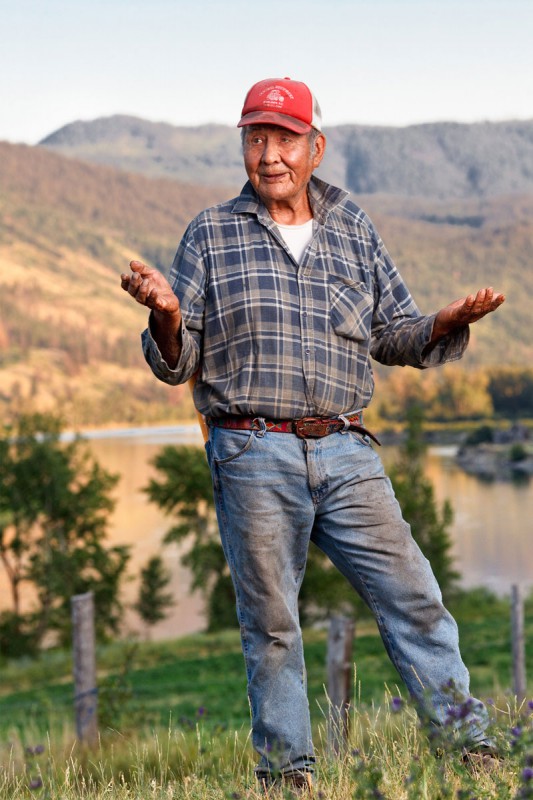 While the Secwepemc, Okanagan and other First Nations protected the region's fragile resources for over 10,000 years, a mere century and a half of settler rule has brought the area to the verge of ecological collapse.
"A lot of people have got their hearts broke, trying to make a living off this land without any water" Wolverine tells me. We are walking down the hill from his house towards a small field planted with flowering squash. His dog, Bingo, trails behind.
Wolverine — who prefers not to be called by his English name of William Ignace — is a 78-year-old member of the Secwepemc nation. He farms a sloping piece of land in the semi-arid hills of the Adams Lake Indian Band Reserve near Chase, British Columbia. On his 50 acres, he grows organic beans, corn, tomatoes, cucumbers, peas and squash. He keeps chickens, a few cows and a pair of horses. He is also an internationally recognized champion of indigenous rights, regularly invited to speak at gatherings and conferences around the world.
"I tried to sue the government back in '89 for lost revenue" he told me. "I got 12 families [from the reserve] together and asked them what crops they would've grown if they'd had water. Then I looked up the money they could've made if they'd grown those crops. That's the figure I was planning to sue the government for."
The lawsuit was never launched, but farming on the reserve remains an act of stubborn defiance. As the government does not provide irrigation pumps for the Adams Lake Band, Wolverine had to rig up his own system. He bought a diesel pump for $700 and installed it on the bank of the small river that flows at the base of his land. Unfortunately, the pump has to be operated manually and is difficult to start.
On the evening that I interviewed him, he was frustrated because he had sprained his wrist earlier in the day, trying to get the motor going. "This is the kind of thing we have to put up with from the Canadian government" he said.
The Thompson Okanagan has a contentious history when it comes to water rights. As the region is partial desert, irrigation plays a vital role in agriculture. When European farmers first settled the region in the 1890s, a primary concern was to create irrigation systems with which to water crops. The early irrigation systems (built by private land speculators or by farmers themselves) consisted of simple wooden flumes that relied on gravity to carry water to farmers' orchards and fields. After World War I, the provincial government became involved in building centralized irrigation systems using gasoline-powered pumps to draw water from out of the lake for use on farmers' lands.
Early irrigation systems, in combination with other de­velopment projects undertaken by settlers, had a devastating impact on First Nations' traditional food-gathering practices. Prior to the colonization of their territory, Okanagan and Secwepemc people enjoyed a varied diet of edible roots, berries and other plants, as well as salmon and wild game such as deer, elk and rabbit. The erection of fences by settlers, in combination with the diversion of water sources, disrupted the regular migration routes of large animals in the region, leading to a dramatic reduction in their number; the spawning grounds of the salmon were destroyed or made difficult to access because of dams; and finally, many of the edible roots and other plants diminished in availability or disappeared altogether as a result of cattle grazing, residential development and other projects.
The late Mary Thomas (1919-2007), a traditional ecological knowledge keeper and a member of the Secwepemc nation, told enthnobotanist Nancy Turner that as a child she used to go down to the mouth of the Salmon River where it flows into Shuswap Lake to dig wapato and water parsnips from along the banks of the river. The water parsnips were eaten raw, while the wapato were placed into baskets to be cooked up later. "Now" she said in 2001, "there's not one plant left down there. Let alone a cattail where the birds used to sing beautiful music. You don't hear that anymore."
With traditional food sources diminishing in the early 1900s, many First Nations people were forced to hire themselves out for wages and attempt farming on reserve land allotted to them by the provincial government. Mary Thomas recalled to Turner that her mother started a vegetable garden on the Neskonlith Indian Band Reserve, and also got a job helping to construct an irrigation system for white settlers.
The Secwepemc people held (and continue to hold) holistic beliefs about the natural water systems that once criss-crossed the region, maintaining that the rivers, lakes and streams have a spiritual value as well as providing life to many plants and animals. Thomas recalled that her mother felt sad about having to participate in the building of the irrigation dams: "It was hard work weeding and hoeing a vegetable patch, but it was even harder going against the cultural beliefs."
In the late 19th and early 20th century, many First Nations families chose to support themselves by running their own farms, but access to water was a continual problem as the colonial government frequently denied water permits to First Nations applicants in favour of white orchardists and farmers. In 1914, a white official writing on behalf of the Royal Commission on Indian Affairs for B.C. observed, "Again and again in our visitation of reserves in the "˜dry belt' I got the impression that the Indians are being deprived of water to which they are entitled."
A number of First Nations fought against the injustice of the system. In 1911, Paul Terbasket of the Okanagan nation was jailed for irrigating his crops and orchard in defiance of a government decision that denied him a water permit in favour of the Similkameen Fruitlands Company. Then in 1917, an Okanagan woman named Mary chopped to pieces an irrigation flume carrying water to a wealthy white farmer.
Finally, in 1931, the Adams Lake Band and the Neskonolith Band demanded that the Department of Indian Affairs pay for an irrigation system to increase the volume of water available to the two reserves.
In response to this petition, some Indian Affairs officials were sent to look at conditions on the two reserves. One reported back that "The large number of Indians resident thereon [were] dependent almost entirely upon agriculture for their livelihood, and the totally inadequate supply of water for irrigation purposes." Another agent confirmed the inadequate water supply and added, "The cause of most of the Indian diseases in the interior of British Columbia Dry Belt is [ … ] malnutrition. Lack of water to raise crops on their lands is the primary cause."
In other words, the reports confirmed exactly what the native leaders were saying: the people on the reserves were suffering because they had no means to support themselves other than farming, and there was not enough water available on the reserves to farm with.
Wolverine was born on the Adams Lake Reserve in 1931, the same year that these reports were made. Although his family lived on arable land, insufficient irrigation meant that his parents frequently had to take work off-farm to make ends meet. When I asked him what kind of work they did, he said, "They were jacks-of-all-trades, I guess. Had to be, to survive. Loggers, ranchers, they did everything. Trappers."
Like Mary Thomas, Wolverine attended the infamous Kamloops Residential School as a child. When the issue came up in our interview, he looked down at the dry grass at his feet.
"That's a black mark on Canada's history, that" Wolverine said when asked about the experience. "Well, we learned hard work. That's one thing we learned."
Unlike many other residential school survivors, Wolverine is still a fluent speaker of his native tongue, Secwepemctsin. He also possesses extensive knowledge of the Secwepemc land and culture. He describes himself, along with Mary Thomas, as being one of the few "true elders."
As a younger man, he worked for nearly 40 years as a faller for logging companies around B.C., single-handedly felling trees up to 13 feet in diameter. During these years, Wolverine sometimes took breaks from the logging camps to come back to his land to farm and trap.
He didn't get seriously into farming, though, until the early 1980s when a Hopi man mysteriously appeared on his land and presented him with a small sack containing ancient Hopi seeds for squash, beans, corn and tomatoes. Concerned about the growing power of food corporations, Wolverine decided to take up farming full-time, and to save and share heirloom seeds with those who were interested. His seeds have travelled as far as Russia, where they were distributed by the NGO "Save the Seeds."
As a full-time organic farmer on the Adam's Lake Reserve, Wolverine quickly grew frustrated by inadequate access to irrigation, which was still a problem for him, just as it had been for his parents. After doing some legal research, he decided to launch a class-action lawsuit against the government for allowing other parties to overdraw from the river and for failing to ensure an adequate flow of water onto the reserve.
Ultimately, however, the lawsuit was never launched. "I spent three years of my life researching that case" he told me, "but in the end the [band] leadership backed away. They didn't want any trouble."
These days, Wolverine is growing tired of fighting. "I spent five and a half years in the pen, you know" he says to me, referring to the jail time he served for his leadership role in the Gustafsen Lake standoff, in which he, along with several others, illegally occupied sacred and unceded territory traditionally used for Sun Dances at Ts'Peten.
His top priority now is to secure a good irrigation pump so that when he leaves his farm to his children they will have an easier time. Fingering his sprained wrist, he tells me that he is considering applying for a grant to help replace the pump. In recent years, the Aboriginal Agriculture Initiative has had some funds available through a joint partnership with the government of Canada, the province of B.C., and the non-profit Investment Agriculture Foundation of B.C. to help First Nations farmers pay for irrigation systems.
The problem of water availability is more acute today than ever. Environment Canada released a climate change study in 2005 that found that significant warming has been observed in the Okanagan Valley. Less snow in the mountains and early melts increase the flow of water during winter months and lessen the flow in the summertime, when irrigation demands are highest. Climate models predict that by 2050, the valley may have 35 per cent less precipitation as compared to the 1961-90 average.
Tough choices will have to be made in the future, experts say, between water use for domestic, agricultural, and industrial needs, and ecological needs such as water for wild plants, animals and fish. As water scarcity in the region increases, the claims of politically marginalized First Nations communities are likely to become even more sidelined. The livelihoods of Okanagan and Secwepemc farmers who, like Wolverine, live on reserves and are already struggling to get enough water to irrigate their fields will be in jeopardy.
Throughout her lifetime, Mary Thomas fought hard to protect the rivers for the salmon run, founding the Salmon River Watershed Restoration Project. She, like many other Secwepemc people, felt a strong obligation to care for the land. "Man is supposed to be the protector" she told Turner. "Humans were given the responsibility to protect the goodies that they created on this mother earth and I'm afraid that we're not obeying that. We're losing."
In the past, guardianship rights over the lakes, rivers and streams of the Thompson Okanagan were forcibly taken from First Nations people. This act was not only unjust, but also had a devastating impact on the ecology of the region. While the Secwepemc, Okanagan and other First Nations protected the region's fragile resources for over 10,000 years, a mere century and a half of settler rule has brought the area to the verge of ecological collapse.
The environmental difficulties that the Thompson Okanagan region is currently experiencing come as no surprise to Wolverine. "When you wage a war on the Indigenous people, you wage a war on the environment itself" he says.
Readers like you keep Briarpatch alive and thriving. Subscribe today to support fiercely independent journalism.