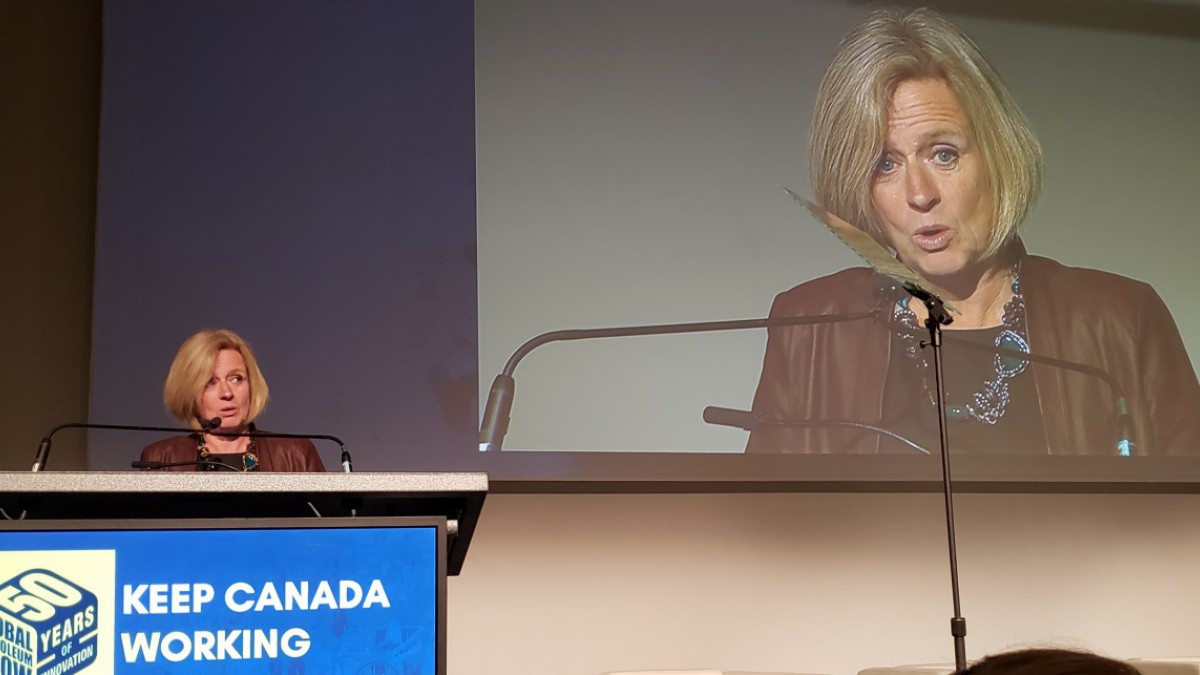 The Oil Industry's PR Offensive
CAPP's "grassroots" group, a real estate mogul, and an oil-obsessed government
I'm walking through the massive exhibition floor at the 50th annual Global Petroleum Show in Calgary, looking for the signs saying "I HEART CANADIAN OIL & GAS." As the industry experiences low oil prices and trouble building pipelines, I'm trying to understand what strategies and messaging these pro-oil public relations groups are adopting – and whether the campaigns are working.
[Read the first article in this series: Checking in with the oil crowd]
The industry's grassroots champions
I stop and chat with a young guy wearing a backwards baseball cap at the booth of Canada Action, the organization behind the "I Heart Oilsands" and "I Heart Pipelines" shirts, stickers, memes, and related rallies. At the petroleum show, he tells me, "no one is screaming at me, telling me I'm destroying the earth." He explains that the group is now getting donations from individuals and a few companies, though he won't mention which ones.
I don't see Cody Battershill, founder and driving force behind Canada Action. In 2010, the story goes, Battershill, a Calgary-based real estate agent, was in Vancouver and saw an anti-tarsands sign in a store window. It got him riled up enough to launch a counter-campaign pushing pride in the oil and gas sector. Canada Action was incorporated as a non-profit in 2012, and for a while listed conservative communications professional Matt Gelinas as a director, along with Battershill. The petroleum show is littered with booths and people sporting the group's stickers. It's a system of distributed marketing, where everyone is potentially part of the effort, pushing the core messages on their own time, online and in person. Canada Action is listed as a gold partner of the petroleum show and has a half-page ad in the program, calling for people to "TAKE ACTION FOR CANADA'S FUTURE."
The group has 63,000 Facebook followers and 14,000 Twitter followers. Online, they praise Canadian oil and gas for creating jobs and economic benefit, and for the industry's supposed environmental responsibility. Meanwhile, they delight in bashing Greenpeace, and occasionally post about Canadian military achievements, like Canada's contributions in the World Wars. The group puts forward a clearly patriotic message. Their posts, including memes, regularly get shared hundreds of times.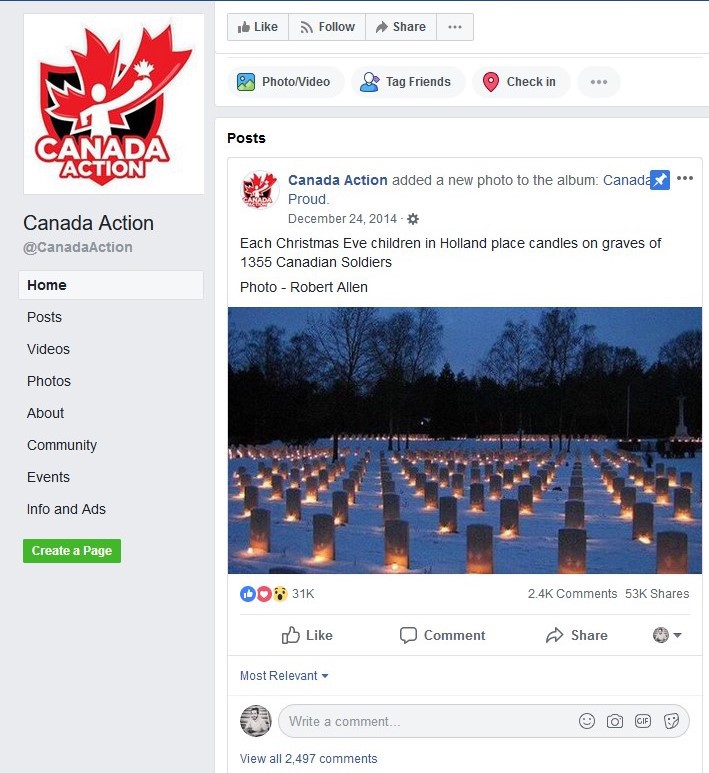 Canada Action's success and style has been mimicked by Canada's Energy Citizens, initiated in 2014. Canada's Energy Citizens distributes stickers nearly identical to Canada Action's and retweets some of their content. The group also occasionally shares posts from overtly conservative groups like B.C. Proud. While not mentioned on their social media pages, Canada's Energy Citizens is simply a marketing campaign for the Canadian Association of Petroleum Producers (CAPP), an industry association and lobbying group.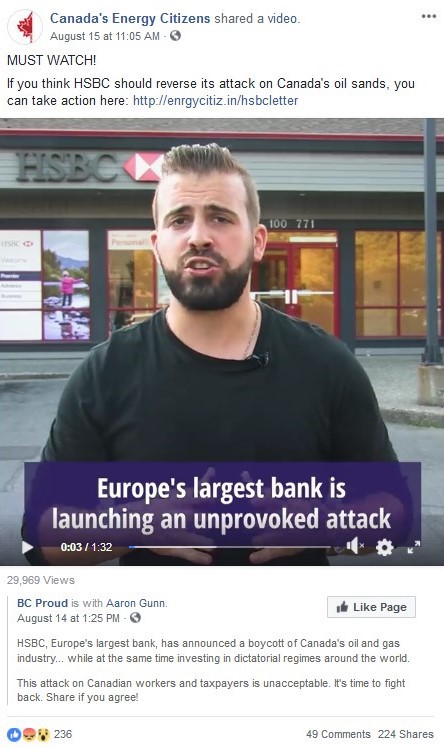 CAPP calls the group alternately a "grassroots movement," a "grassroots organization," and a "grassroots community of citizens." With the help of paid Facebook ads, they have amassed a very large online following of people (including over 233,000 Facebook followers) who like, share, and comment enthusiastically on their posts. In July, a joint investigation by the Toronto Star, the National Observer, and Global News revealed that CAPP, through this "grassroots" persona, reached an audience of nearly 17.5 million people for its pro-Trans Mountain pipeline expansion campaign – and targeted voters in 13 Ontario "swing ridings" preceding the Ontario election, which took place on June 7. The campaigning landed them in hot water, with groups currently calling for an investigation into whether Ontario election rules were broken.
On May 23, Canada's Energy Citizens teamed up with Canada Action for a pro-Trans Mountain rally outside the federal parliament in Ottawa, the same day that the Canadian Chamber of Commerce organized a "day of support" for the project, which included meetings with members of Parliament. Canada's Energy Citizens also shows up at major public events, like Canada Day parades – largely in Alberta, but also in other provinces like Newfoundland, where major extraction projects are underway.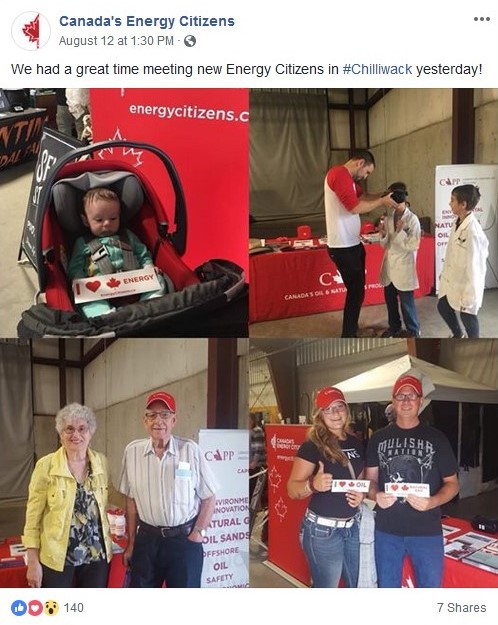 Foreign-backed campaigns?
I'm wondering what other PR groups are at the petroleum show. I leave the Canada Action booth and, around the corner, see a booth for a campaign I don't recognize, "Made With Petroleum." They're trying to get people excited about how much petroleum is part of our lives. Their website includes haunting lines like "In ways large and small, petroleum is in every aspect of our daily lives." It's a fact that's commonly used to take cheap shots at anti-oil protesters: pointing out that they drive oil-consuming cars, or use zip ties made of plastic to tie themselves to machinery to shut down oil operations. The fact that oil is thrust on people at every turn in modern society is given as evidence of our consent to it, and to scold against pushing for alternatives. CAPP's "grassroots" front group is fond of this tactic.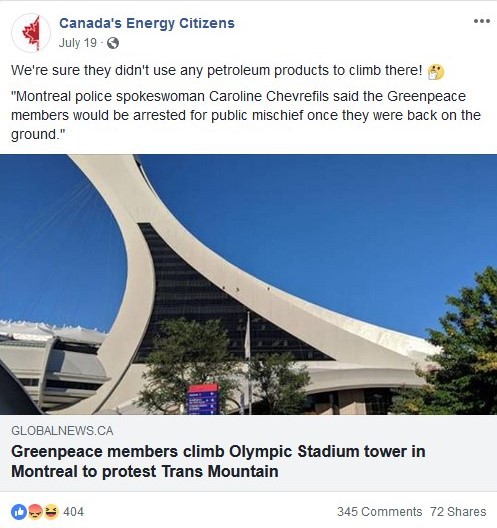 I ask who is behind the campaign and which organizations are supporting the project. The rep points to the "Wenzel Petroleum Consultants Ltd" sign posted behind the campaign-branded stickers and posters, explaining that Made With Petroleum is based in Calgary.
I leave the booth and check out their website, www.madewithpetroleum.com. It redirects to mwp2.arecotech.com. Down the site a bit, I see Areco Perforating is listed as what looks like a sponsor or partner. It turns out that Areco Perforating developed and manufactures the CoFracTM Gun, a piece of fracking equipment, in Xi'an, China, but lists its mailing address in Texas. It also has an office in Toronto for marketing and sales. This strikes me as ironic; proponents of Canada's oil and gas industry complain endlessly about relatively small amounts of foreign funding that Canadian environmental groups receive – meanwhile here's a Chinese company with Texas headquarters supporting this self-described "Alberta initiative."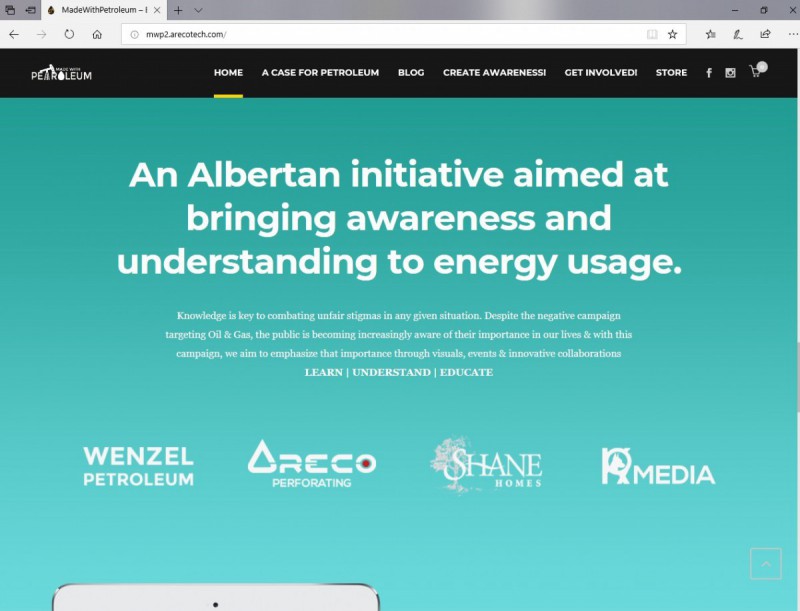 Later, I contact the Made With Petroleum campaign and they take Areco Perforating's logo off the site. "Areco's in-house media team worked with K9 Media to develop our campaign's graphics & website," they write via the Made With Petroluem Facebook account, not identifying the individual who is writing. "The company itself isn't associated with the campaign and therefore the logo is no longer on our site (to avoid misrepresentation)."
This is a relatively small example of foreign support, as far as I can tell, and it occurs to me that I'm missing the more obvious foreign pressure in pro-oil marketing in Canada. CAPP, the industry lobby group, counts among its members many foreign-based oil companies with Canadian operations: Koch Oil Sands (of the American Koch brothers), Shell, Nexen, PetroChina, and more. CAPP charges fees to its members, then uses that money for, among other things, lobbying governments and PR offensives like Canada's Energy Citizens. CAPP has a staff of about 80 people, according to its website.
An interconnected front
I'm still curious about the Made With Petroleum campaign, though, which has yet to make a splash online (it has only 12 likes on Facebook, and a professionally made video has 11 views). Another company listed on the website is Calgary-based developer Shane Homes, where Shane Wenzel serves as president. Shane Homes was co-founded by Shane's father, Cal Wenzel, husband of Edith Wenzel, who is working the Made With Petroleum booth.
"ShaneHomes," Made With Petroleum writes in their Facebook message to me, "is closely associated with the campaign. They've provided support at the launch of this campaign at Calgary's Global Petroleum Show 2018 and are constantly providing support in many ways."
Shane Homes founder Cal Wenzel, already a prominent figure in Calgary, catapulted into the headlines when he was caught on tape at a 2012 meeting of real estate developers plotting to fund campaigns to win Calgary city council seats for pro-developer candidates. Later, he sued mayor Naheed Nenshi for libel for $6 million when Nenshi commented publicly about those closed-door meetings and critiqued Wenzel's actions. Nenshi and Wenzel settled out of court, with Nenshi not having to pay any cash to Wenzel but having racked up nearly $300,000 in legal fees, which he personally fundraised to cover.
One real estate agent who has listed Shane Homes developments, among many other properties, is Cody Battershill, the founding force behind Canada Action and the I Heart Oilsands campaign.
Calgary's housing industry is heavily reliant on the oil and gas industry and took a tumble when the oil price plunged in 2014. So it's not terribly surprising that a real estate development family and a real estate agent are backing pro-oil PR campaigns, especially pro-Alberta campaigns.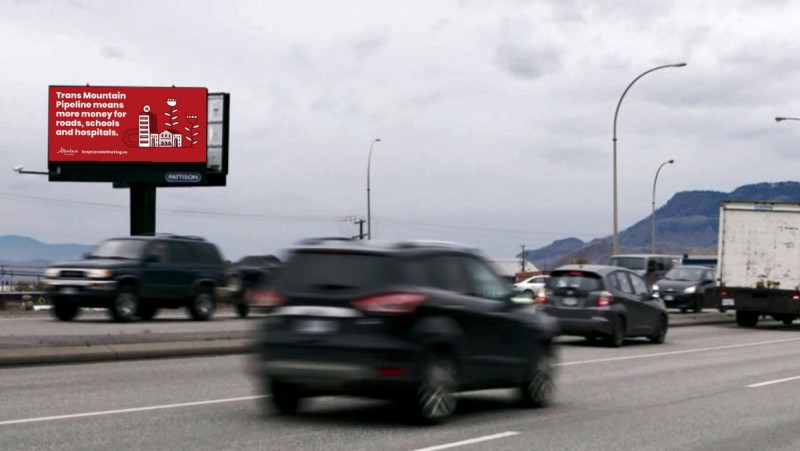 Another major player throwing its weight behind the industry – to the delight of some and dismay of others – is the provincial government. Alberta's first NDP premier, Rachel Notley, gives a speech at the petroleum show. It's titled "Keep Canada Working" and it's part of a campaign and tour she's been working on relentlessly to push for the Trans Mountain pipeline expansion. From when it launched in May until August 9, the Alberta government has spent $7 million on the campaign, a government spokesperson tells me, placing billboards in multiple provinces and buying sponsored ads on social media. The campaign is expected to run until the pipeline is operating.
The campaign website features testimonials from allies more fitting of Conservative or Liberal governments: the Canadian Chamber of Commerce, the Business Council of British Columbia, and the Surrey Board of Trade. The Keep Canada Working campaign is largely in line with CAPP and Canada Action's messaging. Where Alberta differs from CAPP can be seen in a Keep Canada Working video ad titled "How is Trans Mountain Part of Canada's Climate Plan?," which says revenues from Trans Mountain will help us in "transitioning us to the next economy, one less reliant on fossil fuels." The Alberta NDP, which at least mentions a fossil fuel phaseout, has, however, done next to nothing to articulate a clear vision or implement that energy transition during their time in power. They have instead passed legislation that allows tarsands emissions to grow by nearly 50 per cent from 2014 levels and called it a climate plan.
Flipping through the petroleum show's program, I notice the conference press contact is international PR firm Edelman. They're the ones who got busted in 2014, along with their client TransCanada, for astroturfing when leaked documents showed they fabricated a grassroots campaign to support TransCanada's Energy East pipeline project. (TransCanada dropped Edelman after that and in 2017 withdrew their proposal to build Energy East.) Previously, Edelman helped craft an "Energy Citizens" campaign with the American Petroleum Institute, launched in 2009, on which CAPP appears to have modelled their Canada's Energy Citizens campaign.
CAPP was also inspired by a former federal Conservative minister of natural resources in the Harper era, Greg Rickford. At the Banff Springs Hotel in 2014, according to The Guardian, Rickford told energy execs at a CAPP strategy session, "Those of us here in this room have a responsibility to tell our shared energy story," insisting, "We must all be on the same page." CAPP's Canada's Energy Citizens' Facebook and Twitter accounts were set up that year.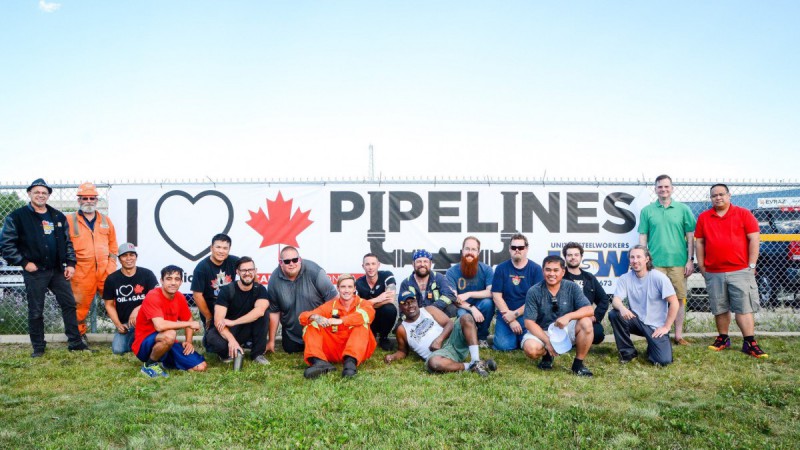 Having learned from Edelman consultants, Rickford, and others, a multi-sector public relations movement has formed, centred in Alberta. Government, industry, real estate moguls, and, increasingly, workers are in on it. A Regina-based union local, United Steelworkers 5890, for example, has a massive Canada Action poster up outside their workplace with their logo on it, proclaiming "I HEART CANADIAN PIPELINES" – as does a Calgary local of the same union. Seeing this, as well as numerous booths and people at the petroleum show with Canada Action swag, I realize that now, instead of industry execs and PR professionals needing to be the face of the message, workers are picking up the mantle. The astroturfing has turned, at least in part, into actual grassroots support. The strategy is working.
Faced with relatively low oil prices and nagging trouble getting pipelines built, the industry is on the offensive.
Talking back, opening possibility
I was beginning to think everyone at the petroleum show had drank the Kool-Aid. What effect does all this messaging have on our ability to envision and work toward a world beyond fossil fuels, a world where climate justice is taken seriously? How do we cool the fever pitch of the pro-oil PR offensive?
A couple months after the petroleum show, Climate Justice Edmonton unveiled a bold public art exhibit, People on the Path, on August 19. A series of 25 life-size portraits, each accompanied by a quote from the person being depicted, will be placed along a section of the Trans Mountain pipeline in Alberta.
"People on the Path is about dismantling the myth that all Albertans are pro-pipeline and can't possibly envision a future beyond fossil fuels. Instead, we're creating a new narrative for this province: one that upholds Indigenous rights and sovereignty, puts workers first, and honours our international climate commitments," explains Hannah Gelderman, an artist and organizer with Climate Justice Edmonton, in a statement accompanying the project.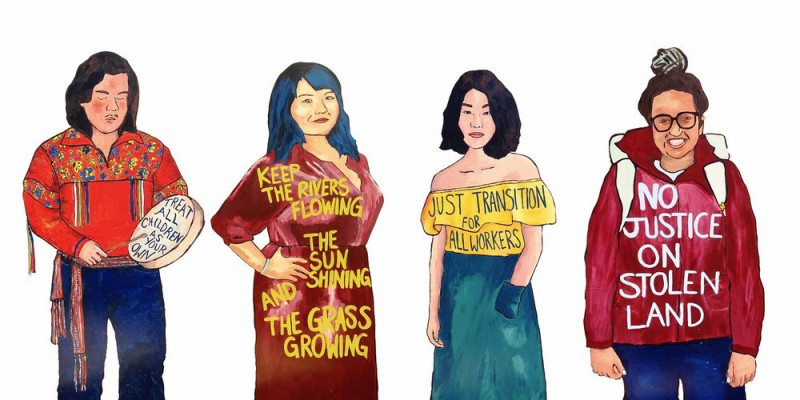 Bronwen Tucker, another organizer with the group, notes that numerous organizations in Alberta are working on challenging the oil industry – including several First Nations communities, Indigenous Climate Action, the Alberta Federation of Labour through its Next Alberta campaign, and Reclaim Alberta.
"After opening this conversation with People on the Path," Tucker tells me, "[Climate Justice Edmonton] will be working with the Council of Canadians to gather more peoples' ideas of what a just energy transition in Alberta would look like and compile them into a more concrete plan with clear steps and an end goal. We'll be doing this ahead of the provincial election next spring to counter what the UCP (United Conservative Party) and NDP put forward, and be as loud as possible in saying there's something bolder and brighter we should be shooting for."
The pro-fossil fuel crowd has vast riches for PR campaigns, so those fighting for a just transition to a low-carbon economy are going to have to get creative, get connected with all kinds of people, and ultimately get better resourced to have a decent chance at taking back the conversation.
Read more about the Global Petroleum Show in our article Checking in with the oil crowd. In winter 2019 we'll be publishing a third article, online-only, on next hotspots for extraction and forays into digital disruption of the oilfield.
Readers like you keep Briarpatch alive and thriving. Subscribe today to support fiercely independent journalism.