The New Wave of Food Co-ops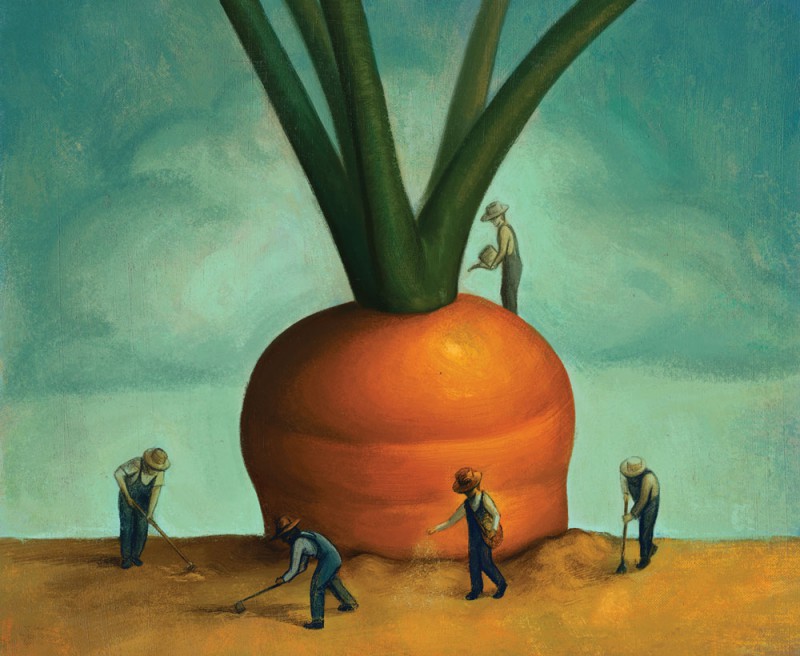 Food co-ops tend to arise in order to address a community's need for healthy, culturally appropriate, and affordable foods. In the last century, there have been three major waves of food co-op development in North America. The new co-ops emerging across the continent in the current wave are different than their supply-focused ancestors of the Great Depression or their natural foods predecessors of the 1960s and '70s. Unlike those earlier models, the latest co-ops seek to integrate the needs of all stakeholders in the supply chain. They bring farmers, eaters, workers, and even community partners into solidarity with one another – in some cases, sharing ownership of a single enterprise. By sitting around one table, these co-operators are able to negotiate the most complex issues of the food system together.
As democratic enterprises, co-­operatives offer their members opportunities to engage in the decision-making processes that govern their operations, wresting power from corporate players and relocating control within their communities. Co-ops are putting power back into the hands of the people who grow the food and helping to turn otherwise alienated food consumers into food citizens. In this wave of their development, Canadian co-ops are also empowering those who process, distribute, sell, and prepare food. In a society where fewer and fewer people are farming, this co-operative translation of food sovereignty principles provides a powerful social tool for repairing and rebuilding our food systems.
In the Digby area of the Bay of Fundy, a co-operative of four bottom hook-and-line fishers has come together to build capacity for local and sustainably harvested seafood. "It's more expensive to fish using the sustainable gear," says Dave Adler, manager at Off the Hook Community Supported Fishery. "The price is determined on the commodity export market with no differentiation around gear type," he continues, "so the people fishing in sustainable ways don't see an added premium for it. Off the Hook is helping fisher[s] to have more control over the price of the product."
Off the Hook realigns the relationship between the harvesters and their catch as well as between harvesters and local consumers. In Nova Scotia, "people can tell you that it's really hard to get local fish even though we're surrounded by ocean and fishing," says Adler. Off the Hook is reimagining local livelihoods for fishers that don't force them into the role of employees at large, consolidated companies. The community supported fishery, modelled from community supported agriculture, is a way to streamline the supply chain to connect people who eat fish to those who catch it and to secure an income for the harvesters by guaranteeing sales through subscriptions.
While a growing number of eaters are conscious of agricultural issues, fisheries issues are less visible because fishing happens "away." Off the Hook is changing this in Nova Scotia by making fisheries issues more tangible for chefs, retailers, and the general public. The community support model means that customers understand the impact of weather and the elements on food production, as when the full moon and tidal variations prevent the co-op from making deliveries. Taking responsibility by equally sharing the risks and rewards of changing weather patterns among producers and consumers alike engenders a more engaged and active population of eaters.
Consumer education is key to Off the Hook's mandate and it's also a priority shared by Kootenay Co-op in Nelson, B.C. The 40-year-old for-profit consumer-owned co-operative grocery store is committed to consumer education about, awareness of, and engagement with the food system, says the co-op's marketing and outreach manager, Jocelyn Carver. "You can't have food sovereignty and security if nobody knows what it is," she states. The co-op intentionally creates and follows buying guidelines that promote fair trade and organic, regional, and local foods.
Though Kootenay Co-op is owned by its 12,000 consumer members (in a town with a population of about 10,000), workers and producers play central roles in the co-op's commitment to food sovereignty. Carver says that Kootenay Co-op pays "domestic fair trade prices" for local products, hosts annual meetings with suppliers to tailor supply to demand, and even advertises on behalf of local suppliers who don't have marketing budgets. The co-op employs more than 90 people, making it one of the largest employers in the region.
The Indigenous-owned and -operated Neechi Foods Co-op in Winnipeg takes the importance of dignified employment to another level, simultaneously addressing the need for culturally appropriate food and creating a market for locally made crafts and goods. The co-op addressed the challenges of setting up in a neighbourhood with a relatively transient population by embracing the worker co-op model when it opened in 1990. "We were looking for a model that would best promote a sense of collective business ownership and self-reliance," says Russ Rothney, the co-op's treasurer. Neechi has become a city-wide destination for regionally harvested and processed foods such as fish, wild rice, elk, bison, and the co-op's signature item, bannock. Neechi boasts sales of several hundred loaves each day and honours its commitments to community health by using vegetable oils instead of lard in its recipes.
While no one can out-price the big chains on standard commercial products, Neechi has by far the best prices in the city when it comes to wild rice, local fish, and wild berries; this is due in large part to the co-op's support of Indigenous producers and harvesters. Another worker co-op, near Wabigoon, ON, supplies much of Neechi's wild rice, processing it using poplar wood-fired ovens rather than the chemical additives normally added for shine and colour. Another Indigenous community corporation, which formed to regain price control from intermediaries that were pitting pickers against one another, has long supplied the co-op with wild blueberries.
Neechi Foods Co-op has also played a pivotal role in lobbying the Manitoba government, which introduced new legislation for multi-stakeholder co-ops thanks in part to Neechi's advocacy. The co-op aims to include consumers, Indigenous suppliers, and possibly other co-ops among its stakeholders, bringing the whole community together in solidarity and ownership of the enterprise.
In Ontario, where many of the recent start-ups are multi-stakeholder co-­operatives, food sovereignty has been a unifying theme. The Australian Food Sovereignty Alliance recently made a special visit to the West End Food Co-op (WEFC), which operates in Toronto's Parkdale neighbourhood, in order to see these principles in action. The WEFC includes four stakeholder groups (eaters, workers, producers, and community partners) and aims to give each group in the food system a say in the decisions and functioning of the co-operative. In nearby London, ON, a Mondragon-style worker co-operative called Forest City Worker Co-operative has been operating several intertwined co-op enterprises, all guided by the core theme of food sovereignty. Between their organic produce delivery (On the Move Organics), organic café and restaurant (The Root Cellar), microbrewery (The London Brewing Co-operative), and a forthcoming sustainable transportation business, each of the co-op's endeavours hinges on a multi-layered approach where those who do the work and produce the goods are in control.
Both the London- and Toronto-based co-operatives are critical members of an emerging association of more than 75 co-operative food enterprises in Ontario. This association of co-ops – from Dryden to Niagara, and Windsor to Fitzroy Harbour – has joined together in order to learn from each other's successes and challenges, to share inspiration and ideas, and to build capacity within each co-operative enterprise. This Local Organic Food Co-ops Network is committed to building co-operative, just, sustainable local food systems in Ontario. The network has benefited from the support and mentorship of the Ontario Natural Food Co-op, a 39-year-old federation of food co-ops and buying clubs, and one of only two remaining co-operative food distributors in North America. Such collaboration between co-ops at varying stages of maturity and at every link in the food cycle fosters the intergenerational roots necessary for food system transformation.
In Saskatchewan, the heartland of the first wave of Canadian co-ops, the Farmer Direct Co-op functions as a shared brand for producers focused on family farming, organic production, and food system justice. This approach to values-driven marketing offers farmers an opportunity to engage in domestic fair trade that enables greater control and autonomy, and a higher value for goods sold. Like Ontario's food co-op network, the Farmer Direct Co-op reasserts the value of collective ownership and collaboration rather than competition, values that get at the heart of both food sovereignty and agroecology. Just as biodiversity creates agricultural resilience, shared ownership and deliberative decision-making create the conditions for a thriving co-operative system.
And yet, if the co-operative model is so transformative, fulfilling, and effective, why don't we see it flourishing in every corner of society? As anyone who has worked in a co-operative enterprise will tell you, co-ops require a lot of work. When done right, they take consumers and turn them into citizens; this transformation comes with increased demands for time, dedication, constructive debate, and compromise.
Like most things worth having, co-ops are not easy to create, nor are they easy to maintain. Within the broader capitalist marketplace, the fiscal health of co-ops can fall victim to their commitment to greater ideological principles. That said, even Conservative Alberta MP Blake Richards, in the parliamentary report of the Special Committee on Co-operatives during the International Year of Co-operatives in 2012, said, "many co-operatives have flourished in tough economic times, when meeting [community] needs was a matter of particular urgency" and where contributions by governments or private industry were lacking. While each wave of food co-op development has seen scores of co-ops go bust, on average, co-operatives enjoy twice the business survival rates of their corporate cousins. It is also important to note that co-ops are particularly successful in places where government support for their development is strong. A cursory glance at regions of the world with strong co-operative movements – the Basque region of Spain, northern Italy, and Quebec – reveals the role of the broader political and economic climate in co-op development and sustainability. In recognition of this, Co-operatives and Mutuals Canada, a national bilingual association, supports research to inform government policy and advocates at the national level to strengthen the co-operative economy.
Food co-ops in Canada are working together to form a strong, connected root system running back and forth across the country, and indeed, around the world, as a co-operative food system emerges in the midst of the monolithic (and thus vulnerable) industrial food system. Canada's growing movement of food and farming co-ops continues to articulate its own mechanisms and policies of food production and distribution, fostering productive relations that are collective, collaborative, and community-owned.