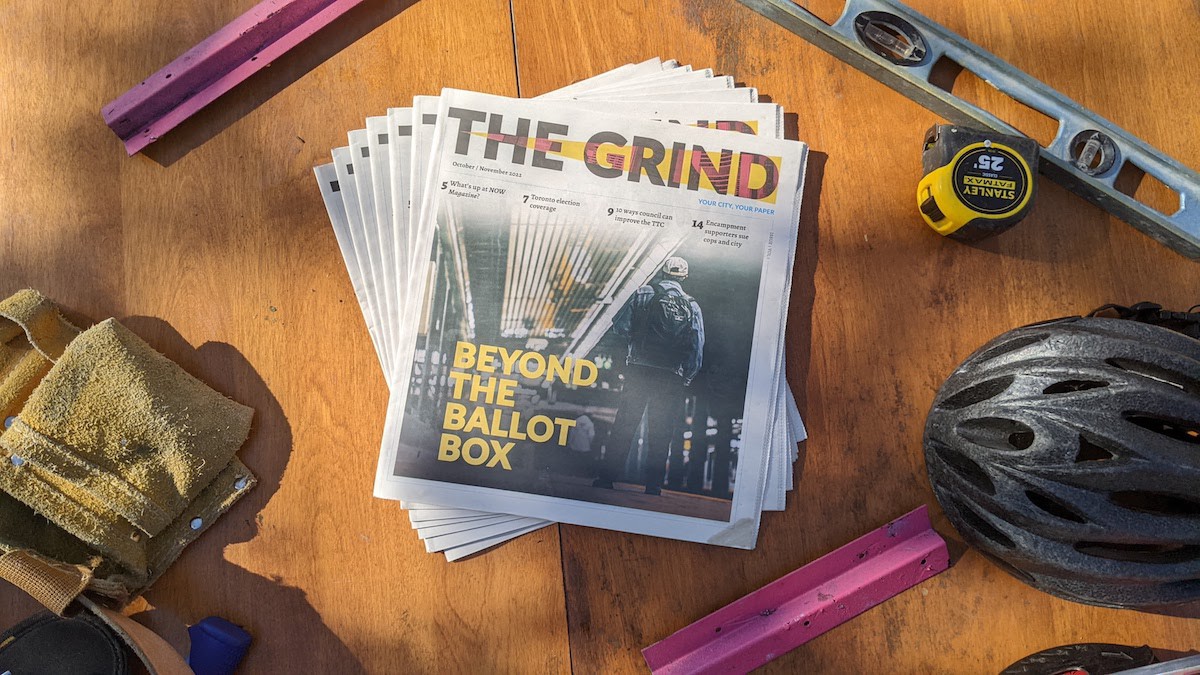 The case for large-scale workers' media in Canada
Remember that terrible Maclean's cover? You might be thinking of one of the Islamophobic ones. Or "The resistance" one, featuring conservative premiers who were enforcing austerity measures and whining about having to do the bare minimum to mitigate climate change. Or maybe it's the "How to Kill the NDP" one, featuring a photo of Naomi Klein and Avi Lewis just after they helped publish the Leap Manifesto.
Now imagine your own Maclean's. Would those kinds of covers – and the stories that come along with them – ever be published? Imagine what you, or a skilled group of people on the left, could do to fill that space instead, knowing it would reach the 118,000 subscribers of the largest political magazine in Canada, as well as the millions more who read it online.
The problem is, the left has long been out of the game of owning and operating major publications. As a result, Canada's media landscape is dominated by the right and by those with business and management's interests at heart.
The richest family in Canada, the Thomsons, own the Globe and Mail. The National Post, (owned by the Postmedia empire, which also owns major papers in almost every city) was started as an explicitly conservative paper. The Toronto Star (owned by Torstar, which also owns most Ontario city papers ) was a liberal paper and Torstar's new owners are wealthy Conservative donors. Maclean's and many other magazines, from Chatelaine to Toronto Life, used to be owned by the Rogers empire and are now owned by the wealthy Gagliano family from Vaughan, Ontario, through the family business St. Joseph Communications.
As a result, Canada's media landscape is dominated by the right and by those with business and management's interests at heart.
The right has not always dominated mass media. From the 1880s to the 1940s, the North American left saw an explosion of socialist, anarchist, and labour union newspapers. One of these – the socialist paper Appeal to Reason, based in the American Midwest – at one point reached a circulation of 750,000, six times that of Maclean's today. These papers were instrumental to winning demands that improved the lives of working-class people: shorter working days, a public education system, and ending imprisonment for debt.
In B.C., unions pooled money for business ventures through the Working Enterprises fund, subsidizing The Tyee, a left-leaning publication, in its earlier years. Founded in 2003, The Tyee now has around 700,000 unique visitors per month and plays an important role in provincial and federal politics.
One of the best bets for the left to reach this kind of audience again is for progressive individuals and organizations to pool their resources to buy mass media outlets. So, what would it cost?
In 2020, Torstar sold for $60 million. Postmedia was valued on the stock market between $133 million and $226 million over the last year. And Maclean's? Hard to say. It's a magazine in decline – falling from its peak of 226,000 subscribers in 2016 – but still the political magazine with the highest circulation in the country. Would the Gaglianos sell it for $5 million? More? Less? Who knows.
Looking more locally, the Vancouver-based Georgia Straight (which, granted, is distributed for free) sold for only $1.25 million in 2020. NOW Toronto sold for $2 million. These are (or were) the largest circulation alt-weeklies in Canada, with websites getting around 3 million and 1.4 million monthly pageviews respectively, plus print readership in at least the hundreds of thousands. They were bought up by investors, then driven nearly into the ground during the pandemic.
The point is: this is not an unattainable amount of money for the combined powers of unions, progressive foundations, and individuals in Canada. A public sector pension fund could easily acquire a small-to-medium-sized publication, if it wanted to – meaning, if its members wanted to and if their financial managers listened.
Unions, union members, and people with access to wealth need to think big about shifting the media landscape in Canada.
Is it worth it to invest a few million dollars to be able to play a major role in setting the mainstream political conversation in Canada? I don't think we can continue to afford not to.
To be clear, the owners of major publications like these don't get to dictate what gets published. The editorial staff need independence from the business side. But in a typical arrangement, the owner sets the mandate and appoints a board of directors, who in turn hire a publisher, and the publisher hires an editor-in-chief. That person oversees what gets published. In this way, you have pretty good assurance that what gets published will be in line with the mandate set by the owner and directors. So, if, say, your union owned a big magazine, you could rest easy knowing it wouldn't print right-wing nonsense.
After NOW Toronto's parent company declared bankruptcy in February, and the magazine's staff said they were publishing their last print issue in August (but continuing online), a small group of indie media workers got to work to fill some of the void. In October, a week before the Toronto municipal election, we launched an unabashedly left print publication, named The Grind. 50,000 copies were printed and distributed free in TTC subway stations and over 50 other locations around the city, making it one of the largest print publications by circulation in Toronto. The PDF of the first issue is available from thegrindmag.ca and you can keep up to date at The Grind's Twitter, @TheGrindTO. A fundraiser to cover start-up costs is ongoing as of November 2022.
Unions, union members, and people with access to wealth need to think big about shifting the media landscape in Canada. We can accept it as it is now – with terrible op-eds shaping the discourse, anti-worker and landlord-friendly reporting, and media empires that treat their employees terribly – or we can get to work on building something better.
Readers like you keep Briarpatch alive and thriving. Subscribe today to support fiercely independent journalism.