On Notice
Letter from the editor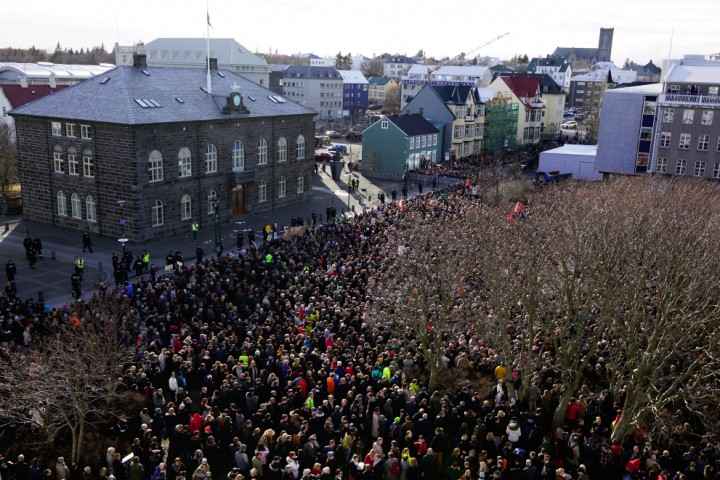 "You are on notice. We are not finished," reads the sign hung by Black Lives Matter Toronto (BLMTO) organizers in front of Toronto Police headquarters.
BLMTO organizers – led by Black women and trans folks, and supported by sustained Indigenous solidarity – held down a two-week resistance against police brutality and the glaring incompetency and shady dealings of the Special Investigations Unit in the aftermath of the killing of Andrew Loku.
The tent city may have packed up in early April, but resistance to the anti-Blackness propelling policing, media, and justice systems is far from over.
This issue of Briarpatch is an extended one: the cover story, "We continue to be magical" (a quote from contributor Hawa Y. Mire) is a roundtable that features the analysis and insights of five young Black folks living through the abominable violence and dispossession that entrenches the racist Canadian state. The roundtable was convened by Nana Adu-Poku last winter, months before the Black Live Matter Toronto tent city was built, but centuries into what Mire aptly describes as the sustained dispossession of Indigenous lands using Black bodies and labour.
This issue also goes to press a mere week after news broke that investigative journalists had accessed 2.6 terabytes of data – that's 11.5 million documents from the last 40 years – revealing the bank-driven tax avoidance schemes of the global elite. According to the International Consortium of Investigative Journalists, the Panama Papers reveal that 12 current and former world leaders have offshore holdings, and another 128 public office holders from around the world are implicated in hidden financial dealings. The ICIJ's Panama Papers explainer draws out the many links between the criminality, hypocrisy, and rampant corruption embedded in the offshore finance world.
As Chris Lehmann ponders in The Baffler, "What if they held a mammoth document leak and nobody came?" The eerie apathy from the masses in Canada and the U.S. is indeed disconcerting: the collective shrug suggests that corruption in democracies is, well, business as usual. This attitude is propped up by writing in the Financial Post about the legality of offshore finance (sure, but since when does legality equal justice?), while the CBC has emphasized that no "prominent personalities" in Canada are implicated, giving weight to the notion that power and wealth are objectionable only when they're conspicuous or have celebrity cachet. To be sure, Lehmann's "nobody" is not nobody: massive protests in Iceland have pushed Prime Minister Sigmundur Gunnlaugsson to resign, and robust demonstrations in the UK are putting heat on David Cameron … but in Canada, besides the usual commentariat, the outrage is on ice.
If we were to place these stories in a Venn diagram, with the BLMTO protests in the context of broad anti-racist work in one circle, and the Panama Papers in another circle, the overlapping space would highlight that capital depends on white supremacy and the justification of racism. As Keeanga-Yamahtta Taylor writes in From #BlackLivesMatter to Black Liberation: "Racism … has never been just about abusing Black and Brown people just for the sake of doing so. It has always been a means by which the most powerful white men in the country have justified their rule, made their money, and kept the rest of us at bay. … Capitalism is contingent on the absence of freedom and liberation for Black people and anyone else who does not directly benefit from its economic disorder."
It says something, after all, that Toronto mayor John Tory was unavailable to meet with BLMTO organizers because he was in Silicon Valley and San Francisco, pitching Toronto as a city in which international venture capitalists should invest their money and escape the "divisive politics" championed by Donald Trump. Tory did, however, have time to meet with the press to denounce BLMTO leader Yusra Khogali's tweet as "incendiary."
As Syreeta Neal is quoted in this issue's "Feminism's White Default" (p. 4), "White women should be expected to confront white supremacy. Women of colour can scream about this … but until the people who have a seat at the table start flipping tables … there's only so much we can do." All of us who have some kind of seat at the table are also tasked with raising hell about the links between Black Lives Matter and the Panama Papers – that is, white supremacy and profit. There is an urgency behind making transparent the costs of greed and wealth that simultaneously justify pipeline development in direct contravention of Indigenous consent ("Against the Pipeline Prerogative," p. 28), stymie conversations about sustainable economies ("Organizing for a Transition," p. 36), and lock up Indigenous peoples at staggering rates ("A Matter of Life or Death in Remand," p. 32). Our current and future work requires making these connections visible and undeniable.
Readers like you keep Briarpatch alive and thriving. Subscribe today to support fiercely independent journalism.