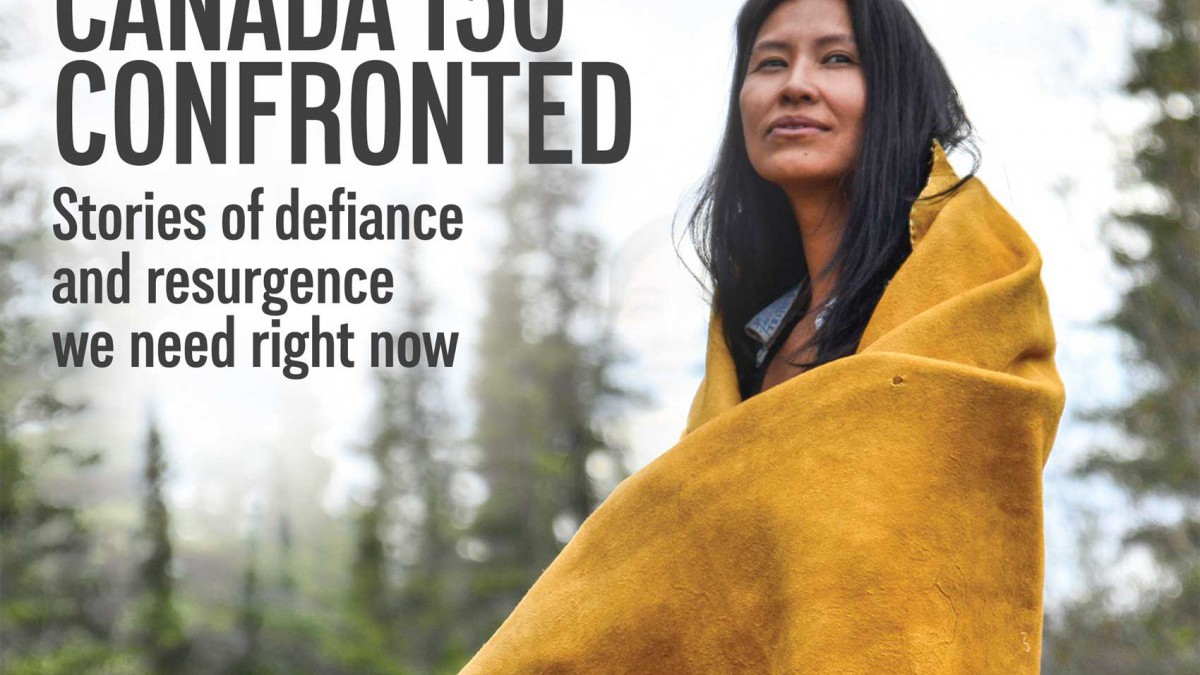 Not Here To Party: Canada 150 Confronted
Letter from the editor
This issue is an intervention. When the government of Canada announced its Canada 150 celebrations, we knew it was necessary to confront the self-aggrandizing narratives of Canadian exceptionalism.
The government put forward four themes to define its vision of the sesquicentennial: diversity and inclusion, re-conciliation with Indigenous peoples, the environment, and youth. The sanctioned accounts of Canadian history, including the four themes, dangerously obscure the ongoing violent theft of Indigenous land and the exploitation of the people on it.
In a speech delivered in late 2015, newly elected Prime Minister Justin Trudeau described "diversity" in Canada as "the air we breathe." The link between Canadian nationalism and diversity has its roots in Trudeau Sr.'s multiculturalism policy of the 1970s, which sought to correct racist immigration policies.
But as Dawn Paley writes in "Pretty Faces, Grisly Interests," the Canadian myth of diversity is built on "the foundational denial of ongoing Canadian colonialism and racism at home, and on the euphemism of peacekeeping, which masks imperialist intervention abroad." As detailed in this issue, while Canada basks in its global reputation for inclusion, it won't recognize Indigenous sovereignty, maintains a strict Safe Country of Origin list that limits eligibility for refugee claims, detains migrants and their children in excruciating numbers, and signs trade agreements that exploit migrant workers and instill corporate privilege. While anti-racist organizing is formidable in communities across the country, the state's claims to "diversity and inclusion" are seriously questionable.
The Canadian state also has a lot to answer for on its record of reconciliation with Indigenous peoples and, relatedly, the environment. At this year's United Nations Permanent Forum on Indigenous Issues (UNPFII), Minister of Indigenous and Northern Affairs Canada, Carolyn Bennett, declared: "I'm here to announce, on behalf of Canada, that we are now a full supporter of the Declaration [on the Rights of Indigenous Peoples, UNDRIP] without qualification. We intend nothing less than to adopt and implement the declaration in accordance with the Canadian Constitution." A cornerstone of UNDRIP is the requirement of Indigenous peoples' free, prior, and informed consent for development on their land.
On the surface, Bennett's stance sounds progressive. But the state has proven that what it says and what it does are two different things. In this issue, Secwepemc land defender Kanahus Manuel (who confronted Bennett after her UNPFII speech; the video of the interaction went viral) and journalist Justin Brake discuss the criminalization of Indigenous people who withhold consent for energy projects ("Front-line Freedom"). In "The Truth About Treaties" Andy Crosby reveals that the state considers historic treaties to be documents securing "unfettered access for settlement and development." Without question, Canada 150 is the colonial anniversary of formalized occupation of Indigenous lands and the ensuing abuse of the environment. As Métis artist Christi Belcourt has said elsewhere, its celebration is an insult to the 15,000 years of Indigenous life, love, and resistance here.
Further, the capitalist foundations of this country should shatter the illusion that Canada is a champion of young people, who, today, contend with increasingly precarious work conditions, unaffordable housing, and anemic labour laws – all signs of neoliberal hegemony in Canada.
In "Midinette Spring", Sofia Cutler demonstrates the extent to which industrial-era capitalists built their wealth in part from the labour of young women, whose exploitation was intensified by the Catholic church and paternalistic unions.
Despite the impressive work of young people organizing for broad economic justice today (see the recent wins on minimum wage and housing), Canada is undeniably built on the exploitation of young people.
While we object to the myths propagated by the state, confronting Canada 150 is also an opportunity to amplify a people's history. In this spirit, we feature Chris Kortright's abridged timeline of insurrections, Tracey Mitchell and Baijayntha Mukhopadhyay's history of mad activism in Canada, and Dru Oja Jay and Navjot Kaur's discussion about the new Courage coalition, a grassroots effort to build the left.
Beyond the pages of Briarpatch, there is a rich body of work that also confronts the Canada 150 machine. We encourage all those who read this issue to also read the report of the Truth and Reconciliation Commission, the daily news from Thunder Bay, the social media contributions under the hashtag #Resistance150, creative writing by Indigenous authors and poets, and journalism in the public interest.
We hope this issue inspires collective defiance and resurgence in opposition to Canada.
Readers like you keep Briarpatch alive and thriving. Subscribe today to support fiercely independent journalism.