Monkeywrench murder mystery
Book review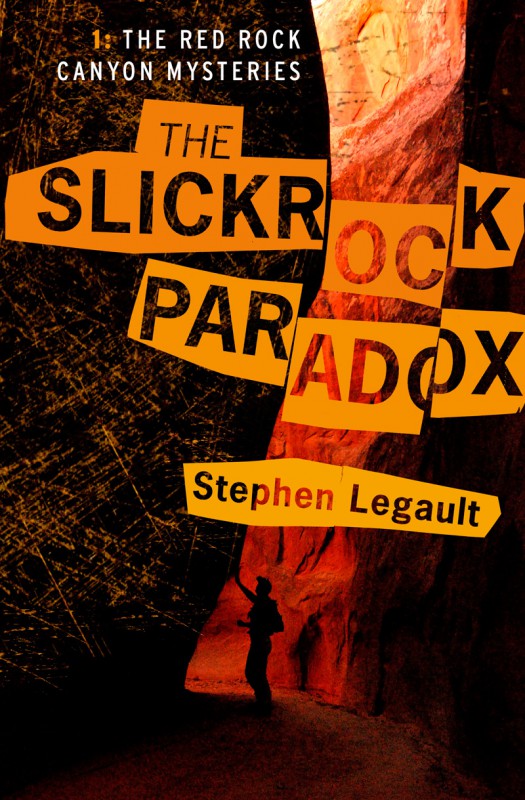 The Slickrock Paradox
By Stephen Legault
Touchwood Editions, 2012
The Slickrock Paradox, by Alberta-based mystery author Stephen Legault, wraps its twisting plot around one central mystery. There are crimes for the protagonist to solve, including more than one murder, but they are almost peripheral; the core riddle is the absence of a body.
Silas Pearson, a former English professor in his 50s, spends his days wandering Arizona and Utah searching in vain for his wife. Three years earlier, Penelope de Silva, an intrepid environmentalist, left to go on a day hike and never returned. After another fruitless day of searching, a dream leads Silas to a body unearthed by a flash flood. But the skeletal remains are not those of Penelope; they belong to Kayah Wisechild, a young Native American woman. Soon Silas is embroiled in a mystery that reaches into the byzantine world of industrial development, big money, and state politics.
Legault's love of the land is palpable; the reader can clearly see the complicated beauty and compelling, fickle character of the rocky wilderness.
Legault spent a year as a volunteer at Grand Canyon National Park and is an environmental advocate who has worked with several Canadian conservation organizations. It's a shame that the character at the centre of the book is not communicated as capably as the landscape. The author renders Silas' despair with skill but never gives breath to Penelope, reducing the impact of Silas' loss.
As the mystery deepens and both the body count and list of suspects mount, Silas is undeterred. He is convinced that solving the murder of Wisechild will help him find his wife, who may have been involved in clandestine conservation work. Silas finds unlikely allies in Katie Rain, an FBI forensic specialist, and Josh "Hayduke" Charleston, a young firebrand environmentalist who knew Penelope. Rain is sympathetic to Silas' search and quietly shares information with him. Hayduke offers a rougher, somewhat less-than-legal kind of support.
The name Hayduke is a reference to the anti-hero of Edward Abbey's seminal hard-boiled environmental thriller, The Monkey Wrench Gang, which foresaw the rise of radical groups like Earth First! and the Earth Liberation Front. In the 1980s, the founders of Earth First! borrowed Abbey's term "monkeywrenching" to describe the act of industrial sabotage in defence of the environment. Legault pays homage to Abbey throughout the book: Penelope based her desert explorations on Abbey's documented travels, and Silas searches his books for clues to her disappearance.
Unfortunately, Legault never addresses Abbey's reprehensible racism. In 1963, Abbey wrote: "I certainly do not wish to live in a society dominated by blacks, or Mexicans, or Orientals." Just as insidious were Abbey's racist, colonial ideas about Indigenous peoples and their relationship to the land he fervently defended. Midway through The Monkey Wrench Gang, the gang destroys a coal train and plants false leads around the site to point the blame at Red Power radicals. Indigenous people don't have a place in Abbey's narrative of eco-resistance, even if it is their traditional lands that are being destroyed.
Sadly, although Legault's plot turns on the discovery of the ruins of a Pueblo gathering place by a young Hopi woman, The Slickrock Paradox suffers from a similar, though less crass, erasure. Despite his realistic portrayal of the political and economic landscape of the Southwest, the role of Native Americans in the defence of their land and water rights goes unmentioned, and Legault's few Indigenous characters are treated as objects more than actors: victim, grieving sibling, spiritual Elder.
The Slickrock Paradox is the first book in a promised series of mystery novels featuring the reluctant detective who still has the mystery of his missing wife to unravel. Hopefully in the next book Legault will build upon what works – lushly described settings and a few genuinely suspenseful scenes – fix those things that need some tinkering, and bury what's broken.
Readers like you keep Briarpatch alive and thriving. Subscribe today to support fiercely independent journalism.