Meeting austerity with creativity
The politics of community service provision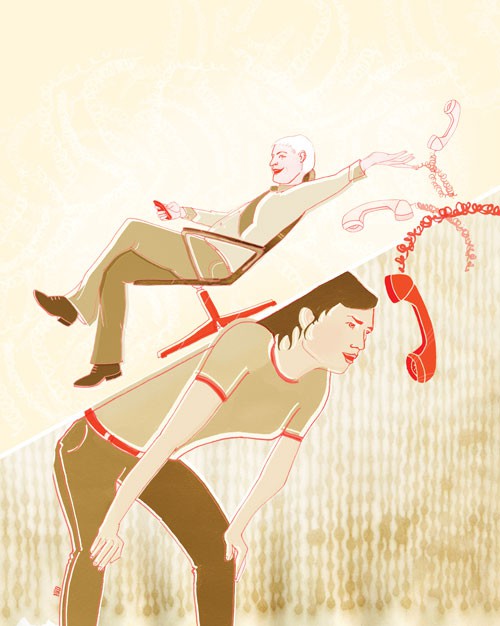 The last three decades have seen the gradual erosion of the welfare state, with both provincial and federal governments slashing services in neoliberalism's unholy quest for fiscal reform. Schools, libraries, hospitals and social programs, to name just a few, have all had their budgets slashed or threatened. With the Harper government relentlessly pursuing a renewed commitment to economic austerity, these types of cuts can only be expected to continue into the next several years.
In the face of sometimes drastic social service cutbacks, community organizers and volunteers are stepping up to fill the void, in some cases organizing to provide discontinued services using the most limited of resources. For the optimistic, short-term losses represent long-term opportunities for building the capacity of communities to meet their own needs, independent of the state. Others critique what they see as the offloading of government services onto the backs of community members working for free and the impact this offloading has on longer term organizing for social change. While the potential exists to build social justice based services run by and for the community, these opportunities remain limited as volunteer-based services become institutionalized and depoliticized.
Coming out of the cold
The phenomenon of volunteer-run Out of the Cold shelters popping up across the country is one example of this trend in community members providing services that were once the purview of the welfare state. In the face of inadequate funding for shelter systems and too few beds to house growing homeless populations on the coldest of winter nights, groups of volunteers have come together to open their own shelters with minimal resources.
While many Out of the Cold initiatives have come in response to generalized frustration with a lack of shelter beds, in Halifax the connection of the shelter with government cutbacks is far more explicit. In 2008 the Nova Scotia Department of Community Services decided to close Pendleton Place, an emergency winter shelter that operated under a harm reduction framework and served a population excluded from the city's other shelters. A group of concerned service providers and anti-poverty activists came together to find a solution to the crisis situation they foresaw resulting from this reduction in shelter beds for the most vulnerable. They opened the Out of the Cold Emergency Winter Shelter (OTCS) to provide 15 beds to people of all genders, focusing on serving those facing barriers to accessing other shelters.
Although originally intended as a temporary measure, the shelter is now in its fourth year of operation and continues to rely primarily on volunteer labour. OTCS organizers remain critical of their role in allowing the government to shirk its responsibilities to homeless populations, but see no alternative to continuing to do this work. "Like it or not, it's been offloaded," says Jordan Roberts, who was the volunteer coordinator at OTCS for the 2010-2011 season. "And we have talked about, well, maybe this is the year we don't open, maybe this is the year we say enough is enough. People will see the crisis at the shelters. People will see the capacity issues. People will see what a winter looks like with no Pendleton, no Out of the Cold. But do we really want to make that point on the backs of individuals we've come to know by name?"
Beyond the Politics of Demand
The fight against social service cutbacks and government offloading has understandably been geared toward making demands that the government reinstate funding through protest and lobbying. In what anarchist theory dismisses as the "politics of demand," political action becomes increasingly centred around making demands for rights, recognition and funding from the state, thereby reifying state power and disempowering individuals and communities as autonomous agents of change. In a climate of economic austerity, however, this style of politics is increasingly being rejected for a far more pragmatic reason: more often than not, it is proving to be ineffective in attaining even the most limited of demands.
For Capp Larsen, one of the founders of OTCS, it was a frustration with this kind of organizing that led her to work with the shelter. "My inspiration for starting the shelter was that I was very involved in protesting the closure of Pendleton Place with the Halifax Coalition Against Poverty," says Larsen. When the protests initiated by the now-defunct direct-action anti-poverty organization proved ineffective, Larsen was looking for other solutions. "At a certain point I got frustrated with the limited tactic of issuing demands to government officials to do something that they refused to do. The approach was little more than a fierce version of government lobbying, and it wasn't very effective. It was disempowering to always be yelling at an institution to do something."
The dehumanizing nature of this kind of activism has led some organizers to stop making demands even while they continue to use many of the forms and tactics of demand-based politics. The large-scale protests of the anti-neoliberal globalization movement, for example, rarely involved formal demands, even though their one-off, convergence-style organization was informed by demand-based politics and offered little room for other goals like longer term community building. Others are looking beyond protests for new tactics to achieve their objectives, often involving the creation of autonomous alternatives to state-controlled institutions. In cases where the state has withdrawn from providing necessary services, obvious opportunities exist.
"When the efforts to get Pendleton Place reopened didn't work, my reaction was to try to sever the dependence on the government to provide services that they refused to provide. I thought, screw them. We can do this on our own, and we can run it in a way that addresses the need and is community based," says Larsen. "It was in our power to do, and it was better than exhausting all of our energy trying to convince a government institution to do it for us."
There are several advantages to this kind of organizing independent of the state. While Roberts, the former volunteer coordinator, maintains her belief that the government has a responsibility to provide enough shelter beds, she also knows that OTCS does many things better than a state-supported shelter ever could. "We want a harm reduction, trans-inclusive, progressive, social justice based shelter. And the government is not going to provide that."
Larsen agrees. "At Pendleton Place they had policies that were really problematic," she says, pointing out that Pendleton Place's status as a shelter of last resort meant that people weren't allowed to access its services until they were formally denied access to other shelters in the area, even if they had safety or other concerns that prevented them from going there. "There are benefits to services being run without governments dictating what you can and can't do. There's an advantage to being able to design policies based on what works."
Replacing political action?
Such initiatives often begin as struggles that are inherently political assertions of community will and direct affronts to those who insist the services are no longer necessary. If they survive, however, many such organizations are at risk of becoming institutionalized and reincorporated into state structures, often at the expense of maintaining the political nature of the work.
"At the beginning it was a fight," says Larsen of OTCS. "We had to fight the cuts. We had to fight zoning laws. We had to fight neighbourhoods that didn't want a shelter there. We had to fight the Department of Community Services; they refused to acknowledge that we existed. But by the third season, a lot of that changed. We were good, and so it wasn't a fight anymore."
The shelter was so good, in fact, that the Department of Community Services decided to fund the shelter to the tune of $40,000 in the 2010-2011 season. While the money came with no strings attached, organizers are aware of the injustice of the situation in which they are now co-operating with the government to help it provide an essential service at a fraction of the cost. "They gave us money because they realized that if OTCS didn't open they would have a big problem on their hands," says Larsen. "They realized they made a mistake in closing Pendleton Place."
Along with this increased institutionalization came a decline in political work. "Without the fight, eventually the political work slipped away because we had to focus on more day-to-day problems," says Larsen, evoking one of the more common criticisms of community volunteers stepping in to fill the role of government. "When the shelter was fighting to exist we had no choice but to address the wider issues of homelessness, poverty, our failing housing system, the impact of capitalism, etc. When those issues were no longer present, the fight became focused on supporting individuals. Again, very important work, but work that is mostly private in nature and does not usually require an articulated analysis of the root of the problem."
When consumed by the daily push to provide services, it can be easy to lose sight of broader political goals and to disengage from more conflict-oriented organizing work. This is particularly true when the services provided remain within a form that is acceptable to the state rather than existing as challenges to state power. In the case of OTCS, while shelter volunteers have never lost interest in coupling political action with their volunteer work, the reality is that this often takes a back seat to just keeping the shelter operating.
"Government services are offloaded because if the people who have the passion and the talent for organizing, mobilizing and agitating are more occupied with who is going to get the milk tonight and sorting laundry than they are about organizing a tent city or talking about why we don't have more affordable housing, then those things aren't going to happen," agrees Roberts. "And that's why the government offloads services, far more than to save themselves money. They want to keep the people who actually care about the issues busy and burned out."
Possibilities of Service Provision
Despite these problems, service provision remains an important way to work for social change and to transcend politics based solely on making demands. Indeed, service provision has long been an essential part of radical community organizing efforts: the Black Panther Party's breakfast program, which began in 1969 and eventually provided breakfast to an estimated 10,000 underprivileged youth every day across the U.S., is an oft-cited historical example. The Occupy movement is a contemporary example of attempting to combine protest with the provision of shelter and food to anyone who needs it, in the spirit of building communities that provide for one another. In addition to providing needed services to the community, these kinds of initiatives can help build solidarity and support for more radical or controversial political action. In the case of OTCS, the shelter holds potential as a politicizing space because it attracts volunteers who may not be initially interested in political work. "Their eyes are opened to the realities of homelessness in the city," says Roberts. "I think that, politically, ideals and values get really pushed. I know mine did." For such potential to be realized, however, political goals need to remain central.
Service provision as a way of directly responding to government cutbacks remains limited insofar as it remains reactionary rather than creative. In the case of OTCS, part of the problem lies in the fact that because they are merely stepping in to provide a service cut by the government, their broader visions are not really reflected in the service they are providing, even if they are saving lives. "We're not really advocating for more shelter beds," says Roberts. "What we want to see is more housing, more affordable and supportive housing."
A great deal is sacrificed when these broader political goals get lost in favour of providing bare minimum community supports. For organizers to transcend both the politics of demand and the depoliticizing effects of service provision, it is important to reconsider how to provide services that can serve broader goals while simultaneously supporting the community, rather than immediately stepping up to fill the state's shoes. This kind of creativity will only become more essential as the drive for austerity continues.
Readers like you keep Briarpatch alive and thriving. Subscribe today to support fiercely independent journalism.