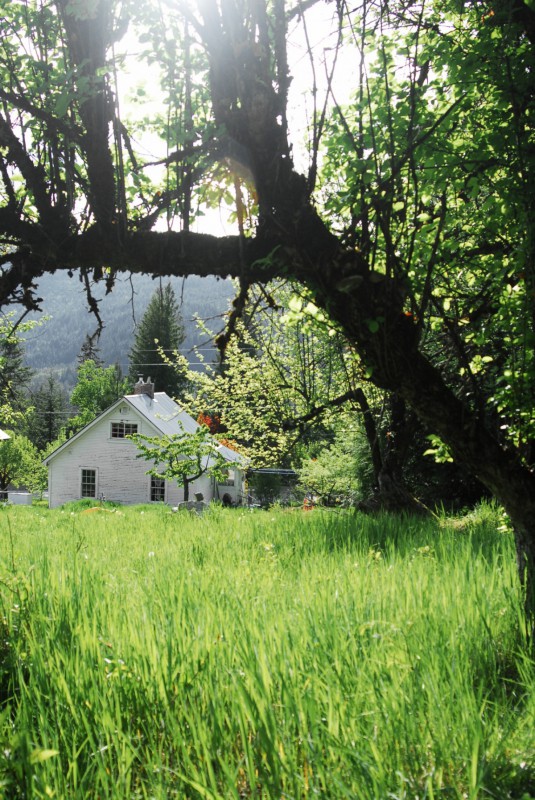 I'm standing with friends in a smoke pit, a gated-off section of a Hastings back alley. This is the first queer dance party I've been to in a year. When I was younger, what I wanted most in these spaces was to be visible, to belong, to find love.
Now, as I take in all the glowing, grinding queer bodies, I notice that I don't need them to see me anymore. Tomorrow I'm getting in my beat-up black pickup and driving home, back to my goats, pigs, chickens, and kitten.
I decide to leave the party, rest, but just before I do, I receive a pickup attempt – for me, a rarity in a queer space. It's a note that reads: "pink hair and big scarf. ask me to dance. i won't say no."
I came of age on unceded Coast Salish territories. Several years ago, I co-created a bustling collective house in East Vancouver. It had an enormous garden and an herbal apothecary, and it served as a meeting place and resting point for activists. We were eventually renovicted to make room for a duplex to be built where our gardens used to be.
Vancouver is steadily and purposefully squeezing out marginalized people through gentrification. Being renovicted has become a common experience for urban queers and activists. It's a cruel reality in light of the promise that "it gets better" – an assurance to young queer folks that the pain of homophobia and discrimination lessens when they grow up and move to the city. When my turn came to be squeezed out, I opted not to embark on the uphill battle to establish a new home. Instead, I moved to a place with no cell phone reception, a place where I quickly gave up my veganism and learned to use a chainsaw. In this rural place that many might write off as "the middle of nowhere," I found more connection to queer community than I had in Vancouver.
My home is called the Homostead; it's a queer and trans homesteading project that seeks to nurture vibrant rural queer community built on social justice principles. We do this by developing our food security, sharing skills, practicing radical mental health, and committing to solidarity work. We grow, raise, and process our own food (including roadkill and livestock), and we gather and make medicines that support our broader community. We find creative ways to lower our living expenses.
The Homostead is located on the unceded territory of the Sinixt people in the Slocan Valley. The valley has long been a place of relief from white supremacy, imperial militarism, and capitalism; however, it also represents a site of settler colonialism and racism. It was a refuge for lesbian separatists, hippies, Doukhobors, and draft dodgers during the Vietnam War, but it was likewise the site of colonial displacement and Japanese internment camps. Our home is located within this contradictory history, and our work to unpack this history and our place in it is ongoing.
Last summer, we initiated a community accountability process to respond to racist and homophobic behaviour that had occurred at a nearby farm and that hurt a friend of ours. During the accountability process, queer folks gathered in our living room to discuss how to best address the oppressive language that had been directed toward our friend. We sent a letter to the farm residents and met with them for a facilitated conversation, not only about the single incident that sparked the process but also about the history of racism, homophobia, and misogyny in our area. Some people listened intently; others were defensive. In the end, our friend left the community to be with more folks of colour and to live in a place with experience more consciousness and support around racial issues. This process highlighted that racism doesn't disappear in queer rural spaces, and that larger systems of power still influence the intersection of sexuality, race, and rurality. A big part of our ongoing accountability process is to keep re-engaging our Homostead on how to make this space, and the land we share with others, safe for all people.
Recently, I spoke with a friend of mine, a self-identified dyke-crone who has lived in the valley longer than I've been alive. She told me that the Kootenays has the largest population of queers in rural Canada. She has seen her generation, mine, and others in between flock here from the city in search of a life liberated from capitalism. My relationship with her allows me to see and feel through time. Her stories help me understand how her fight, years ago, to have the Nelson Women's Centre become inclusive of trans women is the same conversation we're having today – one about making spaces inclusive for all non-binary people. The work of the Homostead is but one wave in an ocean of queers who are working to improve our networks of resilience and mutual aid.
Readers like you keep Briarpatch alive and thriving. Subscribe today to support fiercely independent journalism.