Bikes without borders
Canadian activists join forces to make the roads safe for migrant cyclists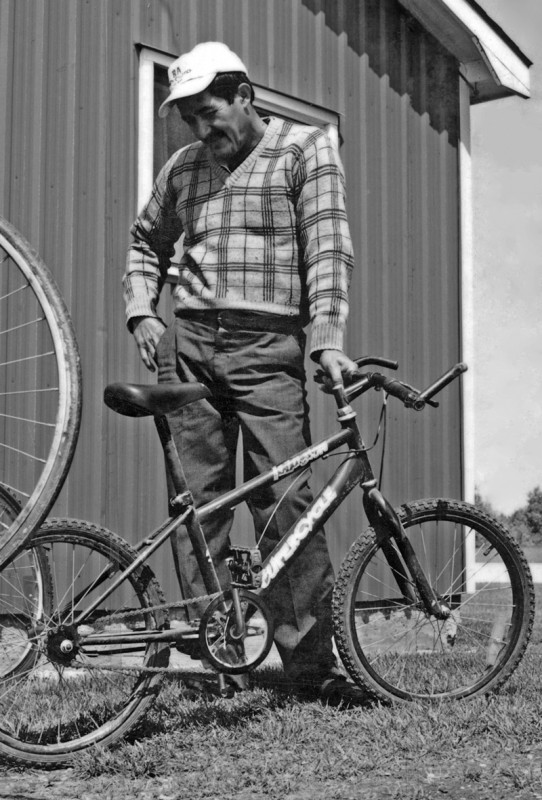 What connects singer/songwriter Fred Eaglesmith, a rape crisis centre in Brantford, Ontario, and an anti-poverty group in nearby Port Dover?
They've all come together to help ensure the safety of migrant farm workers on Canadian roads. Perhaps an odd combination for social justice work, but it seems to be working.
To get around, a lot of migrant farm workers in Canada use old farm bikes that no longer have standard safety gear like lights and reflectors. The home countries of most of the workers are more bike-friendly and drivers know to watch for cyclists. In Canada, however, particularly out in the country, many motorists are unaccustomed to sharing the road with cyclists. In our area of Southern Ontario, an average of two workers die on roads each year. The last two men killed were on their way to the nearest pay phone to call their families back home. Tragic deaths like these finally provoked a diverse group of community members to take action on the issue.
The Rural Initiative for Social Equality (RISE) has worked on anti-poverty issues for the last six years or so, and recently broadened its scope to include the experiences of migrant workers. For the past year, RISE has been running a bicycle safety gear distribution program through the local Migrant Worker Support Centre, operated by the United Food and Commercial Workers union, UFCW-Canada. The Sexual Assault Centre of Brantford got involved through its safe-sex outreach work. And Fred Eaglesmith explains his support for the program with characteristic candour: "People come a long way from home to work our fields and orchards. It's the right thing to do to make sure they're not harmed at night on our roads, and to make sure they get home to their families."
Out of these diverse interests, the Reflections Project was born.
The Reflections Project was designed to complement other community initiatives such as the bike safety rodeos sponsored by the Ontario Provincial Police and the church groups that give out reflective tape. Reflections Project volunteers distribute reflectors and flashing lights to migrant workers wherever they can access them, particularly at events like Tobacco Fest, agricultural fairs, and the Mexican Independence Day celebrations that have become common in many Ontario farming communities.
One of the main priorities of the project is to educate drivers to share the road. Another goal is to educate and engage the community on the social justice issues surrounding the experiences of migrant workers through film nights, newspaper articles and other endeavours. This past spring, Reflections organized a critical mass, an event in which cyclists gather and ride together to claim a larger share of the road, in order to bring attention to the issue of bike safety for migrant workers.
The community support for Reflections has been very encouraging. Bike shops across Canada and the United States have kindly donated hundreds of reflectors and flashing lights, while Fred Eaglesmith and his band raise money for the project while touring. And the project has benefited greatly from the support of UFCW-Canada's Migrant Worker Support Centres and their outreach programs.
The beauty of the project is its simplicity: it helps to keep people safe, and it allows participants to feel a sense of involvement and accomplishment, while exposing them to the experiences and struggles of marginalized groups within their community.
Carrie Sinkowski is the coordinator of the Reflections project and is a member of RISE. If you would like to contribute bike safety gear to Reflections or would like to set up a project in your area, please email [email protected] For more project information please see www.fredeaglesmith.com/reflections.