Agriculture under apartheid
Community supported agriculture in Occupied Palestine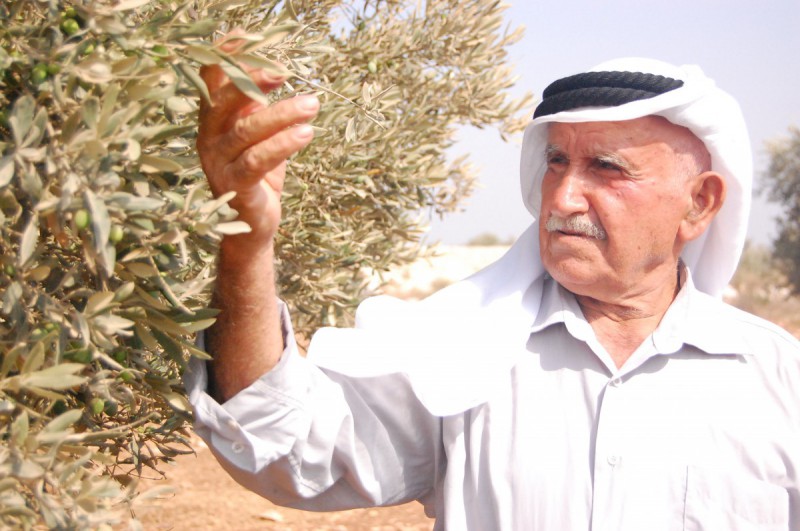 As the boycott of Israeli goods continues to gain momentum in the Occupied Palestinian Territories and worldwide, Palestinian farmers are extricating themselves from the Israeli economy and building self-reliance through community-supported agriculture.
Each Saturday, Ziad Radwan visits fellow farmers in the northern West Bank district of Qalqilya to gather the week's harvest: tomatoes, cucumbers, peppers, zucchini and more, depending on the season.
Radwan is among 11 farmers from the Qalqilya area to participate in the Sharaka Community Supported Agriculture project, which encourages Palestinian consumers to purchase agricultural produce directly from Palestinian farmers.
"With Sharaka you are talking about a direct activity: taking from the land to the customer" says Radwan, who makes sure the weekly orders are filled and delivered to consumers in Ramallah on time.
Initiatives like Sharaka are helping to breathe new life into Palestinian farming, which has faced overwhelming challenges in recent years. Foremost among these is the Separation Barrier, which Israel began constructing in 2002. Now nearing completion, the Apartheid Wall, as it's known by most Palestinians, is expected to stretch a total of 760 kilometres and annex approximately 46 per cent of the West Bank.
In addition to isolating communities and separating residents from important resources and services, the Apartheid Wall has cut countless farmers off from what is, for many, their sole means of sustenance and survival.
As Rashad Abdel Rahman, a 70-year-old farmer from the village of Isla, explains, "Olive trees are my life. Since childhood, I have been caring for these trees the way that my father taught me."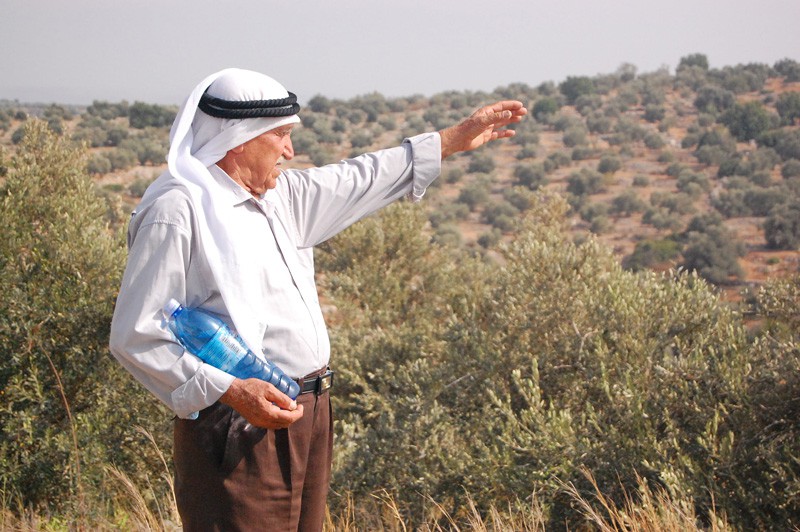 Abdel Rahman is the head of the Isla village council, located near Qalqilya in the north of the occupied West Bank. Seventy per cent of the village's land (approximately 3,000 dunums, or three square kilometres) has been annexed as a result of the Apartheid Wall. Abdel Rahman has himself lost 50 olive trees and access to virtually all of his land.
In the past, Abdel Rahman was able to harvest 1,000 kilos of olives annually. Today, his yield is barely one-tenth that amount.
"Before, it took only five minutes to get to my land. I could stay there all night and return whenever I chose to. But today, this is forbidden" explains Abdel Rahman, adding that weeds and other issues related to restricted access have drastically reduced harvests.
Farmers such as Abdel Rahman must now receive permission from the Israeli authorities in order to access their land on the other side of the Wall. The single gate through which they are allowed to pass is opened only three times each day: at 5:30 a.m., 10:30 a.m. and 3:30 p.m. Moreover, even this restricted access is subject to being arbitrarily revoked. While Abdel Rahman was able to pass through the gate for six months, he has been denied access to his land entirely for the past three.
In July 2004, the International Court of Justice (ICJ) ruled that the Wall was in contravention of international law, and that Israel should immediately cease its construction, dismantle the existing structure and make reparations for any damage caused.
The ICJ urged the United Nations General Assembly and Security Council to put in place additional measures to enforce its ruling. Despite this, construction of the Wall continues today unchecked, and without any real opposition from the international community.
Growing self-reliance
Ziad Radwan lives in Azzoun, a village of 10,000 residents — 6,000 of whom are farmers — in the Qalqilya region. As in Isla, most farmers in Azzoun have also been cut off from their lands by the Apartheid Wall.
"Thirty dunums were taken from my mother's land" said Radwan, explaining that while he has retained access to all six dunums of land he personally owns, the Israeli occupation has made it increasingly difficult to make a living as a farmer.
"It's a catastrophic matter" explains the 46-year-old father of eight. In the face of these overwhelming hardships and challenges, initiatives like Sharaka are increasingly vital to ensure that Palestinian farmers are able to continue to earn a livelihood.
Each Saturday, members of the Sharaka co-operative go to Ramallah to pick up a box of produce that has been cultivated by a Palestinian farmer earlier that week. To date, fruits and vegetables have come from the Qalqilya area, while dairy products are from Nablus.
"The farmers are depending 100 per cent on themselves. They don't have any kind of assistance. The whole family has to take part in farming" Radwan says.
Boycott, Divestment and Sanctions
In addition to promoting Palestinian agriculture, Sharaka was born out of the campaign to boycott Israeli products as part of the global Boycott, Divestment and Sanctions (BDS) movement.
The BDS movement was launched in July 2005 by Palestinian civil society organizations calling upon the international community to pressure Israel to meet its obligations under international law.
"Israel's systematic destruction of Palestinian agriculture and industry, confiscation of water resources, and ongoing land grab through the construction of settlements and the
Apartheid Wall has turned the Palestinian economy into a captive economy in which there is no alternative to many Israeli goods" says Hind Awwad, coordinator of the Palestinian BDS National Committee (BNC). According to Awwad, while an academic and cultural boycott of Israeli institutions is present among Palestinian civil society, with minor exceptions, a comprehensive boycott of Israeli products is more difficult. Israel's colonial policies have not only destroyed Palestinian agriculture and industry, but have made it impossible for Palestinians to market their products.
"Fresh Palestinian produce is made to wait hours at checkpoints and roadblocks, while Israeli produce enters unchecked and freely in cooling trucks. These factors contribute to making the Israeli products more competitive than their Palestinian counterparts" Awwad says.
According to Shir Hever, an Israeli economist from the Alternative Information Center in Jerusalem, while the BDS movement is based on the same pressure tactics used against apartheid in South Africa, its results may be seen much faster in the case of Israel.
"Israel, unlike South Africa, cannot weather a long-term boycott. It has to take action immediately. Because of that, we're not talking about a boycott movement that would last for decades. As soon as the boycott movement has enough momentum, the Israeli government will have to change its policies" Hever asserts.
"The land means everything"
Back in Isla, Rashad Abdel Rahman walks through a field of sparse olive trees that remain on the village's side of the Wall. He stops every few metres to touch the leaves and smell the buds hanging from the tree branches overhead. A moment later, he stares longingly at the winding grey fence separating him from his lands.
"The land means everything. We have lost everything: our lives, our livelihood" Abdel Rahman says. "The wall destroyed the village."
Still, according to Hind Awwad, initiatives like Sharaka not only serve as a way to support local Palestinian farmers, but will contribute to the overarching successes of the global BDS movement.
"A successful, sustainable local boycott can only be achieved with a parallel strategy of supporting local farmers and manufacturers" Awwad says.
"Israel's complete and continuous disregard for international law has made the Palestinian-led campaign for Boycott, Divestment and Sanctions against Israel the most effective way of holding Israel accountable and ending its criminal impunity." Awwad continued, "The international response to the call for BDS has been rapid, and a truly global movement capable of isolating Israel is emerging. Political parties, trade unions, churches and grassroots solidarity groups have all embraced BDS as the most relevant and effective form of solidarity with Palestinians."
Readers like you keep Briarpatch alive and thriving. Subscribe today to support fiercely independent journalism.