2019 Writing in the Margins shortlist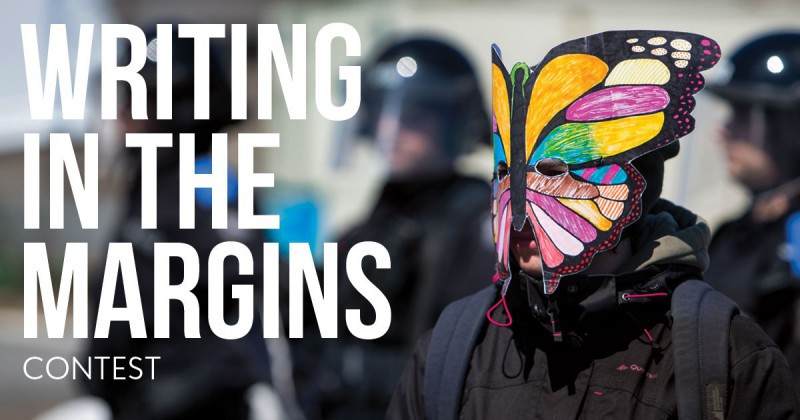 Briarpatch is delighted to announce the shortlisted entries in our ninth annual Writing in the Margins contest. Thank you to all of the writers and photographers who shared their work with us, and congratulations to our shortlisted entrants!
Creative Non-Fiction Shortlist
A Door to Gehenna by Myriam Parent; Victoria, B.C.
How Much Indian Are You by David Heska Wanbli Weiden; Highlands Ranch, CO
My Dislocated (Racial) Memory of Lovers and Land by Shanthiya Baheerathan; Hamilton, ON
My Father Was Made of Stories by Carmen Rodríguez; Vancouver, B.C.
Troubled Waters by Marie-Michelle Melotte; Calgary, AB
Poetry Shortlist
Anchor Text by Kristina Togafau; Honolulu, HI
Âsawohtâw by Ashleigh Giffen; Kelowna, B.C.
I live in this country wearing a borrowed face to the park by Yasir Piracha; North York, ON
movement by Daniel Sarah Karasik; Toronto, ON
unhaunted by Jody Chan; Toronto, ON
Photography Shortlist
Flux by Heather Magusin; Kelowna, B.C.
Healing Through Art, Bonded by Blood by Rhonda Lucy; Toronto, ON
My Great-Grandmother's Candlesticks by Paula E. Kirman; Edmonton, AB
Scarborough, My Home by James Ip; Scarborough, ON
WORKHORSE by Tanea Hynes; Labrador City, N.L.
Our judges Joshua Whitehead (creative non-fiction), El Jones (poetry), and Nadya Kwandibens (photography) will select one winner and a runner-up in each of their respective categories. The winners will be published in our March/April 2020 issue and the runner-up stories will be published online on this website in the coming weeks.
We will announce the best hometown entry in the coming days.
This contest was possible thanks to our sponsors – Talon Books and Fernwood Publishing – and a grant from the Regina Public Interest Research Group (RPIRG).