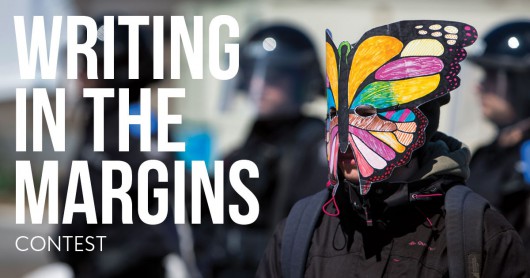 Photo by Ion Etxebarria
The deadline for entries has been extended to December 9 at midnight.
Briarpatch is accepting submissions of original, unpublished writing and photography for our ninth annual Writing in the Margins contest. This year the categories are creative non-fiction, poetry, and documentary photography. Have your work seen by judges Joshua Whitehead (creative non-fiction), El Jones (poetry), and Nadya Kwandibens (photography).
Briarpatch is seeking fresh writing and photography that brings to life issues of political, social, and environmental justice. We want writing and photos from the edges – from new creators who have something important to say, or from longtime creators who can show us a new way of seeing things.
Winning entries in each category will receive cash prizes of $500 and will be published in Briarpatch, an award-winning, nationally distributed magazine of culture and politics. Runners-up in each category will receive cash prizes of $150 and will be published online.
The deadline for submissions is December 1, 2019. (Update: the deadline for entries has been extended to December 9 at midnight.) Entrance costs $25 and includes a one-year subscription to Briarpatch (entrance details are below, and we have a limited number of bursaries for low-income writers and photographers).
Judging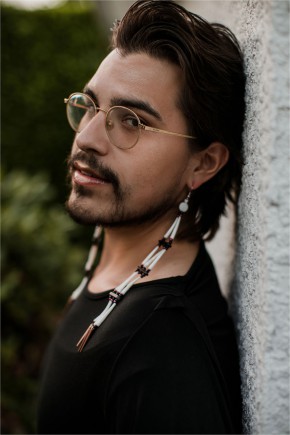 This year's creative non-fiction entries will be judged by Joshua Whitehead.
Joshua Whitehead is an Oji-nehiyâw, Two-Spirit member of Peguis First Nation (Treaty 1). He is the author of the novel Jonny Appleseed (Arsenal Pulp Press, 2018), and the poetry collection full-metal indigiqueer (Talonbooks, 2017). Jonny Appleseed won a Lambda Literary Award; was a finalist for the Governor General's Literary Award for Fiction; was longlisted for the Scotiabank Giller Prize; and was a Globe and Mail Best Book of the Year. Currently he is working on a PhD in Indigenous Literatures and Cultures in the University of Calgary's English department (Treaty 7).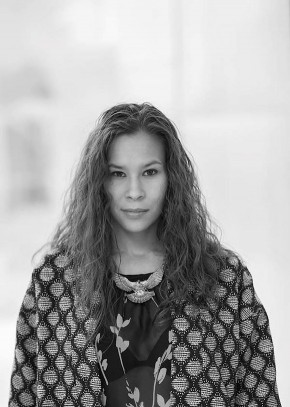 This year's poetry entries will be judged by El Jones.
El Jones is a spoken word poet, an educator, journalist, and a community activist living in African Nova Scotia. She was the fifth poet laureate of Halifax. In 2016, El was a recipient of the Burnley "Rocky" Jones human rights award for her community work and work in prison justice. She is a co-founder of the Black Power Hour, a live radio show with incarcerated people on CKDU that creates space for people inside to share their creative work and discuss contemporary social and political issues, and along with this work, she supports women in Nova Institution in writing and sharing their voices. Her book of spoken word poetry, Live from the Afrikan Resistance! was published by Roseway Press in 2014.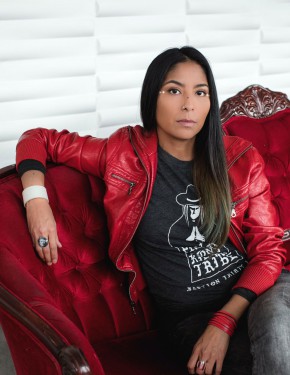 This year's photography entries will be judged by Nadya Kwandibens.
Nadya Kwandibens is Anishinaabe (Ojibwe) from the Animakee Wa Zhing #37 First Nation in northwestern Ontario. She is a self-taught portrait and events photographer and has travelled extensively across Canada for over 10 years. In 2008 she founded Red Works Photography. Red Works is a dynamic photography company empowering contemporary Indigenous lifestyles and cultures through photographic essays, features, and portraits. Today, Nadya's photography – which focusses on urban Indigenous identity and representing decolonial assertions of resistance and resurgence – has been exhibited in group and solo shows across Canada and the United States.
Prizes
We will select one winner from each category. Each winner will receive $500, and their submissions will be published in the May/June 2019 issue of Briarpatch, following a collaborative editing process.
Honourable mentions will receive $150, and their submissions will be featured online alongside contest winners at briarpatchmagazine.com.
Best local entry (entrant based in Regina and surrounding area) will receive a special prize package of books from Talon Books and Fernwood Publishing.
How to enter
Creative non-fiction
Creative non-fiction submissions should not exceed 2,000 words. Please attach your submission as a Word or PDF document. Your submission should include the title of your work, but in order to ensure fairness and anonymity in judging, please do not indicate your name on the submission itself.
Poetry
Poetry entries are limited to one poem that should not exceed two pages in length. Please attach your submission as a Word or PDF document. Your submission should include the title of your work, but in order to ensure fairness and anonymity in judging, please do not indicate your name on the submission itself.
Photography
Please submit between 2 and 7 original, unpublished photos that document an issue of social, environmental, or political justice. The photos can all be from a single event or location, or they can be from multiple locations and events.
Please also provide either:
one artist statement of up to 350 words, to accompany the entire set of photos
a caption of up to 50 words to accompany each photo
Photographers that seek to document the struggles of marginalized communities are often guilty of voyeurism or fairweather involvement in that community. We're interested in photos that show a deep and enduring engagement with the issue, land, event, or community that you're documenting.
Photographs must be digital files – we will not be accepting print submissions by mail. The photograph does not need to have been taken with a digital camera; scans of negatives, transparencies, or photographic prints are acceptable. Watermarks are not acceptable. All digital files must be 20 megabytes or smaller, must be in JPEG or .jpg format, and must be at least 1,200 pixels wide (if a horizontal image) or 1,200 pixels tall (if a vertical image).
Deadline
The deadline for entry is December 1, 2019. Any entries received after midnight Central Standard Time on this date will not be considered. (Update: the deadline has been extended to December 9.)
We will confirm receipt of your entry within one week. Winners will be notified in January, and will be announced on the website after January.
Submission details
Please e-mail your entries to [email protected] The body of your e-mail should include the following information:
Entrant's full name
E-mail address
Mailing address (for your subscription!). If you are already receiving Briarpatch, please indicate whether you'd like us to renew your subscription for one year, or give this subscription as a gift (in which case we'll need the address of your gift recipient).
Phone number
Submission Title
Category (creative non-fiction, poetry, or photography)
How you intend to pay (cheque, online, phone), or if you're requesting a bursary
In order to reach new subscribers, Briarpatch occasionally trades its mailing list with like-minded organizations. If you prefer not to be included in these trades, please indicate this in your e-mail.
Entry fee
Your $25 entry fee gets you a full year's subscription to Briarpatch (regularly $29.95). This fee helps to cover the costs of organizing, promoting, and administrating the contest, as well as the cash prizes.
Please note that U.S. submissions cost $40 and other international submissions cost $45 to cover the additional costs of postage for your subscription.
We know that – especially for young, disabled, queer and trans, and racialized people – a $25 entry fee can be prohibitively expensive. So we've created a bursary that will cover the cost of entry for 10 low-income writers and artists living in Canada. Because we have a very limited number of bursaries, we ask that only low-income people request a bursary. If you're not sure whether you're low-income, you can check whether your wage falls below the living wage in your area. (We recognize that this is a blunt and incomplete way to measure income level, and that other factors – like disability, or having dependents – can affect what's affordable for entrants.)
We will give out bursaries on a first-come, first-served basis for those who request them. People who receive a bursary to cover the cost of entry will also still receive a year-long subscription to Briarpatch. If you would like to claim a bursary, please say so in your submission email. We will reply to you by email to let you know if there is a bursary available for you.
To pay your entry fee online with your credit card or PayPal account, fill out the form below:
Payment can also be made by cheque or cash (mailed separately with your name clearly identified), or over the phone with your credit card at 1-866-431-5777.
Please submit only one entry per person.
Other details
Entries must be original, unpublished, and not submitted simultaneously to other publications or contests.
Entrants must agree to be bound to the contest rules. The decisions of our keen-eyed judges are final.
Winners may be requested to engage in a collaborative editing process with Briarpatch editors prior to publication.
Thanks to our sponsors – Fernwood Publishing, Talon Books, and the Regina Public Interest Research Group – for their support.