2022 Writing in the Margins Shortlist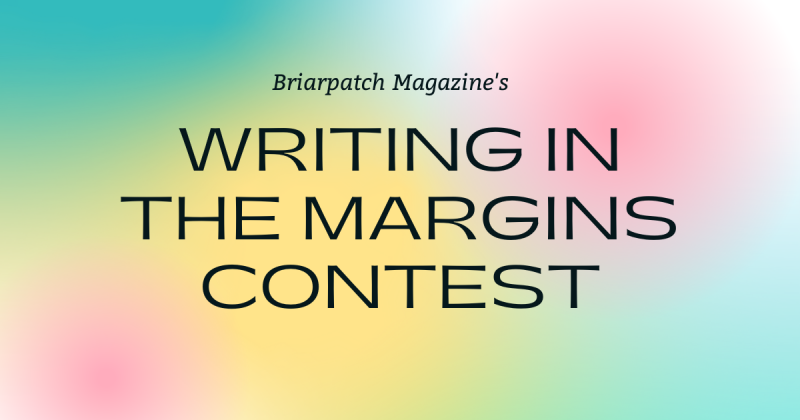 Every year for the past decade, Briarpatch Magazine has held an annual Writing in the Margins contest. We accept entries of fresh creative non-fiction, poetry, and photography that bring to life issues of social and environmental justice. We want writing and photos from the edges – from new creators who have something important to say, or from longtime creators who can show us a new way of seeing things.
We are delighted to announce the shortlisted entries in our 12th annual Writing in the Margins contest. Thank you to all of the writers and photographers who shared their work with us, and congratulations to our shortlisted entrants!
Creative Non-Fiction Shortlist
Cause of Death by Mary Fairhurst Breen
notes of joy from the margins by Sydney Gilchrist
On Bridges by Sophie Collis
Selective Amnesia by Mujeeba M
Bodies of Water by Anushka Azadi
Poetry Shortlist
boots by Carrie Terbasket
Children's Eyes of Palestine by Ghadeer Malek
From Tehran, From Tigray to Tkaronto by Nasim Asgari
One-eyed Boxer by Lynda Ogude
Sand by Mahta Riazi
Photography Shortlist
Intertwined by Melissa Tsuei
Manifestations of Settler Colonialism in Exile by Dalya Al Masri
Calling Healer by Alino Giraldi
Desire Path by Andi Vicente
Quest of Identity by ros
Our judges Jessica Johns (creative nonfiction), Randy Lundy (poetry), and Rana Nazzal Hamadeh (photography) will select one winner and a runner-up in each of their respective categories. The winners will be published in our March/April 2023 issue and the runners-up will be published online on this website in March. We will announce the best hometown entry in the coming weeks.
This contest was possible thanks to a grant from the Regina Public Interest Research Group (RPIRG).