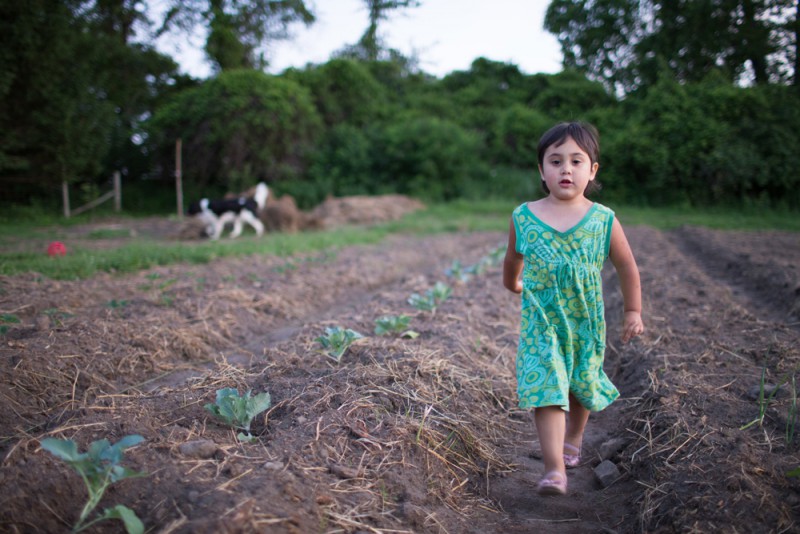 "As soon as we feel that we don't need other people, that's when oppression and power starts to really creep up in very nasty ways," observes University of Ottawa sociology professor Joseph "Youssef" Sawan. This sentiment is key to community organizing that tries to address the pervasive individualism and isolation of life under capitalism. Setting the principle of our mutual dependency at the core of our activism can help us to recognize that maintaining communities and building relationships are part of the work of radical change.
Although capitalism's effect on life is just as pronounced in the country as in the city, there are significant differences in how people living in rural and urban settings are able to organize to address political issues. Yet the need for thoughtful community relationships transcends the rural/urban divide. In the early spring of 2014, Youssef and Armida Sawan and their daughter Naimah moved onto an 80-acre homestead in Lanark Highlands, about an hour's drive outside of Ottawa, Ontario. Interested in exploring issues that divide rural and urban organizing, as well as the many ways rural communities are taking action on issues of economic inequality and marginalization, we travelled to the Sawans' homestead in May 2015 to discuss the politics and organizing activities in their community. Joining us in the conversation was Melanie Mills, an active community member in the nearby Lanark village.
While the work being done by Mills and the Sawans is primarily focused on Lanark Highlands, Lanark County reaches much farther, encompassing eight municipalities. The county hosts a population of approximately 5,000 people, and around 1,600 live within Lanark Highlands. In many cases, the people living in smaller centres need to be able to access larger neighbouring towns, such as Perth and Carleton Place, to find adequate public services.
Armida jokes that when they bought the farm in Lanark Highlands, it "came with Melanie." Melanie Mills has been living in Lanark for the past 20 years and is friends with the previous owners of the farm. Alongside other members of the Lanark Highlands community, Mills has initiated a variety of projects aimed at spaces where she sees a void of social services in the area. This work includes free monthly community dinners and a grassroots women's support group. These efforts not only meet some of the community's needs but also challenge the notion that the future of the community should be exclusively driven by economic development.
When capital flees
For most of the 20th century, Lanark and its Glenayr Kitten Mill was a hub for textile production in Ontario. Since its closure in 1997, the mill has sat abandoned. "[The mill] made the village of Lanark a pretty bustling place. And then the mill closed down and now there's nothing there," Armida explains. Mills adds that the community has scattered, and it still hasn't recovered from the mill closure. "There's nothing there and businesses can't stay afloat. The village of Lanark is very impoverished. There's a lot of poverty, a lot of health issues, a lot of addictions, and it needs to come full circle again. [Lanark] needs to find its reasons for living other than the Kitten Mill."
Armida says it's like "capitalism came and left Lanark." When profits dry up, capital moves on, leaving entire communities behind. These days it's easier and cheaper to manufacture textiles where there are few labour laws and regulations and lower wages. Market competition demands that firms cut losses and move on, and for Lanark, this shift has left a community without a financial base for local services.
Moving forward, Mills doesn't think that hosting another big business is the solution. "I think it is more security that people really want," she says, adding that in post-textile mill Lanark, day-to-day work has political connotations. For the Sawans, everything has become geared toward serving the community's future, including building a homestead that can help sustain not just their family but others in the community. They believe that the future shouldn't be determined by the present lack of resources. According to Armida, linking their own output to the community and creating alternatives in the area is part of an "attempt to abandon capitalism before capitalism abandons us." These alternatives are centred on the needs of the community. Rather than waiting for governments or business to create solutions, the community has begun to take on the responsibility of meeting their own needs, and creating resilient alternative structures that aren't dictated by capitalist development.
Living in isolation
For many in Lanark Highlands, the services they need, such as Lanark County Social Housing and the Lanark County Interval House, are only available in neighbouring towns that are often nearly half an hour away by vehicle. Lanark Highlands does not have a formal public transportation system, so anyone without a vehicle faces serious barriers to accessing services. Where they do exist, Mills says that many service organizations, while doing essential work, struggle to engage with the root issues or provide long-term solutions.
A central issue is the disjunction between service providers and those in need. When Mills joined the local Sexual Assault and Domestic Violence (SA/DV) Advisory Committee, she found that while it was created with important intentions to support survivors, the service lacked guidance by those most directly affected. Recently, the SA/DV Committee added a peer-to-peer support program and Mills has gone from being a participant to a project educator. She explains that the addition of peer support gives survivors the space to heal with people who have shared lived experiences. In this space, Mills and other leaders take on the "role of teaching people how to advocate for themselves." This effectively means "how to approach the government, how to write letters, how to access the Internet" – skills that help empower women to address their own isolation. In addition to the work being done through the SA/DV Committee, Mills, Armida Sawan, and other women in the area have started a biweekly women's group in order to provide needed space for women to mutually support each other in the village of Lanark.
The challenges facing service providers often come down to scarce resources, especially when attempting to navigate a large geographic area. However, Mills points out that even if taxes were raised to increase revenue for service provision, "people don't have the money to pay the taxes." What's more, "we have a very low population base here, so there's not going to be a lot of tax money … we have to find another way, another solution." Mills says that in a recent community discussion about the increasing cuts to health care services, the framework was too narrow. "People [were] trying to come up with different options, but it was always financially based … nobody talked about prevention."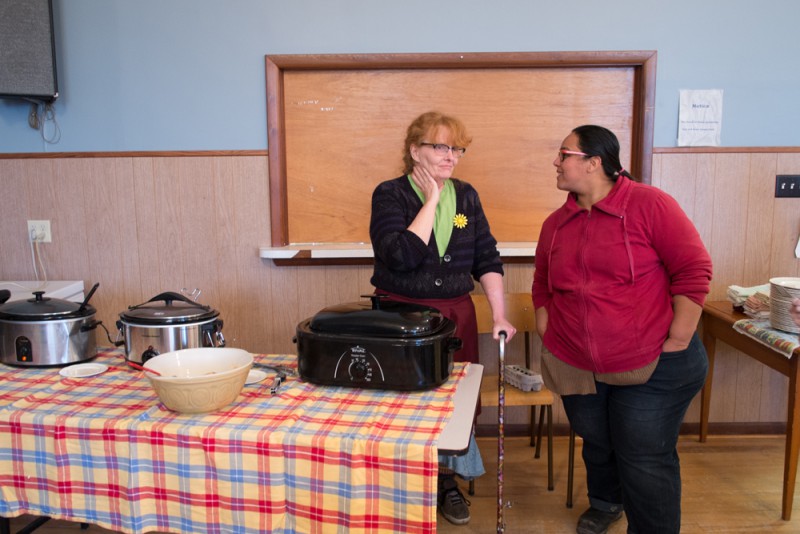 Part of the problem may be that individuals who have lived experience with poverty lack a voice in the community. Mills says that officials as well as affluent families in the area are often out of touch. Far too many of them believe that "the people who use the food bank are welfare recipients, when in fact that is not true. The majority are disabled and seniors, and then the working poor, and then [people on] welfare."
Getting together
When we ask the Sawans why they moved out to the country, they reflect on their experiences with urban organizing spaces. Youssef speaks to the urban phenomenon of feeling alone in a crowd. "[Despite] more people around me, I didn't feel any more connected to people. I just felt like I was more busy and I knew how to make myself more busy." By contrast, living in Lanark has allowed them greater immersion into an existing community. "Being here has started to ground us a bit more," he says. Armida recounts their experiences as urban political organizers, primarily in different cities in California. "We were always chasing the money, both for our own survival, because we were getting paid, and the organizations we were working with were chasing money as well … I think, constantly chasing the money is what caused a lot of burnout." Moving to Lanark, they did not stop being organizers, but moved to a space "where we can start very slowly to change our relationship with money."
One example of a project that attempts to meet community needs, challenge systemic barriers, and create alternatives to capitalist constraints is the monthly Lanark community dinner. Each month, the community dinner grows in size and scope. Before the dinner, Mills, the Sawans, and a few other members of the community get together to plan the meal and do the cooking. Each dinner is different and there are always new participants who attend. The lack of a donation box at the dinners was a difficult decision that confused some members of the community. However, the omission of a donation box helps to provide a space where no one is ashamed for being unable to donate. It puts everyone on an equal footing. The dinner organizers want the event to be focused on community building, and to break down the isolation and lack of access to food that is prevalent in the area, without anyone feeling obligated to pay. The dinners have become a space in which people can connect, share ideas, and plan for their community.
Youssef explains, "people are just taking initiative and doing things on their own … Because of the lack of resources, you have less money to chase and more people saying 'let's just do things on our own.' Living and engaging with people who do not necessarily have money means that relationships are developed differently." Whether it is through the creation of the women's group or through the monthly community dinners, these spaces, while small in scale, have strong social effects. Providing greater opportunities for the community to physically come together helps break down and prevent isolation. Instead of solely looking toward formal social services, they are creating personal support networks and strong community ties that help generate a culture of autonomy and mutual aid.
In any community, people need each other. In a rural community, the need for one another is a matter of the whole community's survival. Sharing knowledge and resources creates systems of support that help us pivot away from a future where the only solutions are provided by economic development and financial investments. Not everyone would argue that places like Lanark Highlands are political spaces, but because Mills, the Sawans, and other Lanark community members are attempting to fill the void left by business and government alike, they are moving in a direction where their community can thrive on meaningful relationships as well as mutual respect and empowerment, and that is indeed political. These recent initiatives in Lanark meet people where they are at, addressing real needs in ways that don't depend on infinite economic growth. Mills' organizing practices are rooted in the belief that "a cohesive community is what will empower people to live meaningful lives … people don't realize the strength and resources they have personally. And by drawing people out, by letting them speak and be heard, we're allowing them to take some of that power back."
Readers like you keep Briarpatch alive and thriving. Subscribe today to support fiercely independent journalism.