Tracking HudBay
Film review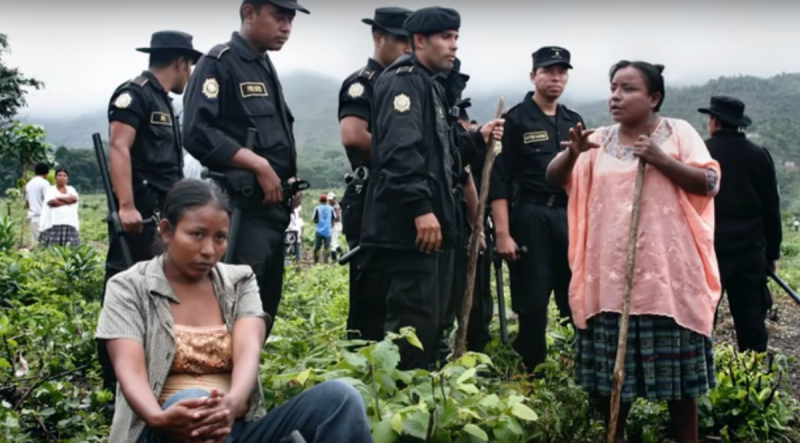 Flin Flon Flim Flam: HudBay's Hoax is a new documentary by John Dougherty of InvestigativeMEDIA, released this past December. The film details the neglect and lack of accountability of HudBay Minerals, a resource extraction company based out of Canada that operates with many subsidiaries worldwide.
The film's journey begins in northern Manitoba. The toxic legacy of HudBay's former Spruce Point Mine and Flin Flon smelter, as well as the potential damage of a proposed mine in Grass River Provincial Park has garnered strong opposition from town residents as well as the nearby Mathias Colomb Cree Nation. Next, we travel to El Estor and Lote Ocho, Guatemala, where opposition to mining and eviction by the Mayan Q'eqchi' people has been met with violence and bloodshed, currently being addressed through three lawsuits. One for murder, one for a shooting that resulted in the paralysis of a young man, and one for the gang rape of eleven women.
The third stop on our journey is the Constancia open pit copper mine in Uchucarco, Peru. Local community members are fighting pollution and demanding benefits and compensations owed to them by HudBay, all while being violently repressed by both security personnel and government anti-protest legislation. Lastly, we visit HudBay's proposed Rosemont Mine in Pima County, Arizona, and learn how they have been withholding important information from shareholders and might have to put their project on hold.
While Flin Flon Film Flam is explicitly about HudBay Minerals, a company that is clearly low-hanging fruit when it comes to targeting corporate greed, Dougherty is careful to situate them as a symptom of larger issues. He questions the root of the entitlement and level of impunity with which mining companies operate by drawing explicit attention to two important relationships. The first is the connection between state and private security apparatuses and the protection of Canadian economic interests.
To this end, the film refers to the accounts of human rights observers at the HudBay site in Peru who describe local police forces wearing clothing with mine logos. Here, the film situates exploration and resource extraction in the North American context as a channel of settlement of the west at the expense of Indigenous peoples.
The second relationship is how the dogmatic forward march of neoliberal deregulation has disproportionately increased the costs borne by the environment and local communities. As HudBay flits around the world buying and selling mines, the film documents their trail of lead poisoning, burnt villages, oppressive violence, and polluted watersheds, just to name a few examples.
Technically speaking, the film was clearly shot with a lot of different equipment, so the image and audio quality, while overall clear, varies quite a bit. Despite this, Dougherty is obviously a skilled editor: he produced a final piece that is succinct, smart, and well paced. He also employs some subtle satirical humour to highlight some of the more incredulous and glaring injustices that activists have come across, but it is done tactfully without upstaging the serious tone of the film. The quality and wide range of voices in the film, ranging from local community members to non-profit organizations to politicians, provides a more nuanced context of each of the four case studies presented.
Before watching this film, I had been following the trial of HudBay's violence in Guatemala, and was also familiar with the impunity of mining companies throughout the world (over 70 per cent of which are based in Canada). Since the Guatemala cases are precedent setting (there is currently no legislation to hold Canadian companies to account for crimes committed abroad), it has increasingly gained more mainstream media attention. As the trial is still ongoing, this documentary represents a timely contribution to the increasing public scrutiny of HudBay. It points to the ways in which the Canadian government and Canadians are implicated in – and benefit from – the activities of extractive companies, and how international corporate law allows corporations to evade responsibility.
This piece is an important resource for activists, educators, and researchers who are interested in the politics of resource extraction, land rights, Indigenous sovereignty, development projects, and corporate law. But perhaps most importantly, Flin Flon Flim Flam sketches out the scale of organized resistance to HudBay that exists internationally: blockades, stop-work orders, lawsuits, public shaming, awareness building, and occupations. This information is relevant to all affected communities seeking opportunities for future organizing.
Flin Flon Flim Flam is currently on tour with John Dougherty, screening in several locations across Canada until July 15th. More information about the documentary and the tour can be found at investigativemedia.com
Readers like you keep Briarpatch alive and thriving. Subscribe today to support fiercely independent journalism.