Regulatory Snarls for Small-scale Farmers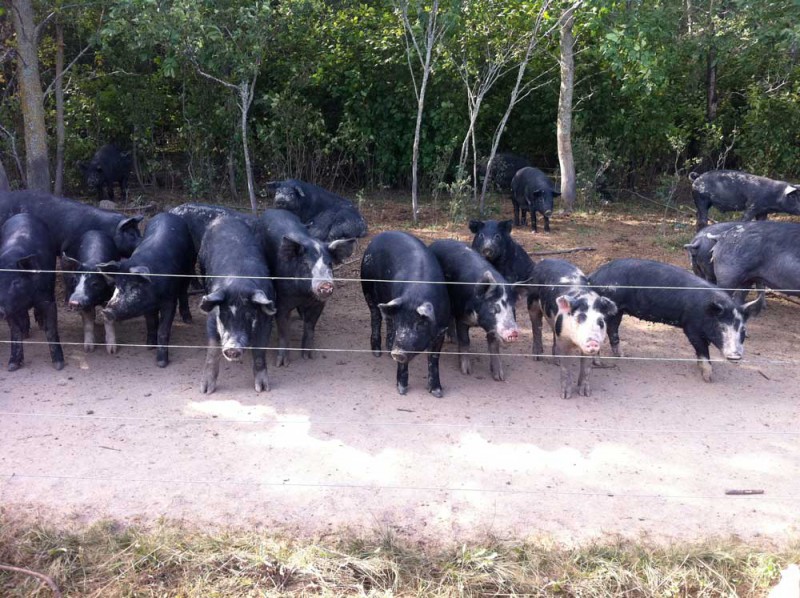 In 2013, Clint and Pam Cavers of Harborside Farms won a Manitoba Agriculture, Food and Rural Initiatives (MAFRI) sponsored competition for "Manitoba food entrepreneurs who have developed but not fully commercialized an innovative new food product." Their winning creation: a prosciutto made from the pasture-fed pigs raised on their small family farm near Pilot Mound, MB. The gold medal came with a $10,000 prize to further develop their product for commercialization. A number of chefs, along with other consumers in Winnipeg, were clamouring for local specialty meat products, and the Cavers felt they were onto something special.
Then, early one August morning just a few short months later, inspectors from MAFRI showed up on their doorstep with a seize-and-destroy order for the same specialty meats that had just been awarded top prize and praised by the minister of agriculture. According to the provincial health inspector, the meat had not been properly tested in accordance with industry standards, and was therefore "unfit for human consumption."
"We take a hell of a lot more care in what we do than someone who works an eight-hour shift at a plant who goes home and doesn't think about his job anymore," Clint Cavers told me at the time. "This isn't just a job for us. This is our life."
Over the past couple of years, small-scale farmers in Manitoba have been living in a regulatory twilight zone. MAFRI has been encouraging producers to develop specialty products to satisfy consumer demand for locally made food. However, producers who've gone out on a limb to provide those products have found themselves shut down by a regulatory system that was developed by Manitoba Health for large industrial food processors.
A few months later, the Harvest Moon Society, which offers consumers in Winnipeg a direct market for produce and other food products through their monthly "buying club" deliveries, was abruptly told by the province they could no longer sell homemade preserves or uninspected eggs or chickens. Up until that point, those popular items were available as "farm gate" sales, as though consumers were buying the products from the farmers' homes. However, because the sales were going through the Harvest Moon Society's website, the province refused to recognize the direct nature of the sales, even though individual products came from a specific farm and were labelled as such. Brad Anderson, a member of the Harvest Moon Society who farms near Cypress River, MB (and from whom my wife and I occasionally buy bacon and other products), says the experience was "real frustrating."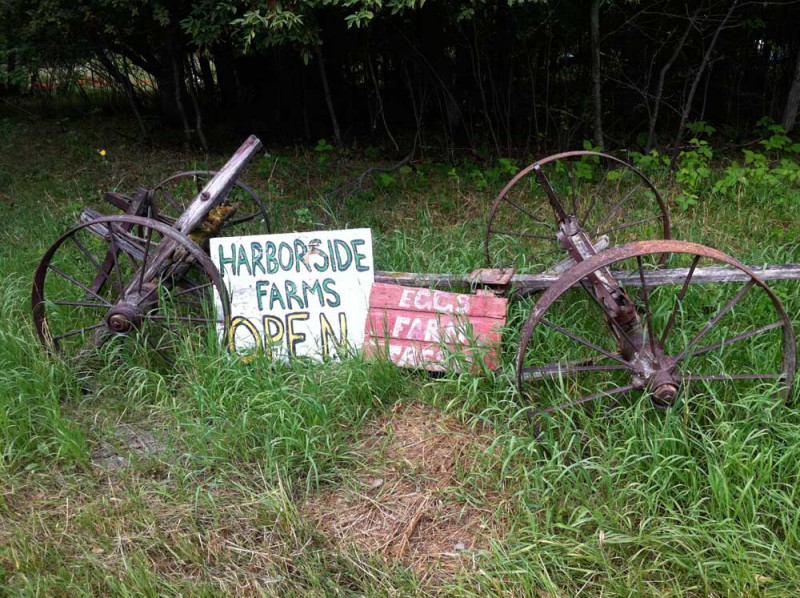 Just as small-scale farmers in Manitoba were starting to pull their hair out over the mixed messages from regulators, the province did an about-face and decided to listen to farmers and other stakeholders. The idea was to try to come up with some solutions, to establish some sort of clarity for producers who wanted to satisfy demands for local niche products without making the massive jump to a full-scale industrial operation. Over the second half of 2014, Dr. Wayne Lees, retired chief veterinary officer for Manitoba, headed a series of roundtable discussions. Representatives for small-scale farmers, chefs, and farmers' market associations came together to identify areas of concern and come up with recommendations on how the industry in Manitoba can progress. The findings were published in the report Advancing the small scale, local food sector in Manitoba: a path forward.
"The whole thing went pretty good; everyone I talked to was pretty happy," says Anderson, who represented the Harvest Moon Society at the round­table discussions. When I first spoke to Anderson midway through the process, he'd said that he and some small-scale farmers were "cautiously optimistic," while others remained suspicious. And while large industry groups like the Keystone Agricultural Producers also sat at the table with the farmers' market folks, apparently early suspicions from both sides were allayed enough that, according to Anderson, "Everyone who was there was able to live with the report."
The report tackles the problems faced by small-scale producers head on, offering recommendations to the province on regulatory issues, technical advice, business and financial tools, marketing and distribution, policy, advocacy, and governance.
"The next step is obviously the recommendations that have been brought forward," Ron Kostyshyn, Manitoba's minister of agriculture, says. "Staff have now started to dissect recommendations. Some, from my understanding, are fairly straightforward."
However, there is no firm timeline for implementation. As the report itself makes clear, there are often a number of provincial departments at play at certain steps in food production, and getting each department on board will be a challenge. Kostyshyn affirmed the provincial government's commitment to acting on the recommendations of the report, but with a provincial election on the horizon in 2016, if action isn't taken soon, there is no guarantee the report will result in any positive changes.
From coast to coast
Unfortunately, the situation in Manitoba is not unique. Across Canada (and the U.S.), small-scale producers face unique challenges – and outright battles – to get their products to market.
Arzeena Hamir farms in the Comox Valley, near Courtenay, B.C. While her 10-hectare operation is "mostly hay," she and her husband also make a number of value-added products, like preserves. They find the regulations surrounding such goods confusing at best.
"The provincial health services authority swoops in and tells you you need to get your stuff tested," she says after her recent attempts to commercialize a garlic scape jam. "But they don't provide any information for me to make a proper judgment. How often do I have to test this? Where? How much does it cost?"
As in Manitoba, Hamir explains that B.C.'s quota system for poultry and eggs is also a point of frustration for small-scale producers. Supply management quotas are in place to help regulate the industries, but there is little to no room within the systems to accommodate specialty producers.
In B.C., farmers can raise up to 2,000 chickens without a quota, while in Manitoba, farmers like Anderson can currently only raise a "personal amount" of up to 999 chickens. "We're ready to go to 1,500 or 2,000. And if we ever wanted to land a restaurant or series of stores we'd need to raise 3,000 or 4,000," a frustrated Anderson explains.
Under current regulations, there is no room for anyone but the big processors at the table. If you're a farmer wanting to expand beyond the personal threshold of 999 chickens but aren't prepared to go fully commercial – which is a huge step, not to mention a massive financial investment – then you're out of luck. In Manitoba, the minimum commercial allotment would require the producer to raise 30,000 kg of birds (or, approximately 15,000 chickens) every eight weeks. "There should be a way to buy into a quota system for alternative production," Anderson believes.
Those turkeys
Farmers in Nova Scotia have recently come up against a very similar roadblock. In the fall of 2014, Gordon Fraser, a longtime butcher in Pictou County, N.S., was told by The Turkey Farmers of Nova Scotia that he could no longer process turkeys. The Pictou North Colchester Federation of Agriculture is now pressuring the provincial government to review regulations so as to provide a place for small shops like Fraser's to process smaller volumes of specialty products.
Fraser isn't alone. Robert Parker runs a greenhouse operation just outside of Pictou, N.S., and is involved with the New Glasgow Farmers Market. Since Gordon Fraser's incident, Parker says that things have gotten worse for the small-scale producer.
"There seems to be an effort, particularly from the turkey market board, to control what the small farmer is doing," Parker says. "There seems to be a fear that the small farmers and backyard growers have maybe five per cent of the market. And now [the big producers] want that five per cent on top of their 95 per cent. They're big producers, and that's fine, but there should be room for the small growers, we feel."
"They've closed down all the local butchering operations under the pretense of food safety," Parker continued, echoing a refrain expressed by small-scale producers across the country.
When small-scale producers have been sanctioned or impeded in developing new products by provincial health departments, the issue of "food safety" is used to justify the actions of the regulators. However, you'd be hard-pressed to find a small-scale producer who doesn't value food safety as highly, or more high than industrial producers. But as with the quota system, specific regulations for smaller processors and producers currently just don't exist.
Anderson, along with others involved in the roundtable planning sessions in Manitoba, is hopeful that the province will begin adopting "outcome-based regulation" for operations that don't fit within the larger industry norm.
"With outcome-based, you just have to show that your process is safe," Anderson says, explaining that this could allow smaller abattoirs and other processing facilities to thrive.
Out in B.C., where the climate is more amenable to small-scale agricultural operations than Manitoba, there are still plenty of regulatory barriers. For example, Abra Brynne of Food Secure Canada describes an abattoir servicing a small community that needed to take "into account regulations involving municipal zoning, building codes, fire safety, worker safety, highway signage, effluent and waste disposal, packaging and labelling and food safety – there were over a dozen different government departments at the municipal, provincial, and federal levels that had an influence over the operation."
In Nova Scotia, small-scale producers are bracing for a fight. "So far we haven't made great strides," Parker says, "but we haven't closed the door. For small agriculture in Nova Scotia, it's really a death knell if we can't get anyone to listen. It's too important not to fight."
These niche markets that small-scale producers are looking to supply represent a small fraction of the agricultural sector. However, when rural communities are able to develop regionally specific alternative economies, it strengthens those communities in the face of the economic uncertainty that is inherent to farming.
By hog-tying these producers with regulations designed for industrial food production, our regulators are effectively holding whole communities back while limiting the access to high quality, local food for countless consumers. With interest in local food soaring, why not make hay while the sun shines?
Readers like you keep Briarpatch alive and thriving. Subscribe today to support fiercely independent journalism.