Queer internationalism
Radical sexual diversity from South to North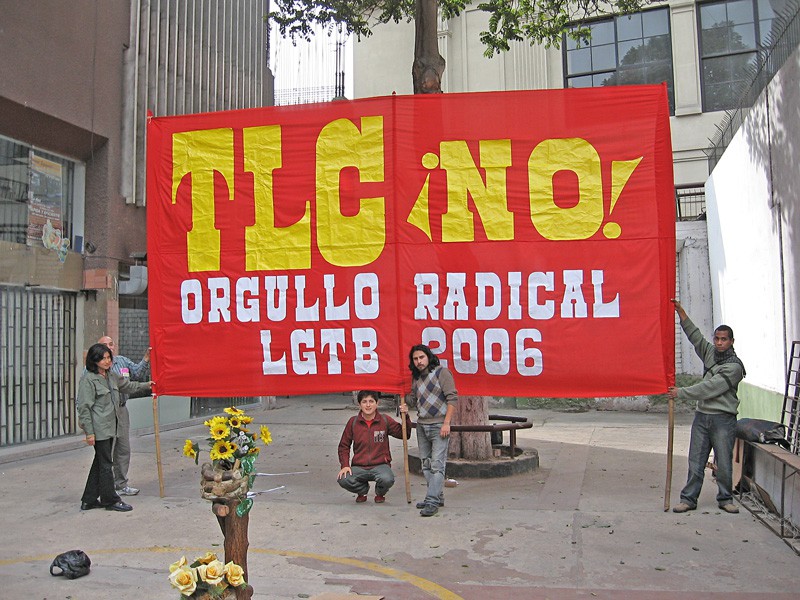 As a Queer activist, I have experienced first-hand frustrations with the limited political analyses of mainstream Lesbian Gay Bisexual Transgender and Queer (LGBTQ) movements within Canada and internationally. So when a friend of mine passed me a copy of a book entitled LGBT Youth in Social Movements that she had acquired at the 2006 World Social Forum in Caracas, Venezuela, written by members of the Peruvian LGBTQ collective Radical Sexual Diversity (Raíz Diversidad Sexual, or RDS) about the experiences of youth in the anti-globalization movement, I was encouraged to see that the group shared my dissatisfaction with the limitations of mainstream LGBTQ movements.
I had the chance to learn more when I travelled to Peru last spring to research Peruvian LGBTQ social movements for two months in the spring of 2006. I was lucky enough to spend a great deal of time working alongside members of the RDS collective. During one of my first days in the country, they invited me to a rally against the ratification of bilateral Free Trade Agreement between Peru and the United States, which had been signed in April 2006 by former president Alejandro Toledo. Witnessing the confused and occasionally hostile reactions of fellow protesters to members of the collective as they made their way through the crowd, distributing flyers on the potential impact of Free Trade on LGBTQ persons from the Global South, was enough to make me realize the uniqueness and importance of the group and its efforts to articulate a rare combination of radical left critique and LGBTQ liberation politics.
According to collective member José Montalvo, "being an activist in Peru means spending 100 percent of your time in struggle—on LGBTQ issues, in solidarity with Lebanon, in the fight against neoliberalism, in the fight against mining and imperialism. Being an activist on the left is a full-time militancy. It's our life!"
When one thinks of radical international social justice movements, groups working for sexual and gender diversity are not often the first to come to mind. Granted, on an international level a great deal of work has been done around LGBTQ rights, but the overarching tendency of such movements is limited to achieving recognition and equality in terms of civil and political rights. The current state of international LGBTQ activism does not speak to the needs and demands of the majority of LGBTQs, especially in the Global South. Instead, the agenda of such a movement can be seen as the projection of the demands of mainstream Northern LGBTQ social movements as "universal."
Radical grassroots movements composed of collectives such as RDS provide an excellent starting point for rethinking the praxis of transnational LGBTQ solidarity movements.
Beyond the mainstream
Mainstream LGBTQ social movements are currently composed of a number of international NGOs. Among such NGOs are organizations such as the International Gay and Lesbian Human Rights Commission, ARC International and the International Lesbian and Gay Association. One of the major works of such organizations has been the fight to gain consultative status at the United Nations—a goal that was achieved on December 11, 2006.
The extension of universal human rights to sexual and gender minorities is certainly an important demand. However, the almost singular focus on this issue at the expense of movement building and the valuation of diversity has left the so-called "global" movement largely disconnected from its own grassroots—particularly in the Global South.
The emergence of these grassroots sexual and gender diversity social movements in the Global South, however, provide some hope that a truly global, inclusive, transnational movement of movements can yet emerge. Indeed, their demands have already led to some reforms in international LGBTQ movements. These changes have been driven by the commitment of these movements to linking sexual rights issues with other global social justice struggles, especially to anti-globalization movements. The connection of LGBTQ struggles to alternative globalization struggles is justified on the basis of the recognition that, first, capitalist globalization is resulting in increasing polarization of power and wealth, and second, that LGBTQ persons, as an already-marginalized population, are likely to suffer under this increasing social stratification and strain.
Southern LGBTQ social groups clearly understand that neoliberalism is not simply an economic process, but one that compounds the social exclusion experienced by marginalized groups, including LGBTQs. In South America, this movement has been particularly visible, as a handful of radical LGBTQ collectives have sought entry into wider globalization struggles while also attempting to bring issues such as neoliberalism and free trade to the table within LGBTQ social movements.
"The construction of radical democracy"

Peruvian LGBTQ collective RDS is one of several emerging southern grassroots groups making connections between the inequalities created as a result of global capitalism, the spread of neoliberal policies, and sexual and gender diversity. The collective got its start in 2002 as part of the Radical Movement (Movimiento Raíz), a Lima-based social movement whose members are active within a number of leftist social justice struggles. In 2004, RDS asserted its independence from this movement, but the collective's current membership has never lost sight of the importance of creating a radical alternative to mainstream Peruvian LGBTQ movements through maintaining strong connections to other social movements.
As stated on the group's website (www.raiz.org.pe), RDS seeks the "construction of radical democracy" through the creation of a "leftist political space that brings together gays, lesbians and bisexuals who work for human equality, justice and diversity as the basis of social co-existence." The collective, based out of a modest office in Lima's historical centre, sustains a number of ongoing projects and activities, including maintaining a library of alternative and LGBTQ literature, publishing Valor (Pride), a magazine about sexual, cultural and political diversity with contributions from activists around the world, organizing LGBTQ film festivals, and holding drop-in events for members of the community including Lescafé, a weekly event for lesbian activists.
In a 2005 article titled "Peru, radical perspectives and new forms of doing the politics of sexual diversity," RDS member José Montalvo criticized other Peruvian LGBTQ social movements for being too concerned with demands for inclusion and recognition from the state.
Montalvo argues that the struggle for inclusion within the Peruvian legal/political sphere is not adequate without consideration for systemic factors and the multiple and intersecting oppressions faced by LGBTQs. In Peru, wealth and power are concentrated in the hands of a small upper class. While legal reforms that included consideration for sexual rights would be a positive step, they would by no means entail an equivalent impact for all LGBTQs.
In contrast, Montalvo outlines an alternative proposal, which is to seek inclusion within other social movements. Montalvo reasons that there is greater meaning in joining forces with other social movements that have a similar vision of social change to your own, and working alongside those groups to forge proposals that address the needs of all groups and constituencies involved.
This "radical proposal" originates from the experience of the formation of leftist LGBTQ groups in Chile, Argentina and Peru, including RDS, who share a belief in the "necessity to make visible the presence of LGBTQ activists within other social movements that are critical of the capitalist system." As part of this analysis, RDS has two main agenda items: "The resistance to the Free Trade Agreement [with the United States] and the construction of a new political and social point of reference that has the capacity to bring about new economic, social, cultural and gender relations." Interestingly, unlike many socialist groups, in addition to economic factors, the collective does not lose sight of the relevance of a wide variety of social and political factors in the creation of such a new "point of reference" or political alternative.
"No to the FTA"
In an interview conducted last spring, just after the ratification the Free Trade Agreement (FTA) between Peru and the United States, Montalvo, who is a founding member of RDS, a published author and a passionate activist in a number of social justice struggles, commented on the fact that because sexual and gender minorities already face extreme social exclusion that finds them among the poorest of the poor, the FTA will only serve to increase the vulnerability of such populations:
"The FTA is a commercial agreement that will influence our future lives—not only in aspects such as medicine for HIV/AIDS, but also as an economic, productive, social and ecological model. We are not immune, and if we find ourselves among the poor, the effect of the FTA will be even greater. The discrimination associated with poverty sharpens our vulnerability."
Just days after the ratification of the FTA by recently-elected president Alan García, which took place in the early morning hours of June 28, 2006, the collective took to the streets for Lima's annual LGBT Pride March intent on raising consciousness about the interconnectedness of such issues. The collective marched with heterosexual allies from the anti-globalization movement carrying a banner that stated "No to the FTA! Radical LGBT Pride 2006."
Surprisingly, the relationship between the FTA and LGBTQ rights was lost on many of the march's participants. A number of members of other groups voiced their displeasure regarding RDS's attempt to broaden the agenda of the event. As one activist commented to me with annoyance, "it distracts from the issue at hand, which is LGBT rights!"
Just days later, the collective continued turning heads with the campaign by carrying the same banner in anti-FTA demonstrations that wove throughout the streets of Lima's centre. There, the mention of LGBTQ rights seemed to merely shock some participants while, in what was assumed to be an act of homophobic violence, one individual threw an alarm clock at the group out of a fourth story window as members of RDS marched by in the street below.
While the connection between neoliberal globalization and justice for LGBTQs may be self-evident to individuals who are engaged in radical queer social movements, the broader public reactions to RDS's campaign are a good indication of the need for such efforts to simultaneously raise awareness about the impact of the FTA on LGBTQs while identifying and challenging the homophobia that exists within other movements.
Dealing with multiple oppressions
One of RDS's other major focuses is the development and practice of an anti-oppression analysis that seeks to address multiple and intersecting oppressions that exist within LGBTQ social movements, both in Peru and internationally. According to Montalvo, "We have a problem of discrimination that intersects with the social exclusion that we experience as the poor. This country has many barriers including those based in ethnicity, gender, and class. We are a divided society and to that we ought to add the discrimination based in sexual orientation and gender identity. Poverty, social marginalization and racism have a greater effect if you are a lesbian or gay—and it's even worse if you are transgender."
Gender-based inequalities have been a particular priority of the collective. In addition to continued collaboration with feminists from Movimiento Raíz (Radical Movement), in recent years RDS has worked closely with the Lima-based transgender collective Red Carnations (Los Claveles Rojos), whose work consists of, among other things, documenting human rights abuses committed against transgendered women in Lima, Peru. According to Belissa Andía, member of the Red Carnations, transgendered women are routinely harassed, robbed, assaulted and tortured and in many cases, these crimes are committed by members of Lima's municipal police force armed with Rottweilers. Putting their recognition of multiple oppressions into practice, members of the RDS are committed to supporting the struggle of transgendered activists, as they feel such work is vital to putting an end to gender-based violence.
Emerging possibilities for transnational LGBTQ solidarity
After spending several months working with members of RDS, I am convinced that despite the disparate realities faced by LGBTQ populations in both the Global North and South, there still exists the possibility for the creation of a truly international LGBTQ movement. One reason for this optimism is the similarities I see between the proposals of collectives like RDS and the politics of North American radical queer social movements that have been engaging in similar anti-globalization activism since the mid-1990s. While the promotion of shared ideas about global social justice alone can in no way erase the inequalities that exist between the members of such movements resulting from a long history of colonial and neocolonial relations between the regions, the recognition of common goals and analyses does mean that there is at least some fertile common ground on which international dialogue can begin to take place.
In other words, the possibility for the construction of an international LGBTQ movement capable of addressing global inequalities and local diversity depends on the ability of such a movement to open democratic spaces for dialogue and create relationships of solidarity among radical LGBTQ social movements and their allies from around the world.
Nick Wilson is a Calgary-based activist whose interests include gender, sexuality and alternative economics. She spent several months in the spring of 2006 researching LGBTQ social movements in Peru and is currently living and working in Bolivia.