Finding our own voices
A profile of Migrante Ontario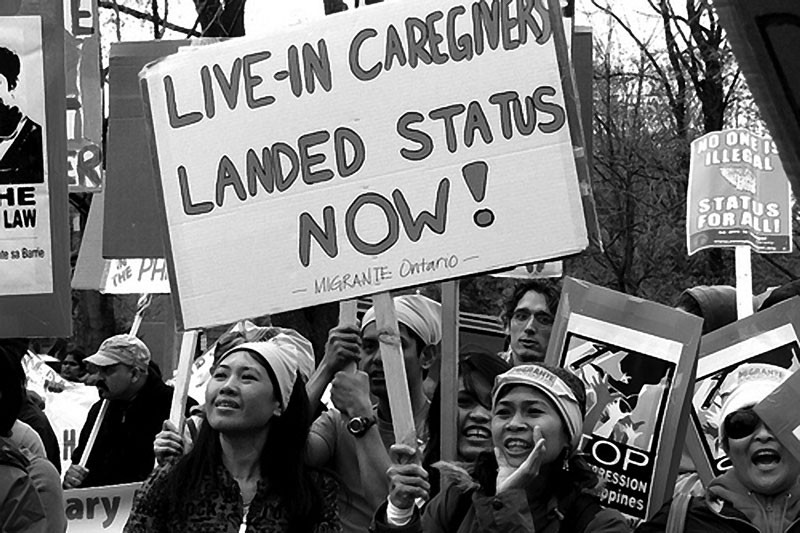 Jocelyn Dulnuan, 27 years old, was murdered on October 1, 2007, at the mansion in Mississauga, Ontario where she worked as a live-in caregiver. Dulnuan's petite and slender body was found with a thin braided copper wire looped tightly twice around her neck and fastened at her throat, her feet bound with the knotted arms of a sweater, the victim of a botched robbery. She had been punched in the face, her denture plate knocked from her mouth.
Dulnuan had lived in Canada for just under a year, working at the $15 million, 30,000-square-foot mansion for two months to serve the needs of her employer Dr. Jaya Chanchlani, her husband, Vasu, and their three children. Before that, she had worked several caregiver jobs in Greater Toronto, and as a domestic worker in Hong Kong for a year.
Dulnuan's life follows a pattern all too familiar to migrant workers. A young indigenous Filipina hailing from the province of Ifugao in the Philippines, she had taken out loans to finance the processing of her Canadian work visa and the high fees charged by sometimes-shady worker recruitment agencies, and left her home to support her family. She was a university graduate with few options beyond domestic servitude. She is one of a multitude of migrant workers who have suffered horrific and preventable deaths at work.
Dulnuan's murder drew a number of Filipino-led community groups together to form Migrante Ontario, a migrant support group that works as a part of Migrante Canada and Migrante International, a broad network of grassroots organizations fighting for the rights of over 8 million migrant Filipinos around the world.
The pursuit of justice through state channels is slow – even slower when you are up against economic powers that benefit from the exploitation of migrant workers. Weeks after Dulnuan's body was found, police confirmed that her death involved "foul play" but called the slaying an "isolated incident." Two months after she was killed, two suspects were arrested and charged with first-degree murder. It took two years too long for other details surrounding the murder to be passed on to Dulnuan's loved ones, and two years too long for the courts to begin trial.
Those two years saw Migrante Ontario continuously pushing the police and the courts to attend to the case properly, without delay, as so many deaths of migrant workers around the globe often go uninvestigated.
Migrante Ontario rallied mainstream media coverage of Dulnuan's murder to pressure politicians and law enforcement to investigate. Migrante Ontario called on the Philippine Consulate to cover the cost of repatriating her body, and successfully held them to their responsibility to aid their compatriots. Had it not been for Migrante Ontario and community allies, who raised over $40,000 in Greater Toronto, the repatriation of her body would have left Dulnuan's family even more deeply in debt. Migrante Ontario also called on the Canadian government to support the rights of migrant workers in Canada by removing the live-in requirement of the Canadian Live-in Caregiver Program, granting permanent residency to all migrants, and withdrawing support for the U.S.-backed Philippine government program, "Labour Export Policy," which commodifies people indigenous to the Philippines and pushes them out of their homeland to work.
Migrante Ontario continues to do advocacy work surrounding the struggles that racialized working-class people face, especially the struggles that most directly affect people with precarious status. They confront their shared losses and sorrows by means of community forums, rallies, marches, and community radio shows such as Radyo Migrante on Toronto's CHRY 105.5 FM.
Creating social spaces that foster the self-organization of working-poor migrants is integral to Migrante Ontario's work. In fact, many of those organizing with Migrante Ontario are current and former live-in caregivers.
Migrante Ontario has organized various educational sessions throughout southern Ontario, all at no cost, and all for non-citizens. In Toronto, there's a monthly Talakayang Migrante (Migrant Matters) discussion forum on current issues like recent changes to the Live-in Caregiver Program and the elections in the Philippines. In Ottawa, Scarborough, Hamilton, Guelph and Windsor, workshops have been held on "forced migration in context," Filipino history, the Canadian immigration system and income tax assistance. The organization also hosts regular documentary nights and annual camping trips. Last summer, Migrante Ontario started to hold "know your rights" workshops for Filipinos working on Leamington-area farms as temporary foreign workers.
Real change is urgently needed to help fight against the muting, misery and murder of people with little choice but to enroll in migrant worker programs. Migrante Ontario is working to revert the centuries of colonization experienced by the people of the Philippines, particularly at the hands of U.S. imperialism.
"Migrante International is really one globalized bevy of volunteers," says Maru Maesa of Migrante Ontario, a caregiver herself. "And we're armed with an appetite for a world where loved ones, families, and communities are not torn apart by their urgent need for economic survival, where every being has equal opportunity to live meaningful, empowered, joyful and dignified lives, and where we are all no longer forced to carry immigration papers. We'd be incredibly grateful if you could help us out."
Readers like you keep Briarpatch alive and thriving. Subscribe today to support fiercely independent journalism.